Last Updated: 27/05/17 11:33pm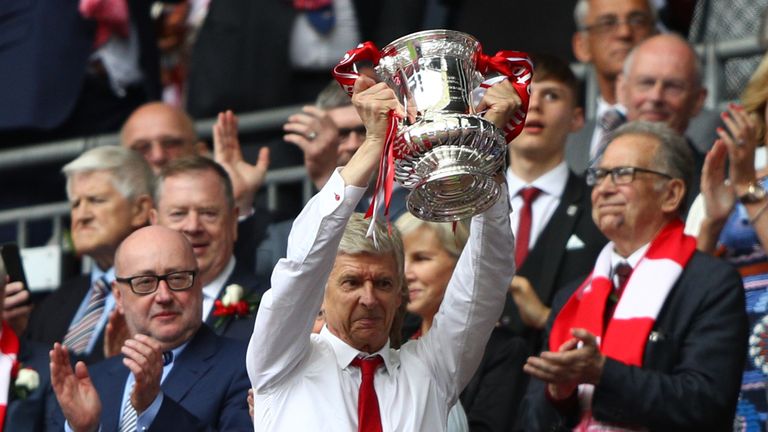 Arsene Wenger won a record seventh FA Cup as Arsenal beat Chelsea 2-1 at Wembley. The Frenchman's future remains unclear, but it was a perfect way to defy his critics after a tough season, writes Nick Wright.
Earlier this week, Arsene Wenger said he has never been one for looking back, but he will surely break that habit to stop and savour this unlikeliest of FA Cup triumphs. After a long, frustrating season which may yet prove to be his last in north London, the Frenchman secured the 10th major trophy of his tenure with a performance reminiscent of his best Arsenal teams.
It came against all odds. Chelsea had just sewn up the title with the second-highest points total in Premier League history, winning their last seven consecutive games and scoring 27 goals in the process. If that wasn't enough, Arsenal were in the grips of a defensive crisis, with Kieran Gibbs joining Laurent Koscielny, Shkodran Mustafi and Gabriel Paulista on the sidelines on the eve of the game.
But while everyone expected Chelsea to inflict more misery on their patched-up opponents, Arsenal rose to the occasion in remarkable style, denying Antonio Conte a double and finishing a fraught season with their third FA Cup win in four years. For all the criticism directed at their manager, it's worth noting that no other Premier League side has won more trophies in the same period.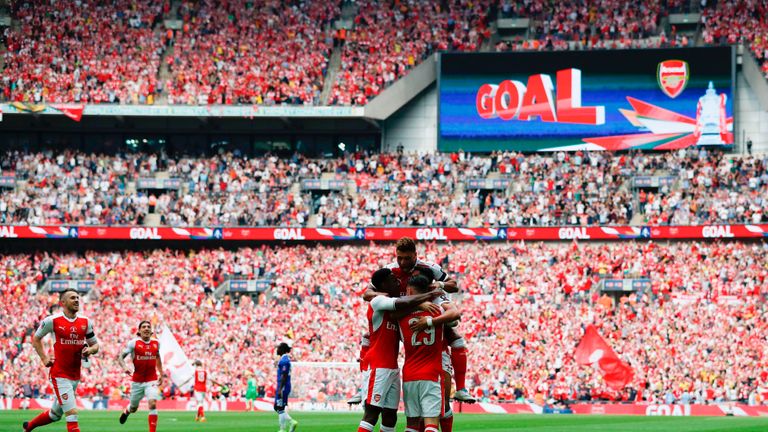 Arsenal players celebrate Alexis Sanchez's opening goal
Wenger's side looked superior from the first minute, calmly dominating possession and forcing Chelsea backwards with furious pressing whenever they didn't have the ball. There were only four minutes on the clock when Alexis Sanchez struck the opener, and there was no let-up after that.
Gary Cahill twice cleared off the line and Danny Welbeck sent a header against the post as Arsenal kept coming forward. Chelsea, for their part, looked increasingly uncomfortable. Even the usually impeccable N'Golo Kante could be seen squandering possession as red shirts swarmed around his every touch.
When half-time arrived, the only complaint from Arsenal's perspective was that they weren't already out of sight. They had outplayed Chelsea in a way few other sides had managed since Conte's switch to 3-4-3 in October, and when the momentum swung the other way after the break, they were able to show different qualities.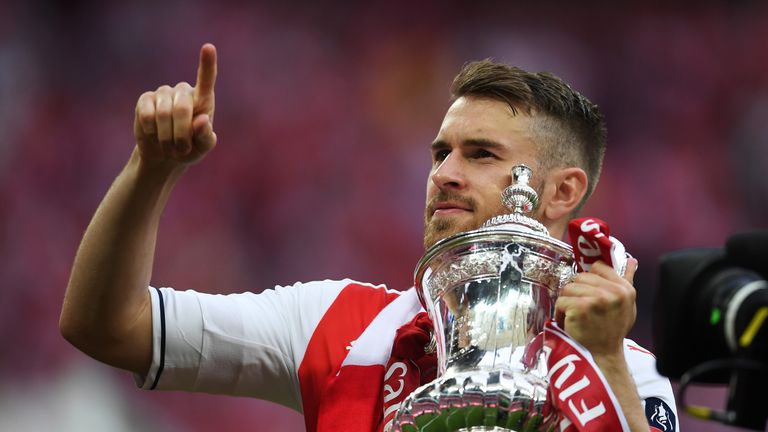 Aaron Ramsey poses with the trophy after scoring the winning goal
Per Mertesacker marshalled their backline with an excellent display on his first start in 392 days, while Rob Holding and Nacho Monreal were equally impressive either side of him. Diego Costa's equaliser after Victor Moses' sending off might have prompted a collapse, but Arsenal mustered an immediate response instead.
Wenger's decision to swap Welbeck for Giroud received a lukewarm response from some anxious Arsenal supporters, but he produced the winner after just 22 seconds on the pitch. His deft cross was perfectly weighted for the onrushing Aaron Ramsey to head beyond Thibaut Courtois.
It capped a day on which everything seemed to go right for Wenger. His makeshift centre-halves rose to the challenge, and in Alex Oxlade-Chamberlain and Hector Bellerin, he had two energetic wing-backs who upstaged their Chelsea counterparts. Even David Ospina, so controversially selected ahead of Petr Cech, rewarded his manager's faith with some vital saves.
As the celebrations began, it was impossible not to wonder why Arsenal could not produce more performances like this over the course of the season. But when Wenger steps into their board room for the meeting which will decide his fate on Tuesday, he can argue that the signs of recovery have been there for over a month.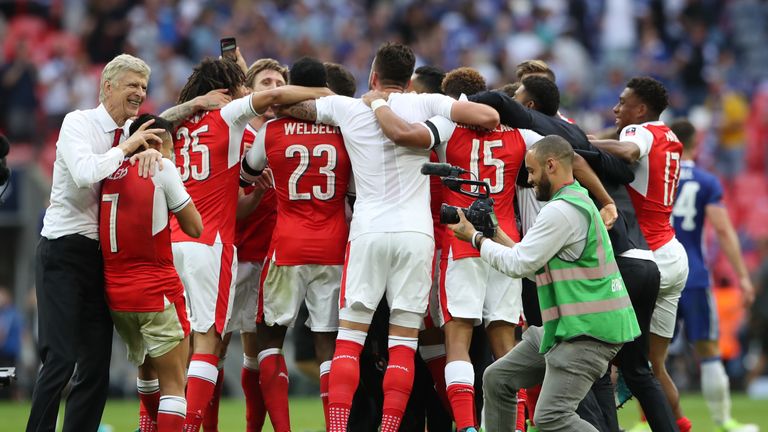 Arsene Wenger celebrates with his players after the game
Since the 3-0 defeat to Crystal Palace in April, when the atmosphere around the club reached toxic levels, Wenger's switch to three-at-the-back has sparked a dramatic upturn in form. It wasn't quite enough to carry them into the Champions League, but it has liberated the likes of Ozil and Ramsey, and ultimately it has changed the complexion of their season.
For Wenger, it also provided of the "proudest moments" of his career. "I think in the last two months, we've had outstanding performances," he said in his post-match press conference. "This team is moving forward. It's united and the way we play suits our players. The way we function gets the best out of the individuals. This team has exceptional potential."
It remains to be seen whether it is enough to convince fans and board members that he is still the right man to take Arsenal forward, but amid the celebrations at Wembley, his flaws could be forgotten at least for a while. If this does prove to be Wenger's last game, it is a fitting goodbye. If there are more to come, it provides hope that the future could be a little brighter.