Watch Video As Caring Husband Turns Himself Into A Human Chair So His Pregnant Wife Can Sit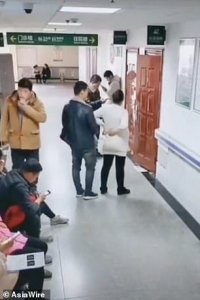 A husband in China turns himself into a human chair so his heavily pregnant wife could sit on his back while she was waiting to see her doctor at a hospital.
In a video shared online by police and liked by millions of people, the wife is seen struggling to stand with a bulging tummy as she waited outside a consultation room.
A number of people can be seen sitting in the waiting room but none gave up their seat for the woman who was already experiencing numbing legs.
After a while, her husband bends and gestures for her to lean against him. He then passed a water bottle to his wife to quench her thirst.
The video was posted onto Hegang police's official account and it has been liked more than seven million times.
Watch the video below;