By:
PTI
| Mumbai |
Updated: August 4, 2017 12:02 pm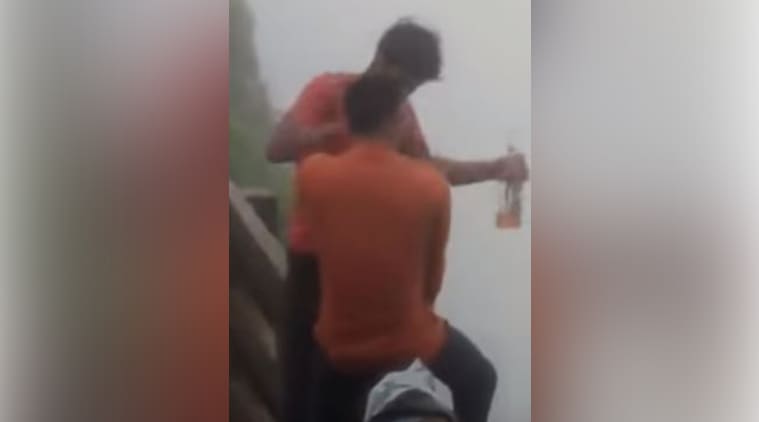 The video, filmed by friends, showed the two men falling into the deep gorge (Courtesy: YouTube)
Two revellers died after falling into a 2,000 feet deep valley in Amboli Ghat in Sindhudurg district of Maharashtra.
A video of their fall has gone viral on social media, even as their bodies are yet to be recovered.
The incident took place at Kawale Saad Point in Amboli Ghat, a popular picnic point, on August 1, police said.
"Imran Garadi (26) and Pratap Rathod (21), who were part of a group of seven, fell into the valley. Their bodies are yet to be recovered," said Sunil Dhanawade, Senior Police Inspector of Sawantwadi police station.
The victims and their friends worked at a poultry farm in Kolhapur, he said.
While others left the Kawale Saad Point after spending some time, Garadi and Rathod lingered back. When they didn't join the group, their friends approached Sawantwadi police.
Video below: Viewer discretion is advised
[youtube https://www.youtube.com/watch?v=9vMCCf4BBfw?version=3&rel=1&fs=1&autohide=2&showsearch=0&showinfo=1&iv_load_policy=1&wmode=transparent&w=640&h=390]
Police found out about the mishap from local people and shopkeepers, and roped in trekkers of Hill Riders Group to search for the duo.
The bodies were spotted down in the valley, but were yet to be recovered as heavy rain, water cascading down the hill and mist made the operation difficult, the officer said.
The video which is circulating on social media shows the two men, bottles in hand, climbing the fence around the edge of the valley and backtracking once or twice. Then the two are seen standing on the edge, beyond the fence, and slipping down.
For all the latest India News, download Indian Express App