Written by
Raakhi Jagga
|
Published:August 31, 2017 12:42 am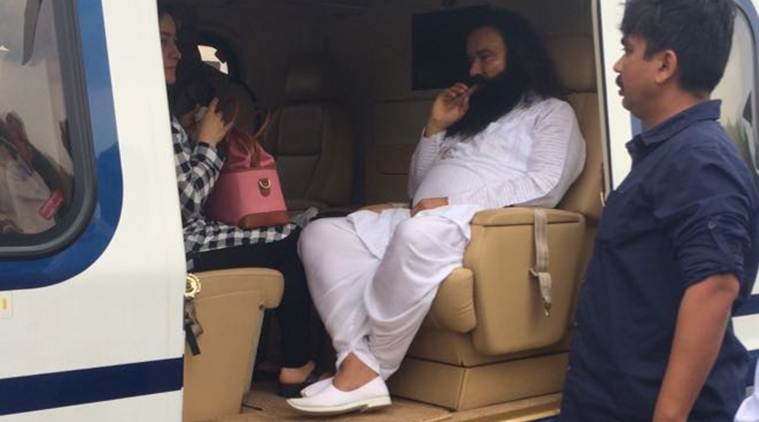 Dera Saccha Sauda leader, Gurmeet Ram Rahim Singh Ji Insaan, accused of Dual Rape, being shifted to Rohtak Jail, by Helicopter from Panchkula, on Friday, August 25, 2017. (Source: Express photo.)
Dera Sacha Sauda head Gurmeet Ram Rahim, who claimed to have nearly five crore of followers across India, has hardly any in his maternal village of Kikkar Khera in Fazilka district of Punjab, where the common refrain is he has just reaped what he sowed. There is also controversy about Ram Rahim's place and date of birth. Villagers, cousins as well as maternal uncles of Ram Rahim say he was born in Kikkar Khera village, while he himself always claimed Gursar Modia was his birth place.
Babu Singh, former sarpanch of this village and a distant maternal uncle of Ram Rahim, says, "As far as I remember, he was born on July 10, 1967, in Kikkar Khera. But he celebrates his birthday on August 15. It is his wish. What can we say about it?" Bhola Singh, another maternal uncle, says, "I visited the Sirsa dera a couple of times years back and later stopped going there. We believe in Sikhism, but we have no objection about anyone else's beliefs."
While Ram Rahim's relatives are restrained in their reaction about the CBI court's verdict sentencing him to 20 years of imprisonment in rape cases, the common refrain of the villagers is, "Jaisa karoge, vaisa bharoge (You reap what you sow)". "He should not come out of jail now. He needs strict punishment," they said. Ram Rahim visited this village last in 2002, when he laid foundation stone of Nam Charcha Ghar. The village, which has a population of about 3,000, has not more than 250 followers.
Village sarpanch Ravi Raj Singh, who was sitting along with police forces outside the small Nam Charcha Ghar in this village in a narrow lane, says, "This village did not react to the court verdict. Even the followers are all quiet. Nam Charcha Ghar has been locked."
Pointing to a round-shaped room visible from the outside, Ravi Raj (52) says, "This is the room where Ram Rahim was born. This is what we have heard. This house, spread over in four kanals, has now been converted into Nam Charcha Ghar-cum-dispensary. Doctors from Sirsa come here once in a month and most of the premis come here for taking medicines."
Two of Ram Rahim's maternal uncles are dead. One of his cousins stays in Sirsa dera while another, Bant Singh, does farming here on 15 acres of land. He refuses to talk about the dera head.
"I don't see television. I am not aware of anything. I am an illiterate, can't even read newspaper. I am a busy farmer," he said. He, however, hastens to clarify that he doesn't go to Sacha Sauda dera and instead visits Gurdwara daily. "Once or twice a year, I do visit dera with few of the followers. However, I have never met him after he took charge as Dera head."
For all the latest India News, download Indian Express App