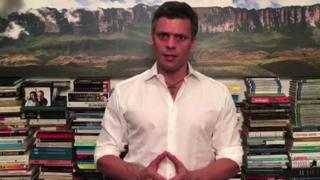 Relatives of Venezuelan opposition leaders Leopoldo López and Antonio Ledezma say the two men have been re-arrested.
They were under house arrest after accusations of inciting violence during anti-government protests in 2014.
Their relatives said they did not know where the two had been taken.
The move comes just two days after a controversial vote for a constitutional assembly saw violence on the streets.
Days before the vote, Mr López had released a video on YouTube calling on Venezuelans to take to the streets in protest.
Mr López was transferred from a military prison to house arrest on 8 July after spending more than three years in jail.
His wife, Lilian Tintori, wrote on Twitter that Mr López had been taken from his home at 12:27 local time (04:27GMT).
She wrote that she would hold President Nicolás Maduro responsible if something were to happen to her husband.
The daughter of Mr Ledezma, Vanessa Ledezma, posted a video of her father, wearing pyjamas, being taken away by officers of the Venezuelan intelligence service, Sebin.
A woman can be heard shouting "They're taking Ledezma, they're taking Ledezma, dictatorship!"