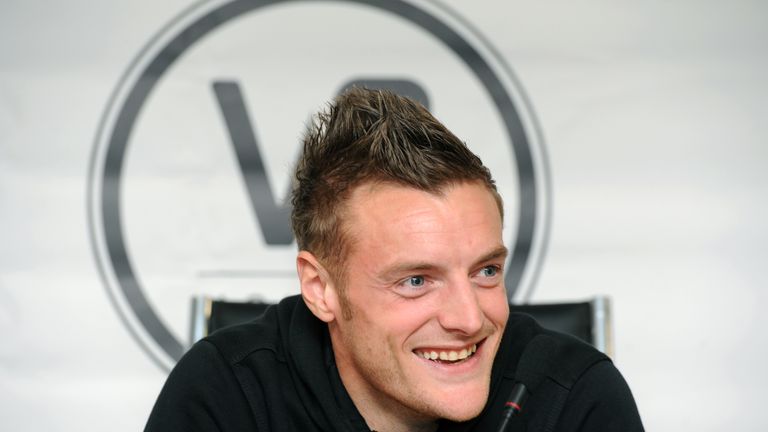 For the thousands of non-league footballers who dream of making it to the Premier League, Jamie Vardy's rags-to-riches story offers a reason to never give up hope.
The 30-year-old Leicester striker has plenty to smile about these days but England caps, Premier League medals and Champions League football seemed a long way over the horizon when Vardy was told he was not good enough and released by his hometown club Sheffield Wednesday at the age of 16.
Vardy landed with the Stocksbridge Park Steels, where he earned the sum of £30 a week, while playing in the seventh tier of English football, the Northern Premier League, and combined his football with work in a carbon fibre factory.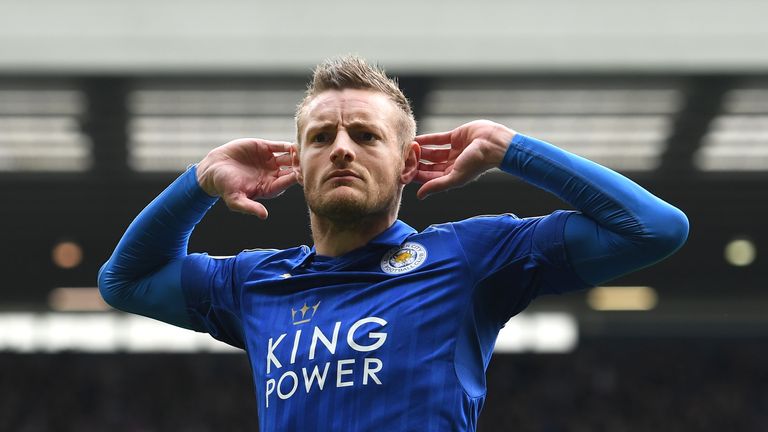 Jamie Vardy holds the Premier League record for scoring in consecutive matches
Moves to FC Halifax Town and Fleetwood Town followed before then Leicester manager Nigel Pearson spotted Vardy in 2012 and agreed to pay a reported fee of £1m, rising to £1.7m with add-ons, a non-League record at the time.
The remarkable aspect of Vardy's story is that a player of his quality was earning £850 a week at the age of 25 playing for Fleetwood – proof that hidden gems can lie undiscovered in non-league football if you look hard enough.
Vardy has had an unconventional path to stardom but he has not forgotten how he reached the top, and next week he is offering 42 players an opportunity to make the leap from the part-time game to the professional ranks when his week-long V9 Academy kicks off on Monday.
The V9 Academy takes place at Manchester City's Etihad Campus and will see the 42 successful applicants split into three teams of 14 players for a five-day residential programme.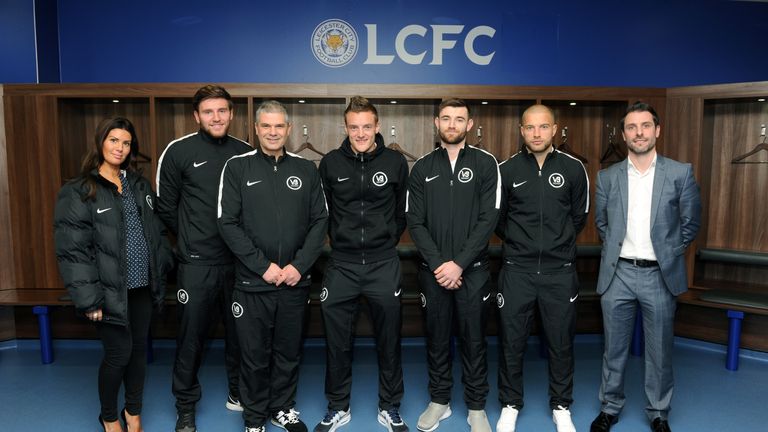 Rebekah Vardy (L), Jamie Vardy (C) and V9 co-founder John Morris (R) pose with members of the coaching staff
Over the course of five days, the non-league footballers will receive top-level coaching from a host of top professionals, including former Manchester United first-team coach Rene Meulensteen.
The players will play a series of practice matches against each other, as well as getting advice on recruitment, game analysis, nutrition, fitness and recovery before playing three friendly matches against external opposition on June 9 in front of a host of professional scouts.
Sixty-five clubs have confirmed attendance so far – including Manchester United, Liverpool, Arsenal, Glasgow Rangers, Liepzig Redbull, Real Salt Lake, Groningen, Las Palmas and New York City – in the hope of uncovering the next Jamie Vardy and the man himself is delighted to be making it all happen.
"I'm looking forward to finally meeting all the lads next week," Vardy told Sky Sports. "I have been keeping up to date throughout the season of who we have signed up and I'm excited to finally get the academy underway on Sunday.
"I've watched clips of the players and seen profiles but I will now be able to see them play Monday for the first time.
"To see the whole project come together is a great feeling and I hope the academy lads can show why they have been selected for V9."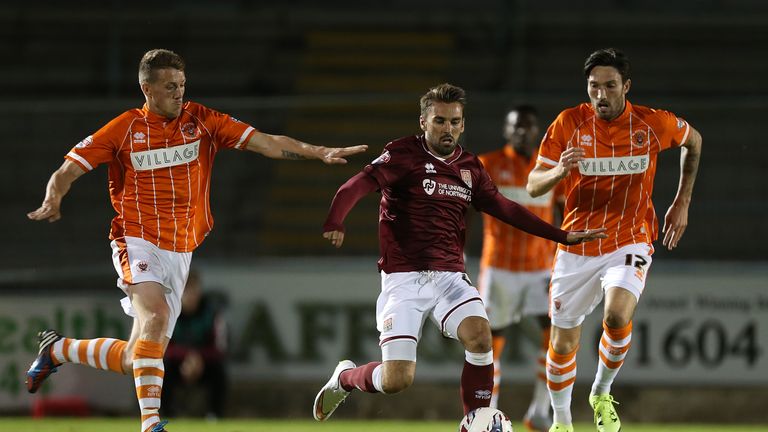 Conner Oliver (right) in action for Blackpool against Northampton during the Capital One Cup
Former Sunderland trainee Conner Oliver will be one of the players hoping to impress the scouts in attendance next week.
The 23-year-old defender spent last season with National League side North Ferriby United after parting ways with Blackpool and he is anxious to work his way back into the professional game.
"Obviously there are a lot of clubs coming," Oliver said. "I have only had a year out of league football and I am hoping to bounce straight back to be honest.
"I was at Sunderland as a kid in the reserve team for about six years, then left to play first-team football at Blackpool.
"It started really well and I was playing in the Championship but then we got relegated. I only played a handful of games in League One before the manager decided he didn't want me.
"So I had to leave and go a different route. I had to go to a conference side just to get game time. I have had a good season so I am looking to get straight back into the league if possible."
Oliver is two years younger than Vardy was when he got his break with Leicester and he admits the Foxes frontman is an inspiration to any player in his position.
"It just shows that no matter where you come from or how many levels you drop down or how low you are in the leagues, it shows you can get right to the top, which obviously is inspiring," Oliver continued.
"A lot of lads will be looking at that thinking this is a big chance because it is a prime example of what can happen."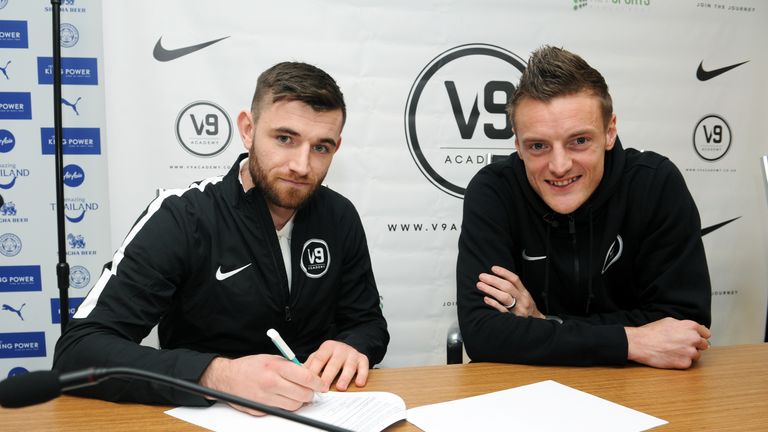 Tamworth FC's Danny Newton signs to participate in Jamie Vardy's V9 Academy
Defender Mark Ross, 28, is searching for his next opportunity after parting ways with Stockport County, where he was captain last season.
Unlike some other players who will be present next week Ross has yet to taste what life is like in the ranks of professional footballers but he is not giving up hope of achieving his dream.
"For me, I have never been a professional, so I am looking forward to training with top-level coaches every day and seeing what I can learn off them," Ross said.
"And obviously I am looking to get somewhere. I really want to push and show that I am good enough to be a professional, and this is the perfect opportunity.
"In my situation, I really did think my chances were done and I had a bit of a fall-out with football."
Before Ross played for Stockport, he played for their Conference North rivals Chorley FC and he has fond memories of playing against Vardy when the England international was still with Stocksbridge.
Ross revealed: "We used to play in the same league. He was a big part of that Stocksbridge team and the guy to watch out for.
"Obviously you get a bit of information on the teams you're playing before the game and the guys used to say 'right, this guy Vardy is the main man'. He was fast and very tricky."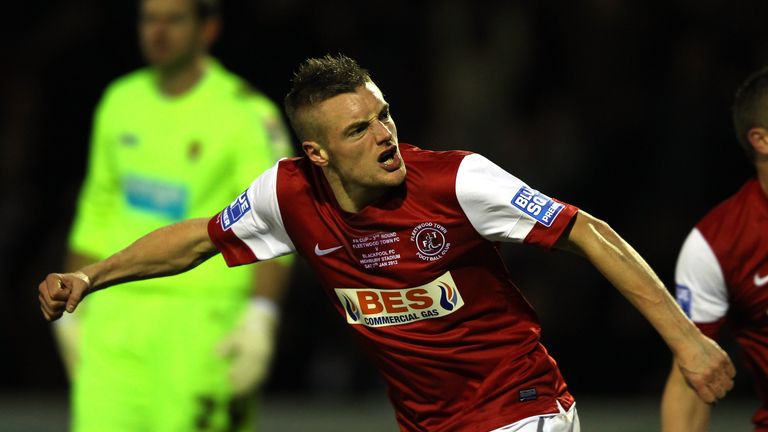 Vardy was playing non-league football for Fleetwood Town at the age of 25
Like many of Vardy's former non-league opponents and team-mates, Ross has followed the forward's rise to the top of the English game with interest.
Ross believes it goes to show the gap between the grades is not as stark as some people may believe and he hopes to be among the players that can demonstrate that once the V9 Academy gets under way.
"I have played non-league for eight years now and I have seen a lot of players like Vardy go on and make it," Ross explained.
"There is so much talent in non-league – sometimes I can't believe people aren't playing at a higher level.
"For me personally, of course [Vardy's story] is an inspiration. It just gives lads that little bit of hope that it can happen and hopefully this week will show that."