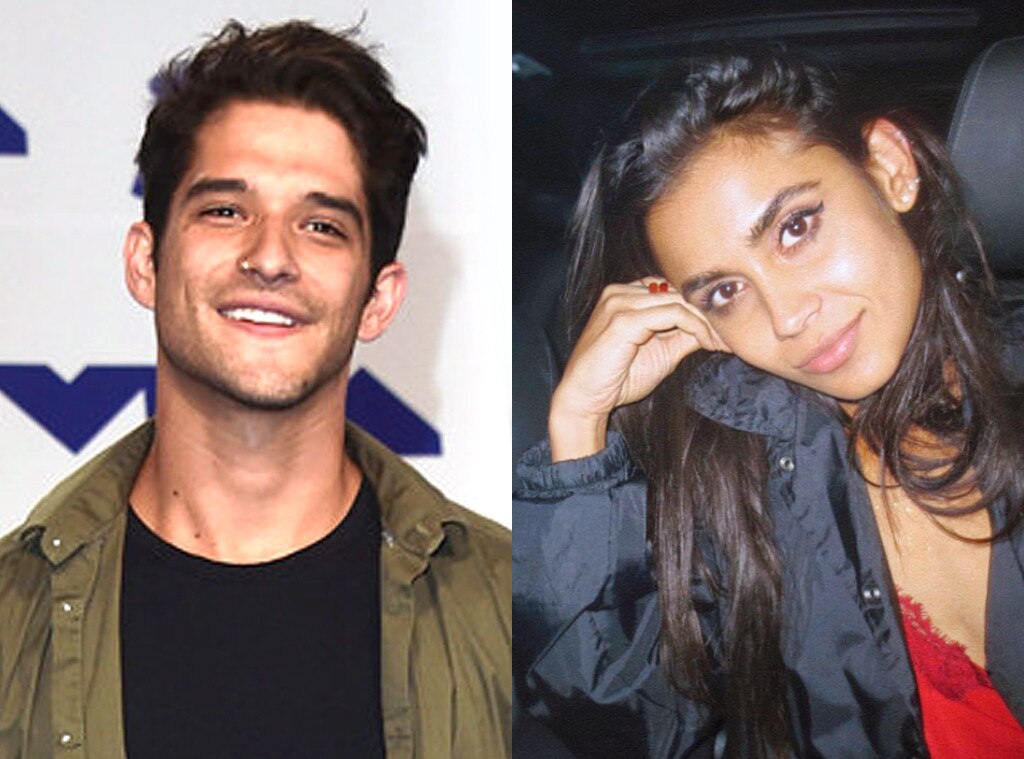 Alberto E. Rodriguez/Getty Images, Instagram
1. Tyler Posey Brought His Girlfriend: As we recently reported, the Teen Wolf actor told us he's been dating someone new, and he appeared to make that official when he brought her to the VMAs! Posey was spotted smooching Sophia Ali during the show, and though she didn't pose with him on the red carpet, they arrived together in the same car. They were also spotted holding hands while walking down to their seats where Posey planted a kiss on her cheek.
2. The Cyrus Family Was Being Adorable: But do we expect anything less? Miley Cyrus, Noah Cyrus, Tish Cyrus, Billy Ray Cyrus and Brandi Cyrus all sat in the front row together at The Forum as a family. Before Miley took the stage to perform her new single "Younger," she kissed her mama, and as she performed, her parents and sisters were spotted cheering, dancing and singing along from their awesome seat in the audience. At one point, Tish even lovingly smacked Billy Ray on his booty while he stood up to dance. The "Achy Breaky Heart" crooner was incredibly popular, chatting with everyone from Ellen DeGeneres to Lorde!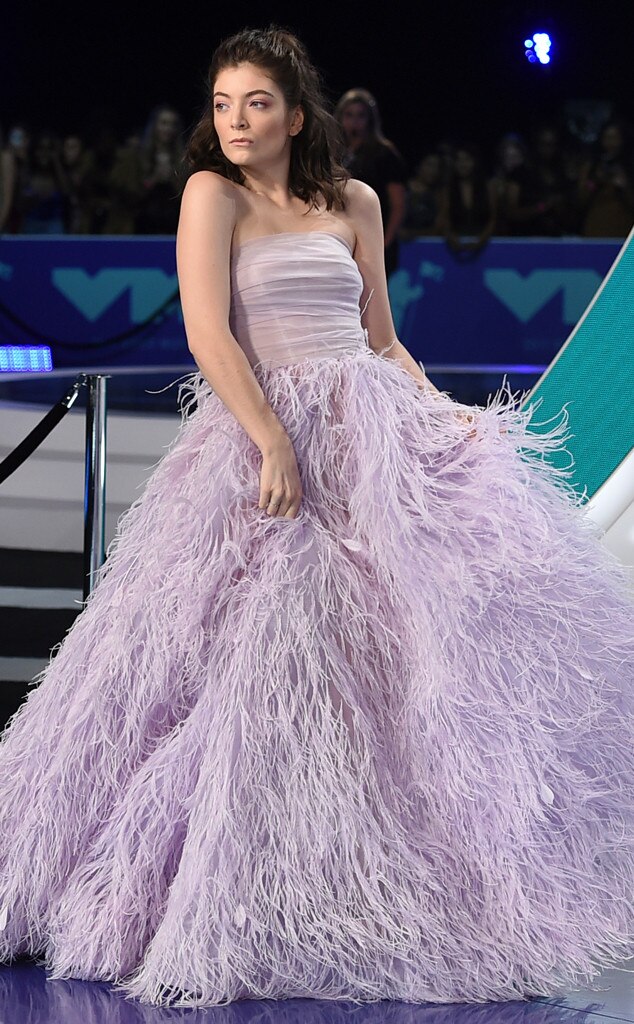 Jordan Strauss/Invision/AP
3. Lorde Was in Good Spirits, Despite the Flu: The singer revealed she was battling the flu during the show. However, she appeared in good spirits, walking around and chatting with people like Jack Antonoff and Julia Michaels, and she even took the stage to perform. We also must mention that she looked radiant in her lavender dress!
4. Ed Sheeran and Chance the Rapper's Bromance: The two musical geniuses sat next to each other throughout the show and were often spotted having jovial conversations and laughing together. Even while Sheeran was up on stage performing, Chance was spotted in the audience bopping along. Needless to say, we've officially pegged this duo as the greatest hypothetical set of BFFs.
5. Shawn Mendes Is Stoked on Taylor Swift's New Song: E! News' Sibley Scoles caught up with the "Treat You Better" singer ahead of the show during which he couldn't help but praise Swift's new single "Look What You Made Me Do." As you may recall, he opened for Swift's 1989 World Tour in 2015.
"It's bad ass," he told us of her new music, adding, "I'm really excited she's coming back. I've missed her."
6. Amber Rose May Drop a Verse: The model—who looked unrecognizable with her new, brunette 'do—also joined us with her man, 21 Savage, ahead of the show. When we asked the rapper about new music and the potential for the couple to collaborate in the future, Rose joked that she's going to drop a rap song…which would be written by her man, of course!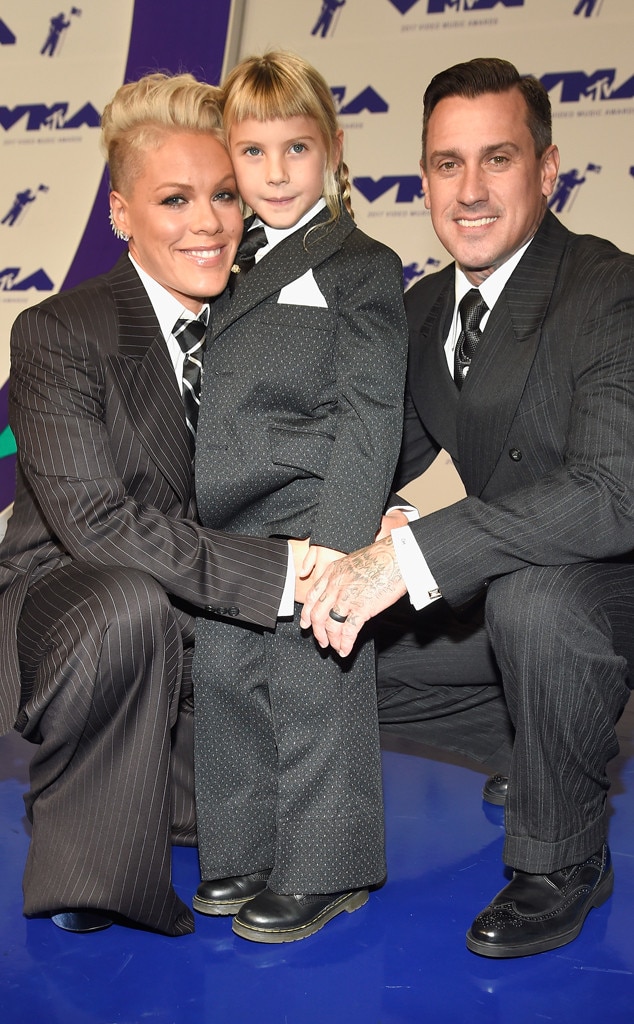 Kevin Mazur/WireImage
7. Pink and Carey Hart's Adorable Daughter Had a Loose Tooth: Even though Pink went home with the Michael Jackson Video Vanguard Award, her 6-year-old daughter, Willow, stole the spotlight when we caught up with the famous family ahead of the show. Willow explained that she has a loose tooth she's been trying to pull out. In fact, she said she even tried to tie a string around it, but it wouldn't budge. So, she spent a majority of the night wiggling it in hopes of the Tooth Fair paying her a visit ASAP.
8. Farrah Abraham Promises Her "Lady Parts Are Fine": In case you missed it, the Teen Mom OG star revealed she had vaginal rejuvenation procedure. So when she chatted with E! News at the VMAs, she gave us a few more details.
"My lady parts are loving it," she said of the procedure. "It's not invasive. It's quick. [My daughter] Sophia waits in the waiting room and then off we go…Revived and rejuvenated!
Needless to say, the VMAs were nothing short of exciting!
What was your favorite moment? Sound off in the comments below!
Watch the Fashion Police 2017 MTV Video Music Awards special Monday, Aug. 28 at 8 p.m., only on E!