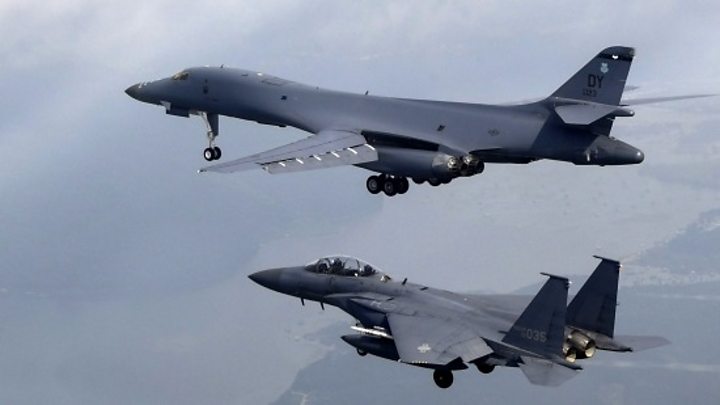 The US says it has carried out a successful test of its controversial anti-missile system and has flown B-1 bombers over the Korean peninsula.
The exercises are a direct response to recent North Korean missile tests.
A projectile fired by the US Air Force was intercepted over the Pacific by a Terminal High Altitude Area Defense (Thaad) unit in Alaska.
US B-1 bombers also conducted exercises over the Korean peninsula with South Korean and Japanese planes.
On Friday, North Korea test-fired a second intercontinental ballistic missile (ICBM) which it said proved that the entire US was within striking range.
The launch came three weeks after the state's first ICBM test.
Despite fierce objections from China, the US military has begun installing the Thaad system in South Korea with the aim of shooting down any North Korean missiles fired at the South.
On Saturday, US President Donald Trump criticised China for not doing enough to stop Pyongyang's weapons programme while making "billions of dollars" in trade with North Korea.
Mr Trump wrote on Twitter that he was "very disappointed" with China, adding that he would not allow the country to "do nothing" about the isolated state.
But Victor Gao, a former diplomat and Chinese government adviser, said that Mr Trump's comments were unhelpful, adding that the US was acting like a "spoiled child".
China, which shares a land border with North Korea and is its closest economic ally, earlier condemned the North's test launch and urged restraint on all sides.
The US exercises over the weekend were performed as a "direct response" to recent behaviour from what is seen as an increasingly belligerent North Korea as it tries to realise its nuclear ambitions.
The show of strength formed "part of the continuing demonstration of ironclad US commitment to our allies", the US Pacific Command said.
Mr Trump and his Chinese counterpart Xi Jinping discussed North Korea during talks earlier this year, after which US officials said the two countries were working on "a range of options" to rein in Pyongyang.
But Friday's ICBM launch demonstrates a defiance from the North, which is showcasing "a significant advancement in technology", South Korea said.
The North continues to test its missiles in breach of UN resolutions.
Pressure is expected to mount this week for a new UN Security Council resolution to push through tougher sanctions on North Korea.
Its success will depend not only on China's co-operation but also on Russia, which is concerned by the balance of power in the region.
---
What is Thaad?
Shoots down short- and medium-range ballistic missiles in the terminal phase of their flight
Uses hit-to-kill technology – where kinetic energy destroys the incoming warhead
Has a range of 200km and can reach an altitude of 150km
US has previously deployed it in Guam and Hawaii as a measure against potential attacks from North Korea
1. The enemy launches a missile
2. The Thaad radar system detects the launch, which is relayed to command and control
3. Thaad command and control instructs the launch of an interceptor missile
4. The interceptor missile is fired at the enemy projectile
5. The enemy projectile is destroyed in the terminal phase of flight
The launcher trucks can hold up to eight interceptor missiles.