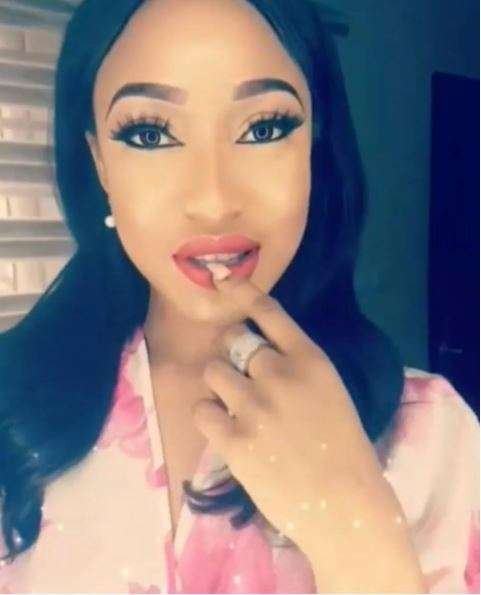 Here are ten things that Oladunni Churchill pointed out about Tonto Dikeh in new video.
On Thursday, September 28, 2017, Tonto Dikeh's ex-husband Churchill Oladunni released evidence that countered Tonto Dikeh's previous claims.
In a video put together by Media Room Hub, Churchill Oladunni countered the allegations the actress made against him.
Here is a list of ten things that were shown in the video.
1. According to the medical report released by the hospital, Nizamiya Hospital, Abuja, Churchill Oladunni was treated for fatigue and fever and not STD as claimed by Tonto Dikeh.
2. In the released video, an empty room is shown which obviously looks like the room Tonto Dikeh used while in the house. This sort of contradicts her claim that she did not take anything from the house she once shared with her ex-husband, Churchill Oladunni.
3. In the video, there is evidence of shoes and clothes belonging to Churchill Oladunni that were allegedly destroyed by his ex-wife, Tonto Dikeh while he was away from the house.
4. In the video, there were pictures of a bruised Tonto Dikeh which she claims were as a result of domestic abuse but in his defense, Churchill Oladunni claims the bruises were fake.
5. Tonto Dikeh claimed she was cut by a glass as part of the domestic violence she encountered at her ex-husband's house but in the video a section of the house which was littered with broken glasses, which her ex-husband claims happened when she destroyed the house just days to Christmas, in the process injuring herself.
6. In the video there were receipts for a jeep allegedly purchased for Tonto Dikeh by Churchill even though she claimed the receipts and documents were fake.
7. A bank teller slip of N2M from her then-husband Churchill Oladunni.
8. Tonto Dikeh claims that she was responsible for her own bride price but in the video, Churchill Oladunni claims to have bought a $45,000 engagement ring for her, insisting that if he could afford an expensive ring then paying her bride price would absolutely not be a problem.
9. In the video, Azuka Ogujiuba of Media Room Hub TV while on a visit to Ghana's Madina Police Station to investigate the alleged domestic violence Tonto Dikeh claimed she encountered while in Ghana, was told by the officer that she was picked up by men of the police patrol team because Churchill had made a distress call to them claiming she was destroying his house.
The police in the video however refuted claims by the actress that she was abused but rather said when they got to their residence she was being refrained from destroying the house. The police also said in the video that Churchill Oladunni was not in the house when the patrol team got there, that he didn't sleep in the house because of an alleged altercation between him and Tonto the previous night.
10. The video also shows a part where Tonto Dikeh's father claims that Churchill Oladunni fulfilled all the traditional rites in accordance with the tradition before he married his daughter.
Tonto Dikeh has yet to respond to the video.