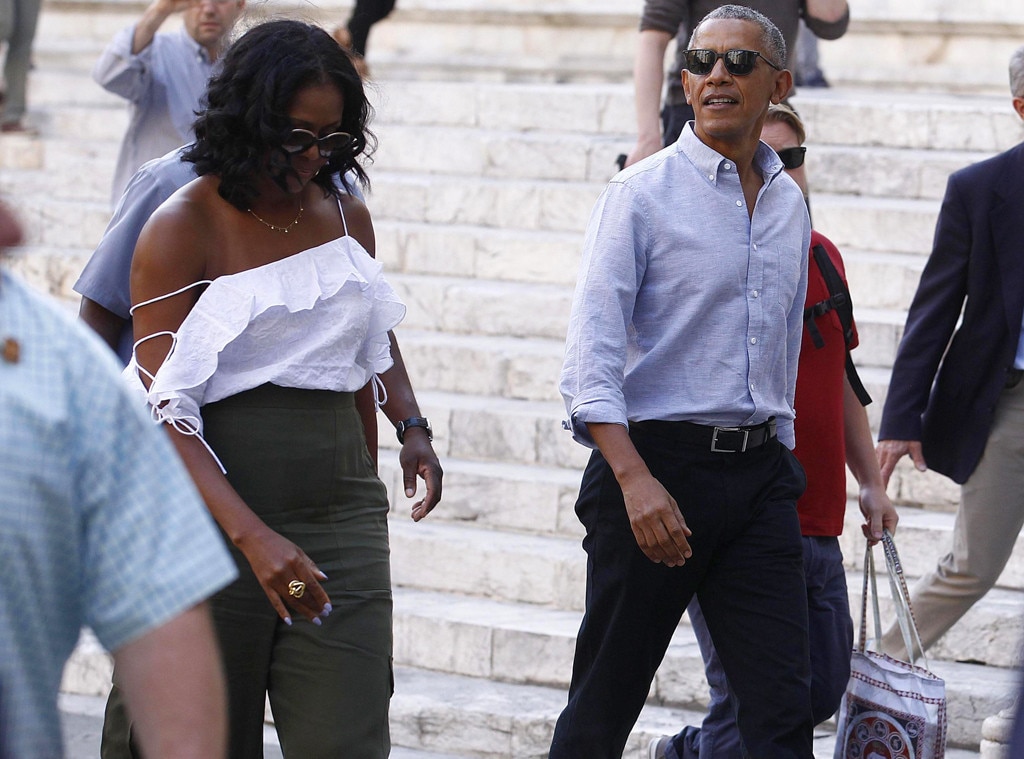 FABIO DI PIETRO/EPA/REX/Shutterstock
There are three people living their best life right now.
Leonardo DiCaprio, of course, as always. The Oscar winner never strays too far from that discussion. And he is joined this time around by Barack and Michelle Obama, who are continuing to enjoy some time in the sun after eight years of not even being able to open a window when they felt like it.
While the former president and first lady vowed in January upon leaving the White House after eight roller-coaster years that they'll be back to work "soon," they're certainly doing their best impression of a couple without a care in the world. And considering the political climate back home, it's no wonder that they've opted to seek most of their R&R an ocean away.
And pick an ocean, any ocean.
First it was the alone-at-last sojourn to Hawaii (well, alone not counting the always-present Secret Service detail provided to all former presidents).
Then they landed on Richard Branson's Necker Island, where POTUS 44 mastered kiteboarding in a week, in February. Then, after sojourns to New York, securing book deals worth a collective $65 million, and a little time spent at the $5.3 million home they're renting in Washington, D.C., the Obamas were off to Tahiti in April, where they enjoyed a so-grand-it-sounds-made-up pleasure cruise on David Geffen's $300 million yacht, the Rising Sun.
"What happens on the boat, stays on the boat," Oprah Winfreytold People about the uber-VIP vacay in French Polynesia, starring her, Tom Hanks and Rita Wilson, Bruce Springsteen and the Obamas. (So, a bunch of Bosses, basically.)
NDAs didn't stop Hanks from dishing a bit about what happened on land—namely, that when they docked to ride bicycles, the two-time Oscar winner was stuck with "an undersized, girl's bike."
"Look, imagine what it could've been like, triple it," Hanks summed up the trip on The Late Show With Stephen Colbert a few weeks ago. "It was off the scale, fantastic."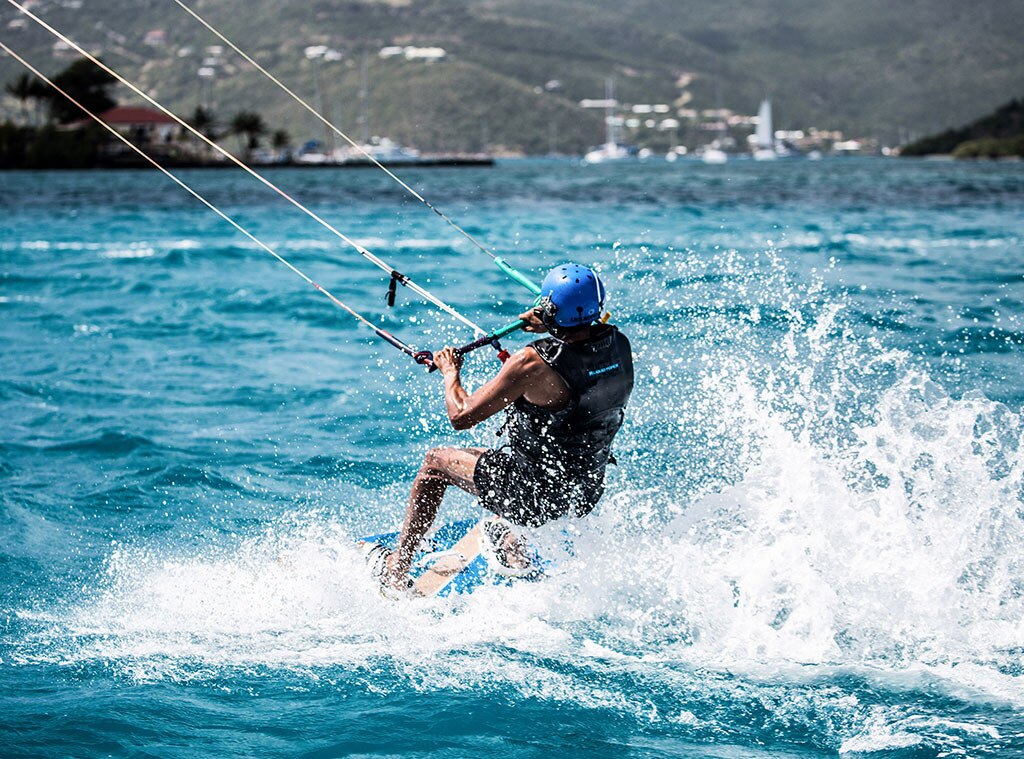 Jack Brockway/Getty Images
Fresh from that relentlessly posh vacation, Obama attended his first public event since leaving office, speaking to an audience of University of Chicago students on April 24. Opting for the, "I ran myself ragged for eight years and now I'm done wearing ties" look of leisure, Obama jauntily kicked off with a joke.
"So, what…what's been going on while I've been gone?" he asked the crowd.
Michelle Obama, meanwhile, had made a handful of appearances—including a few surprise drop-ins at D.C.-area schools and the Partnership for a Healthier America's annual Building a Healthier Future Summit—since leaving the White House. The turmoil in Washington has largely allowed the Obamas' civilian life to not dominate the news cycle, but the former president did fire up his critics (and some supporters) earlier this month when it was reported he had agreed to speak at a health conference hosted by investment banking firm Cantor Fitzgerald (it's not their technical address, but they're what's known as a "Wall Street firm") for a $400,000 fee.
When the inevitable question arose about the ability to care about people and money at the same time, and whether they weren't mutually exclusive, Obama spokesman Eric Schultz said that the matter of health care was of personal concern to him, and he had already proved he could benefit from Wall Street money, as he did during his presidential campaigns, and still do what was right for Main Street.
Obama himself, meanwhile, planned another vacation.
As has been the pattern when he and Michelle are about to take yet another step back toward involvement in public affairs, they left the country.
This time, the former first couple went to Italy—which is especially funny when you remember that the current first couple were just there today too for a meeting withPope Francis at the Vatican.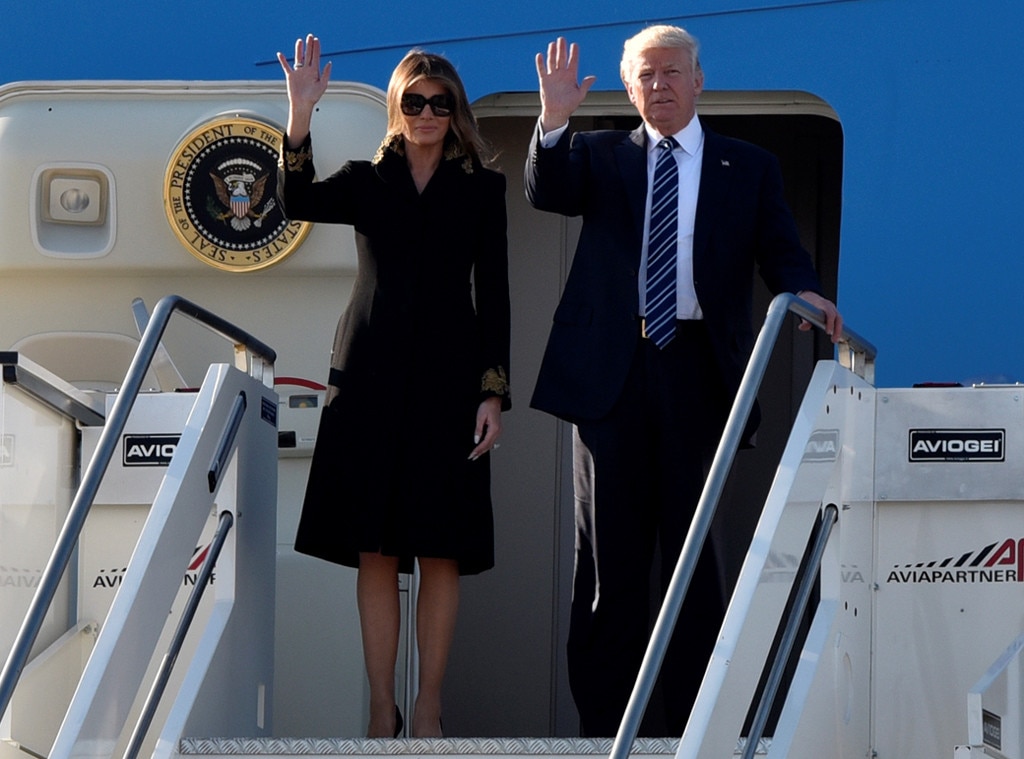 Alvaro Padilla/Anadolu Agency/Getty Images
Having just left the Middle East, President Donald Trumpis also due to meet with newly elected French President Emmanuel Macron, as well as other European Union and NATO leaders, in Brussels.
While the Obamas have not commented on any of the latest headlines that have continued to roil the Trump administration regarding Russia, James Comey, etc., merely crossing countries with Trump on his first trip overseas as president caused enough of a stir on its own when the inevitable popularity comparisons arose.
But the Obamas of course gave the Trumps a wide berth, steering far clear of Italy's capital city and hunkering down hundreds of miles away. They touched down last Friday at Grosseto Air Base in central Italy. From there they were ferried via SUV caravan to the Tuscan village of Borgo Finocchieto to stay at the villa of diplomat John Phillips, who served as the U.S. ambassador to Italy and San Marino during Obama's second term.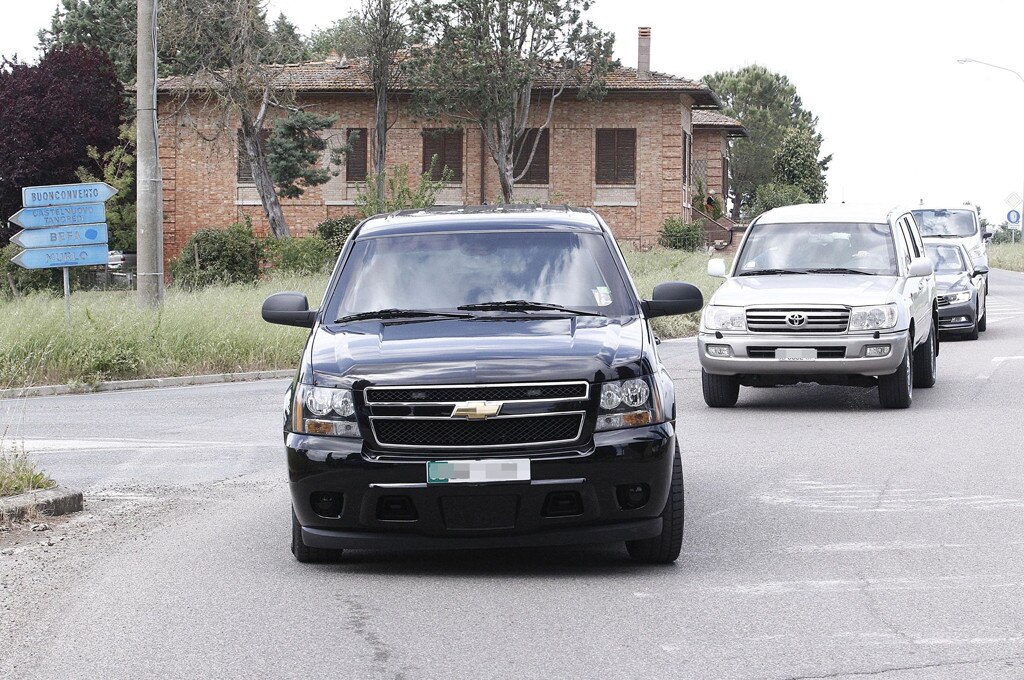 FABIO DI PIETRO/EPA/REX/Shutterstock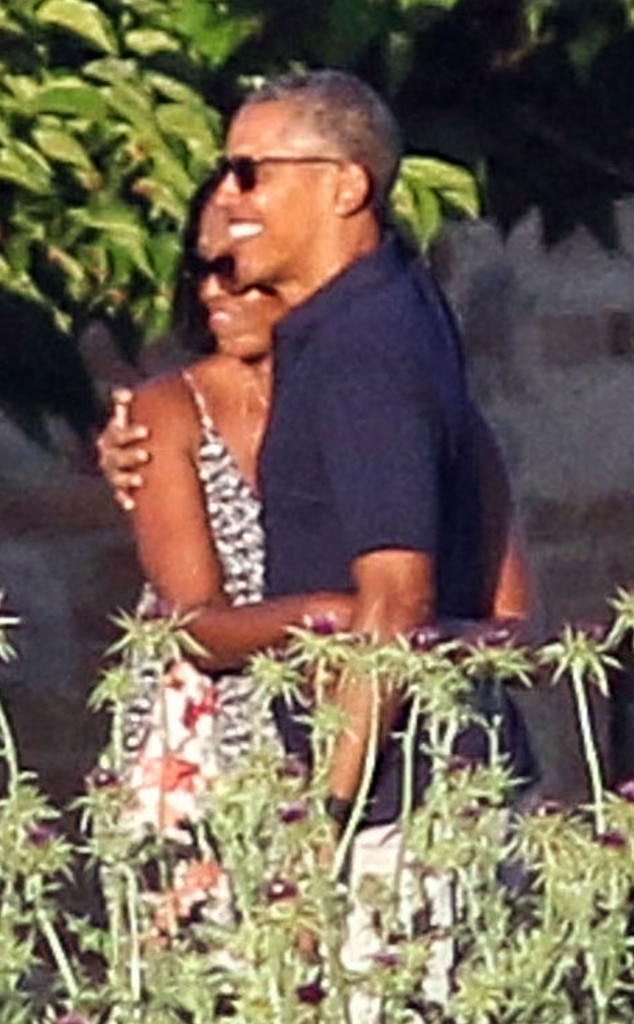 ToscanaPhotos / BACKGRID
While literally under the Tuscan sun, Michelle and Barack Obama have enjoyed food, wine, friends and their "alone" time in the picture-perfect setting.
On Sunday Obama received a celebrity's welcome on the streets of Bologna, where local fans of all ages gathered for handshakes, autographs and selfies after getting word that the still very much appreciated former U.S. president was in town.
Flanked by bodyguards, Obama greeted a number of kids eager to make his acquaintance.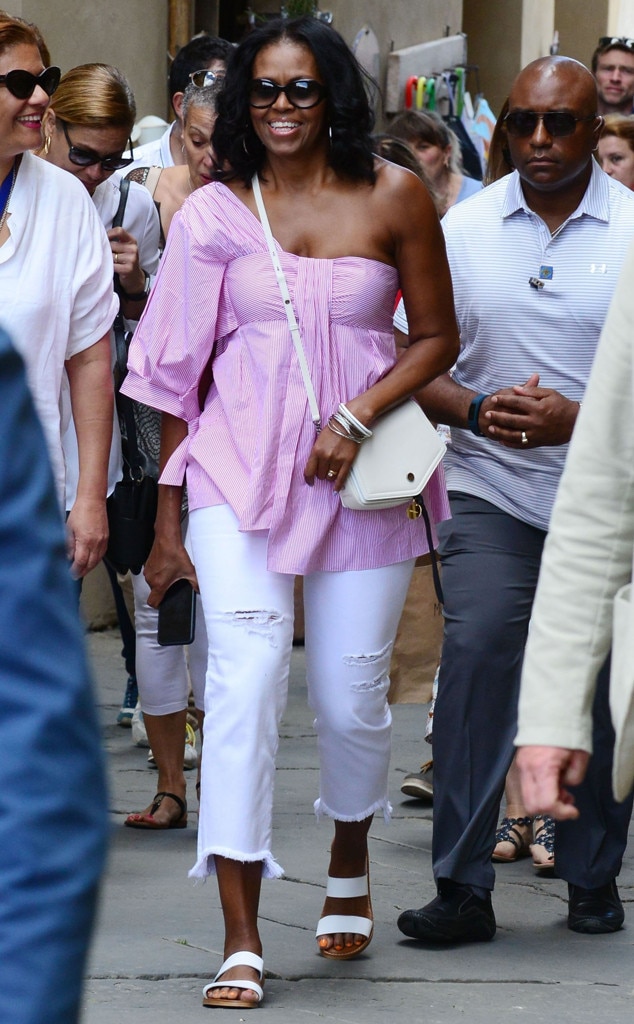 ToscanaPhotos / BACKGRID
Also on Sunday, Michelle visited the hill town of Montalcino, which is famous for its wine, for lunch and sightseeing with friends (and security). 
Because some things never change, the former first lady's sartorial choices have taken up a lot of the spotlight, with all eyes on her breezy vacation ensembles—such as her cropped white jeans with the frayed hem and chic sandals.
And let's just say, if anyone was worried about the continued viability of off-the-shoulder tops for this summer, Michelle's ever-enviable deltoids put those concerns to rest on this trip.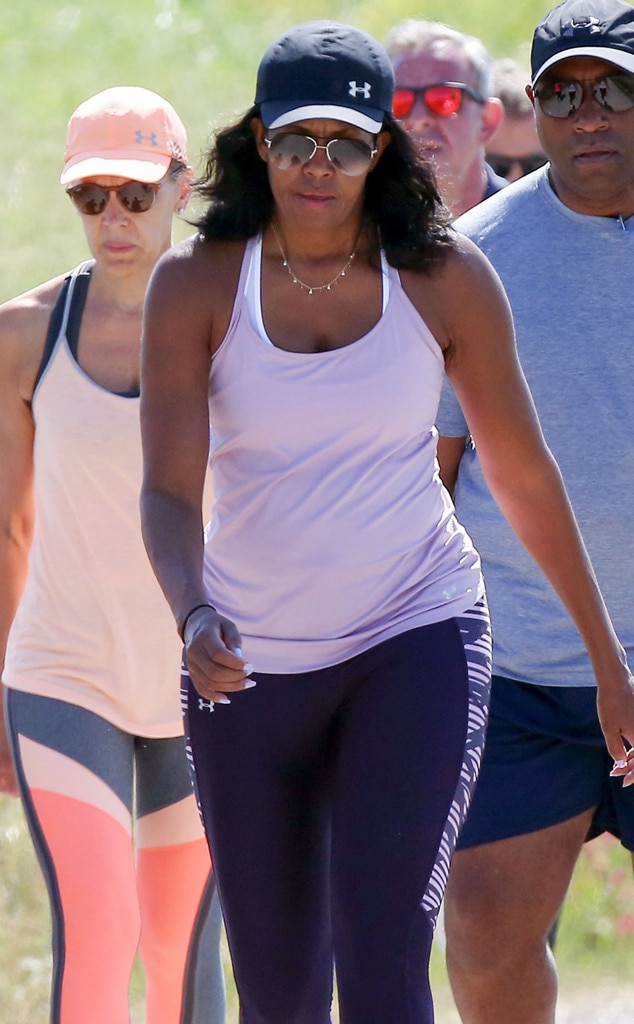 ToscanaPhotos / BACKGRID
On Monday Michelle was spotted hiking with a phalanx of people through the countryside while Obama got in a bike ride before the two of them reunited for lunch.
At one point, the former POTUS was spotted looking like a man with nary a care in the world—i.e. just a guy on vacation.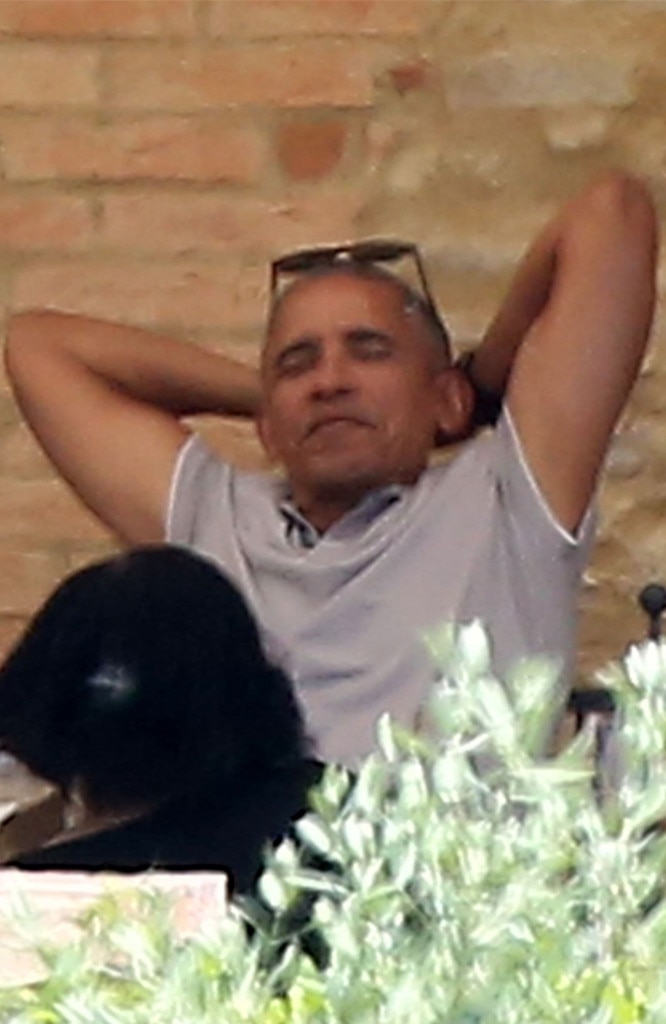 ToscanaPhotos / BACKGRID
He certainly couldn't have been worried about how he was going to pay for lunch, anyway (and he was spied picking up the tab for the group).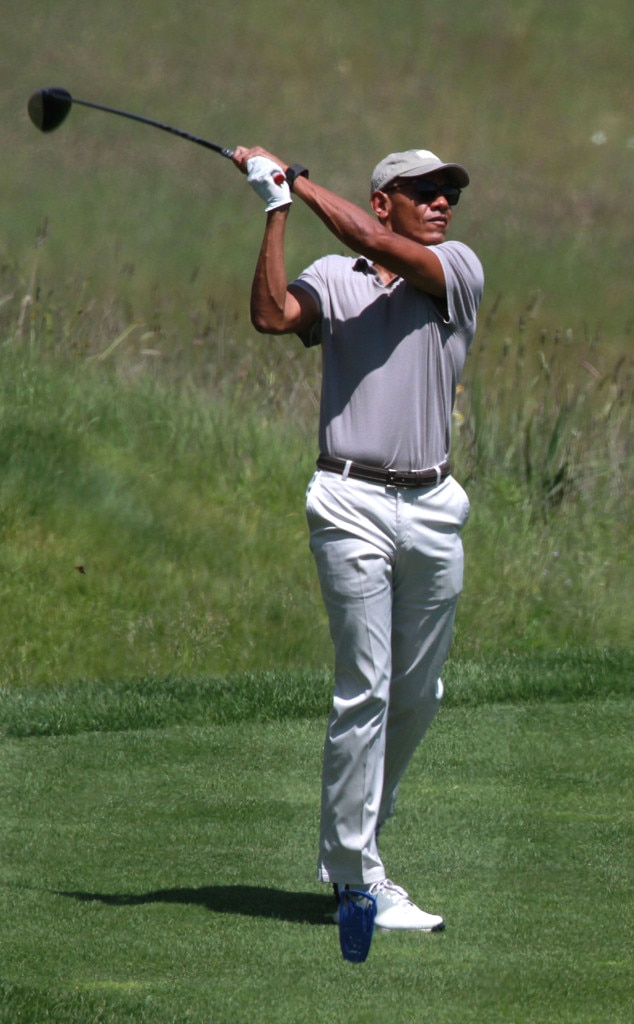 ToscanaPhotos / BACKGRID
Naturally, Obama made time for several rounds of gold, teeing off just yesterday at the scenic Castiglion del Bosco Resort.
But that might have been his farewell round, at least for a few days. With yet another epic vacation in the books, Obama is now headed to Berlin, where he'll meet with Chancellor Angela Merkel at the historic Brandenburg Gate on Thursday to kick off his foundation's planned effort to support young activists around the world who are working to combat inequality, climate change and more of the direst problems facing the planet today.
The Obama-Merkel talk has been billed as "Being Involved in Democracy: Taking on Responsibility Locally and Globally."
If the reception is anything like what Obama experienced while just strolling through the streets of Bologna, he should be receiving a rock star welcome. But above all else, he'll be rested and raring to go.