First comes the Bachelor mansion, then comes rose ceremonies, then comes one magical wedding celebration.
Even though there are a few weeks to go of Rachel Lindsay's season as The Bachelorette, fans know that the lawyer is totally engaged.
And while we have to wait to find out who the lucky man is, E! News has learned that wedding planning has made its way into Rachel's brain.
"We actually haven't talked about a date because we just want to get to know each other. We're like when can we be in public? When can we go to the grocery store, grab coffee, go to the movies?" she explained to E! News' Sibley Scoles at the 2017 ESPYS. "I'm thinking maybe next year, the end of next year maybe. We're not rushing it but sooner than later."
When asked about the possibility of wedding dress shopping, Rachel said it's not on the top of her to-do list.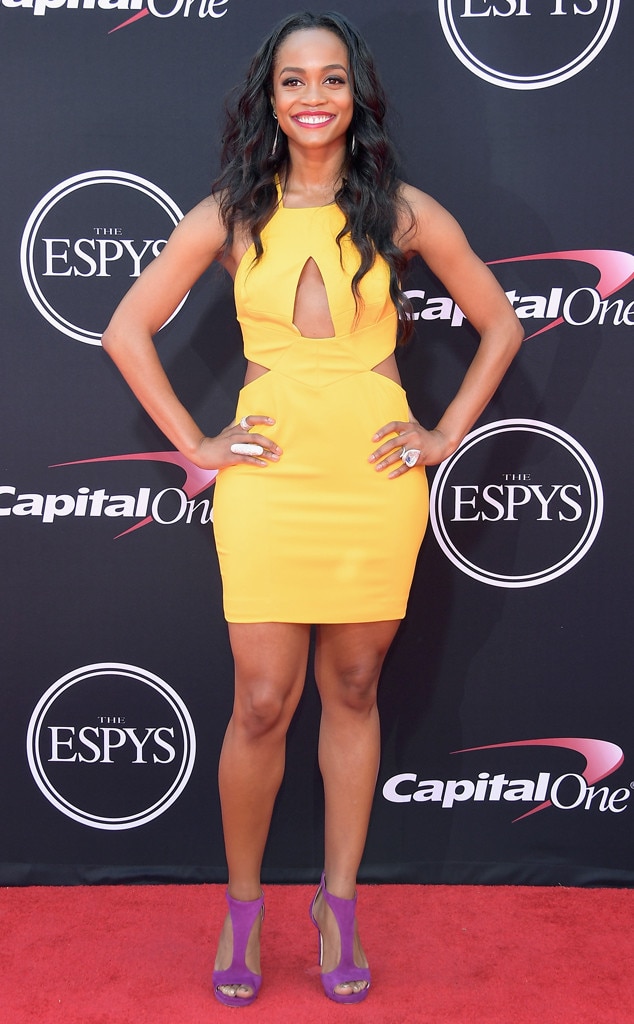 Matt Winkelmeyer/Getty Images
"Are you ready for this?" she warned us. "I have never been the girl to plan their wedding, picked out the dress. I'm like what are we going to do for the party? What kind of music are we going to have? Who's going to be there? Where's it going to be?"
With hometown dates right around the corner, your guess is as good as ours when it comes to who this lucky winner could be. Ultimately, Rachel joked that she "definitely found love and not in a hopeless place." And yes, she's even a bit surprised of the results.
"I can't even explain it. Normally, I would be sitting in my office doing my work, writing a motion or in a courtroom so this is more than I could ever imagine," she shared with us just days after participating in the MLB Celebrity Softball Game. "I just wanted to selfishly find love and pick between 30 something men, but I didn't expect all of this. It's a bucket-list experience for me to be here right now."
When all is revealed during The Bachelorette's finale, perhaps a celebratory song will be played when Rachel flashes her engagement ring. Can we get a little DJ Khaled and "I'm The One" in the Bachelor Mansion? 
"That is my song," she proclaimed. "Its got all my favs. Chance the Rapper, Justin Bieber, DJ Khaled, Lil Wayne. I mean, come on."
The Bachelorette airs Monday nights at 8 p.m. on ABC.