By Andy Charles
Last Updated: 24/05/17 5:55pm
Watch our interview with John Terry, who says he is not bothered by criticism of his final Chelsea appearance
John Terry says he "couldn't care less" about criticism of his orchestrated Stamford Bridge goodbye.
Terry was replaced in the 26th minute of his final Premier League appearance for Chelsea in a pre-planned nod to the shirt he has worn since his first-team breakthrough in 1998.
The club captain was given a guard of honour by his team-mates as he left to a standing ovation, but there was post-match criticism of the move.
The Football Association has also requested bookmaker information over a series of bets placed on Terry being taken off in that precise minute, but he told Sky Sports News HQ: "I don't really care what other people think.
"It's a celebration between me and the Chelsea fans – 22 years I have been at the football club so honestly I couldn't care less what other people say.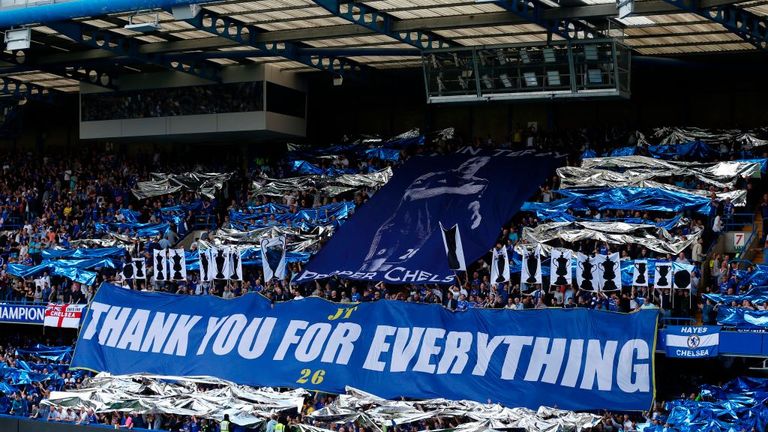 Terry was emotional after the support he received from fans before, during and after the clash with Sunderland
"It's a special relationship between me and the Chelsea fans. They know what it means to me and they gave me an unbelievable send-off, one I will never forget. Thank you to them because it was incredible and a moment I will never, ever forget."
Terry has now turned his attentions to his final game as a Chelsea player, one in which a win over Arsenal would see the club win the FA Cup and complete the double.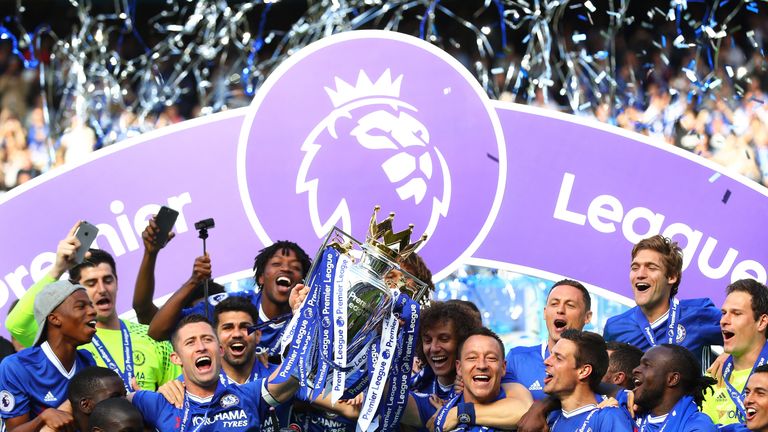 Terry lifted the Premier League trophy at Stamford Bridge along with Gary Cahill
The 36-year-old could have to settle for a place on the bench but says he will be motivated to support the team whatever role he is given on the day.
"With the league sealed, the lads are fully focused. We had a small celebration after the game, and rightly so, because you work all season long to be lifting that trophy," he added.
Watch the moment Terry was substituted, which led to a guard of honour for the Chelsea captain as he left the Stamford Bridge pitch
"We've been back on it yesterday and today and the lads are working really well. I've been on the receiving end of losing cup finals on the last day of the season and it's not a nice feeling. It's important we finish well.
"If I can be part of that, whether that's on the bench or in the squad, the manager will make his decision. I am sure he will pick his strongest side but it's a team game, everyone has been involved and I'll be professional whatever role I play."