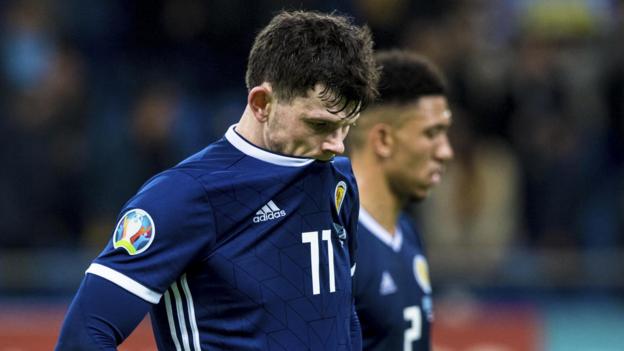 Steve Clarke is the man to lift the gloom around the Scotland national team, says former boss Craig Brown.
Clarke, 55, has left Kilmarnock to replace Alex McLeish, signing a three-year deal with the Scottish FA.
Brown, the last Scotland manager to lead them to a major finals, selected Clarke for his side in the 1990s.
"They need a bit of brightness and a slight uplift from the depression surrounding the team," he told BBC Scotland.
Clarke, the former West Bromwich Albion and Reading manager, was capped six times and had a year to go on his Kilmarnock contract.
"The players who have played for him respect him hugely," Brown said of the PFA Scotland and Scottish Football Writers' Association manager of the year, who has also held senior coaching positions at Newcastle, Chelsea and Liverpool.
"His knowledge and experience is there to be seen and there to be followed. There's not one player I've heard of who has a word to say against him, they're all very complimentary and they buy into his methods.
"He manages to get good team spirit and that will be essential because the boys only come every so often, every month or so for a game and you've got to get them together quickly, get good harmony in the squad and consistency, which I'm sure Steven will do."
Scotland have won one and lost one of their opening two Euro 2020 qualifying games and take on Cyprus and Belgium next month.
Should the Scots finish below the top two positions in Group I, they can still make the finals via the Nations League play-offs.
"To manage your national team is the ultimate accolade you can get and is arguably the best job in management, managing your country," said Brown, who oversaw 70 Scotland games between 1993 and 2001 and took them to the 1996 European Championship and 1998 World Cup.
"He'll bring to it the conscientious attention he's brought to every job in management that he's had, in particular at the recent one at Kilmarnock. Everyone in the country is able to see the outstanding work he's done with a very modest, in fact struggling team, when he arrived – and he's transformed the side.
"I don't think a transformation is necessary with the Scotland team. And transfer that to the terraces, the Tartan Army are desperate to be supportive again, you can sense that. I can tell you he will bring a togetherness not just to the players but to the fans too."
'Pity for Killie but great for Scotland' – analysis
Scotland international and former Liverpool midfielder Charlie Adam
It's a fantastic appointment. He's a manager who is high in confidence. I think Scotland are lucky to get him. I think there'll be a lot of players desperate to get into the squad to work with him. He's a well-renowned coach. He's worked with big players, I'm talking world-class players.
Day-to-day at Liverpool, Steve was the one that organised the training sessions. Straight away, he knew what he wanted in his sessions. He's got a presence. He's someone that's still young, he's hungry, he's fresh. His coaching ability is second to none. Speaking to him not so long ago, I said, 'what's the secret?'. He said, 'getting the best out of what I've got'. If he can get that extra five, 10% out the players, you've got half a chance of qualifying for a tournament.
Former Scottish FA chief executive and ex-Kilmarnock player Gordon Smith
It's an appointment that the whole nation will be right behind – apart for the Kilmarnock fans. I feel sorry for them losing their manager when he's done so well for them and they're at this stage where they're probably the best they've been for quite some time. It's a pity for my old club Killie.
But from a Scottish point of view it's great we're seeing this man get a chance with the Scottish team. He's managed to get the most out of a group of players at Kilmarnock who were not performing and weren't doing really well when he took over, and he's got them playing in such a way that all these players are looking very, very promising. And some of the players have come through to international level because of his management.