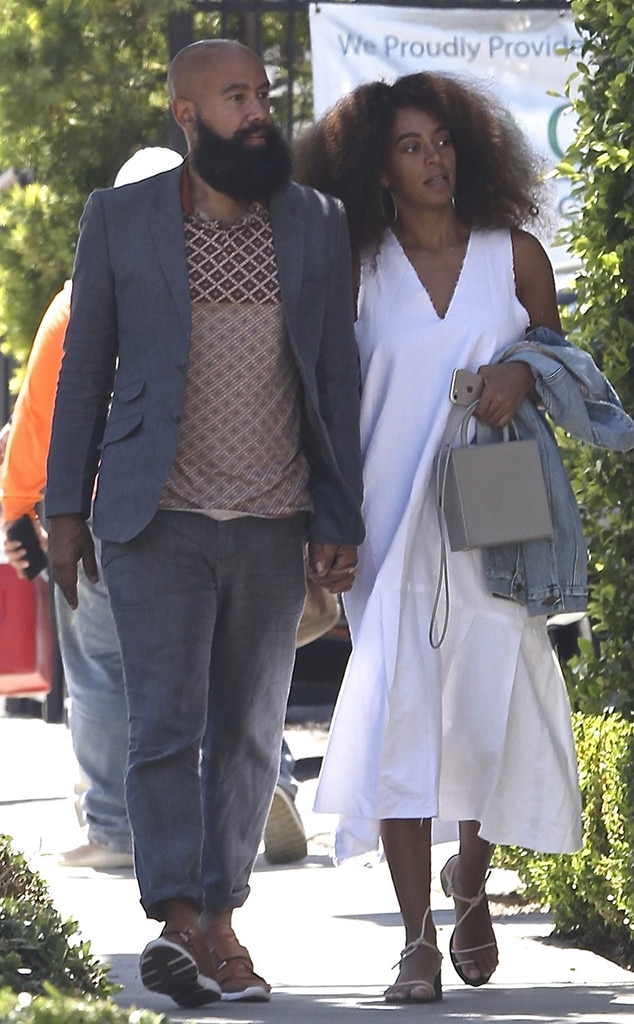 RMLA/BACKGRID
While the BeyHive is buzzing up a storm with chatter that their Queen B is in labor, it appears as though Beyoncé's mother Tina Knowles and sister Solange are definitely not by her side today.
While the world has been waiting for the twins' arrival with bated breath, both women have been spotted out and about around the Los Angeles area, seemingly going ahead with their everyday lives. File those facts under: things that make you go hmm? 
Earlier today, Solange grabbed a bite to eat at Gracias Madre with her husband Alan Ferguson. The two held hands when they stopped to grab some grub at the trendy vegan eatery in West Hollywood. For the outing, Bey's little sister opted for a summery white frock and sandals. She wore her hair natural and carried a gray leather purse. And guess what—they didn't look like they were in a rush at all.
Meanwhile, the "Formation" singer's mother was also not on hand. She was in fact at Disneyland in Anaheim, Calif. It's less than an hour drive to Los Angeles, so it's not like she's in another country, but it's certainly not at the bedside of the expectant star.
Earlier this afternoon, the proud mama posted a pic in a Mickey Mouse hat along with the caption, "Just finished a trip with Tina's Angels and Richards warriors! To Disneyland! It was hot but fun !! It was our trip to kick Off summer vacation! The kids were great fun!"
But if you think she shared that image to possibly throw people off the scent, Tina also posted several photos and video inside the Happiest Place on Earth.
Along with a group photo (you can spy her Mickey ears in the back), the 63-year-old wrote, "This is a day AT Disneyland with Tina's Angels and Richard's warriors an amazing group of smart, incredible, beautiful young people. We love you!—Tina and Richard." She also wrote, "Thanks to the chaperones for doing this." 
From reports that the 35-year-old has checked into a local hospital, security has ramped up and the memes have been coming, the people of the Internet are talking and talking and talking about a possible double birth. While no one can really confirm anything because Queen B and Jay Z are doing an amazing job of letting nothing get leaked to the public, thanks to a Shade Room report—many think they know what's going down—babies!
But we're just going to have to keep watching…