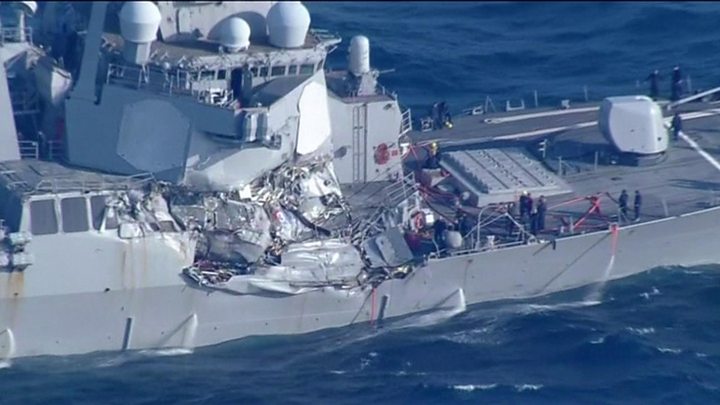 Seven US Navy crew members are missing after their ship collided with a merchant vessel off the coast of Japan.
Among the injured is the ship's commanding officer who has been taken to hospital by helicopter.
The Navy destroyer USS Fitzgerald collided with the container ship ACX Crystal about 56 nautical miles (103km) south-west of Yokosuka at about 2:30am local time (18:30 BST) on Saturday.
Aerial images showed heavy damage on the destroyer's starboard side.
The ship's commanding officer, Cmdr Bryce Benson, was in a stable condition after being transferred to US Naval Hospital Yokosuka, according to Navy officials.
Two other sailors were flown to hospital by helicopter for treatments for "lacerations and bruises", said the US 7th Fleet via Twitter.
It said earlier that the USS Fitzgerald had experienced flooding in some areas, and the full extent of injuries was being determined.
It also said the 154m ship was now on its way to Yokosuka – under its own power, but with limited propulsion.
---
One of the most advanced warships in the world – Rupert Wingfield-Hayes, BBC News, Tokyo
The area where the collusion took place is extremely busy, with shipping heading in and out of Tokyo bay.
However, the USS Fitzgerald is one of the most advanced warships in the world – with highly sophisticated radars systems.
There will now be lots of questions about why its crew failed to avoid collision with a 200m (700ft) long container ship.
---
The coast guard said the ACX Crystal container ship carried a Filipino flag and weighed just under 30,000 tonnes, about three times that of the USS Fitzgerald.
It sustained lighter damage to the port bow, according to Japanese national broadcaster NHK.
In a statement released on social media, US Navy operations chief Adm John Richardson said: "As more information is learnt we will be sure to share it with the Fitzgerald families and when appropriate the public. […]
All our thoughts and concerns are with the Fitzgerald crew and their families."