Ryan Seacrest only wants the best for Julianne Hough.
On Saturday, Hough and hockey player Brooks Laich got married in front of more than 200 guests near Coeur d'Alene, Idaho. "I don't think I ever really necessarily dreamed about my wedding as a kid," the 29-year-old Dancing With the Stars judge told People shortly after the ceremony concluded. "But I know I will always cherish and remember it for the rest of my life."
Ryan, whose two-year romance with Julianne ended in 2013, offered his "congratulations" to the newlywed on Live With Kelly and Ryan Monday. As he and Kelly Ripa reviewed wedding photos (in which Julianne modeled a custom Marchesa gown), he raved, "She looks stunning."
"I know this family," Ryan said, calling special attention to her father. "They're terrific people." Noting that the bride is "super talented," the host once again said, "Congratulations, Julianne."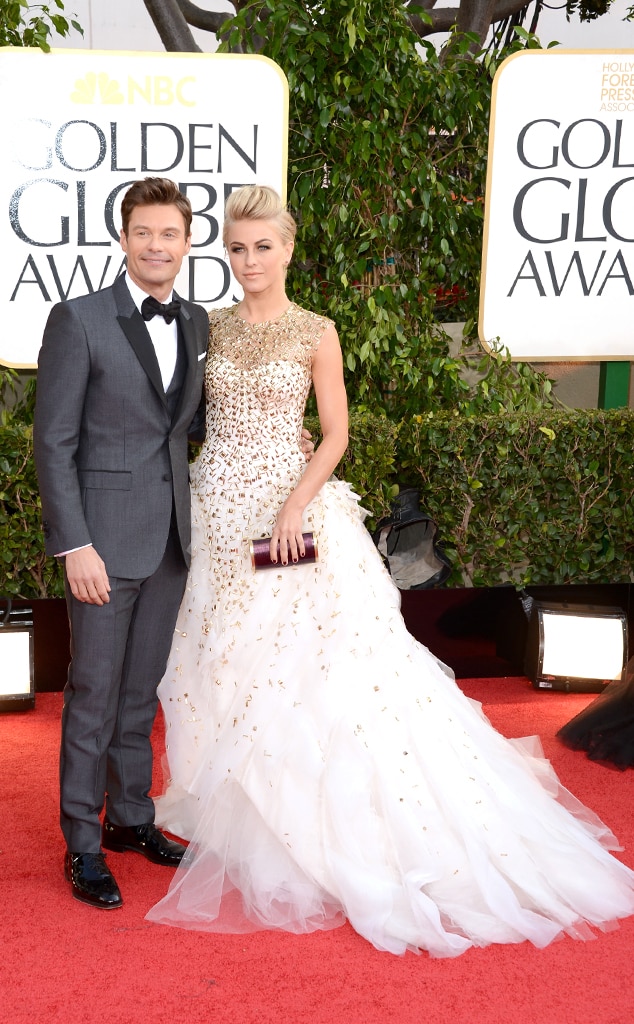 Jason Merritt/Getty Images
As Kelly pointed out, there were "duel Dancing With the Stars weddings" over the weekend, as Maksim Chmerkovskiy and Peta Murgatroyd tied the knot at Oheka Castle in Huntington, New York. "What are the rules on scheduling weddings?" Ryan wondered. Kelly was equally curious about that, saying, "That's what I wanna know! Like, where did the dancers and the judges go?"
(Many dancers and former Dancing With the Stars contestants, including Candace Cameron Bure, Nyle DiMarco, Tony Dovolani and Rumer Willis attended Maksim and Peta's wedding.)
"Having to choose would be quite a thing, wouldn't it be?" Ryan said.
"We weren't invited to either wedding," Kelly joked, "so we didn't have to make that choice!"
When she somewhat awkwardly mentioned that Ryan had previously "dated" Julianne, he confirmed, "I've been on that lake. I've seen that lake. We dated years ago and remain friends."
"It's gotta be weird if an ex gets married, right?" Kelly asked.
"No," said Ryan, who's dating Shayna Taylor. "I've got several exes who have gotten married."
Not so for Kelly, who's been married to Mark Consuelos since 1996. "Maybe it's me. I don't think any of my exes have gotten married," she laughed. "I turned them right off of marriage!"