Cristiano Ronaldo has told Real Madrid he wants to leave, Sky sources understand
Cristiano Ronaldo wants to leave Real Madrid because he does not want to play in Spain any more, Sky sources understand.
The former Manchester United winger is angry about the way he has been treated by Spanish tax authorities and has told Real he wants a move away from the club.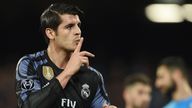 Man Utd close in on Morata
Jose Mourinho still sees Real Madrid striker Alvaro Morata as the man to replace Zlatan Ibrahimovic
Spanish prosecutors have accused Ronaldo of avoiding £14.7m in tax – a charge he completely denies.
The Portugal captain is facing allegations from Madrid's regional state prosecutor of four counts of tax fraud relating to image rights payments.
Madrid's state prosecutor alleged he used an off-shore company to hide a portion of his income from the tax office.
Ronaldo's management company Gestifute insisted on Thursday the company, Tollin, established during his time with Manchester United – from whom he moved to Real Madrid in 2009 – has acted in accordance with British and Spanish tax laws.
Watch some of Ronaldo's best free-kick goals
The four-time Ballon d'Or winner spoke briefly when quizzed on the subject by reporters following a training session with Portugal on Wednesday, saying he had a "clear conscience".
Ronaldo, 32, signed a new five-year contract last November which means he is contracted to Real until 2021, and has previously been linked with a return to United.
There is interest from China with the mid-season window there opening on Monday.
Ronaldo has also expressed his frustration at being whistled by his own fans at Real. Speaking ahead of their Champions League win over Juventus, he said: "I spent a lot of years at Manchester United and [home fans booing] never happened to me.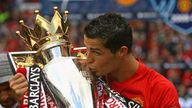 Missing the Premier League
Cristiano Ronaldo still misses Manchester United
"Maybe England is a case apart, the mentality is different. I'm very happy being in Spain but obviously I also miss England because you can't just turn off the memories."
Ronaldo has scored 285 goals in 241 league appearances since leaving Manchester for the Spanish capital in 2009.
He secured a new five-year contract with the La Liga title holders in November 2016 and said on June 1: "I said when I signed my latest contract that it would be my penultimate and that I would play on until I was 41."