Whilst the rest of the  Real Madrid  squad celebrated another title under Zinedine Zidane in the dressing room, Cristiano Ronaldo and Lucas Vazquez trained on the pitch in preparation for the club's clash with Barcelona tomorrow.
In the company of fitness coach Antonio Pintus, the two players continued with some light training after they appeared in the second-half of the Super Cup final in Macedonia.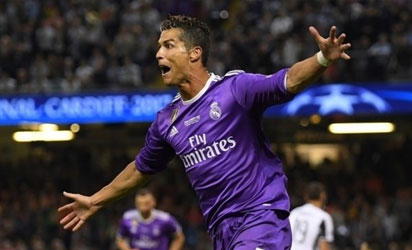 Ronaldo: sets a personal goal scoring record in Cardiff
The Portuguese only stepped onto the field for 15 minutes, whilst the Spaniard added around 24, and so under the supervision of their trainer, the two individuals worked for another 20 minutes in the heat and humidity.
Ronaldo continues to ready himself for the Spanish Super Cup, despite only appearing in three practice sessions with the squad since his return from holiday.
His goal now is reach an optimal level of fitness ahead of the first leg at the Camp Nou.