In this concluding part of his report on crimes against Nigerian children, KUNLE FALAYI writes on how police corruption is leading to numerous unresolved cases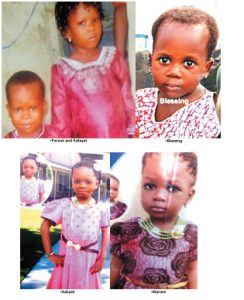 Today, Saturday, May 27, Nigeria celebrates children's rights to justice and protection. But more often than not, security agencies in Nigeria allow perpetrators of crimes against children to escape justice.
In investigating cases of missing children, especially when they are suspected to have been abducted, the first few hours are critical, says the US' National Centre for Missing and Exploited Children.
But in May 2014, as the parents of abducted three-year-old Blessing Anani, searched for her in panic and desperation, the police division in their Akowonjo neighbourhood did nothing.
In fact, they were only concerned about locking up Sojine for daring to drag a neighbour he suspected of kidnapping his child to a seer.
Sojine spent nine days in police detention.
Saturday PUNCH reported last week how Blessing was abducted through the window of where she slept with her mother and two other siblings.
Hours and days went by until the police even visited the scene of the abduction, the Ananis told our correspondent.
Blessing has not been found three years after.
After the abduction of Blessing was reported, the Ananis said the police demanded money at every turn.
Sojine said he gave up when he realised that the investigation was only going to go as far as the money he paid to the police would go.
He said, "We are poor people and we did not have the kind of money the police were demanding that we should pay. When we reported the case and the police did nothing, I was forced to take Sunny, our neighbour at the time, to a spiritualist to confess.
"He was always playing with my daughter, calling her 'my wife' and giving her things. I did not like the way he was always playing with the girl. I suspected him immediately she went missing. I could not just sit and did nothing while my daughter was missing."
It got to a point where Blessing's parents no longer got any information from the police about efforts to locate the girl.
Sojine is still bitter about this till today.
According to him, he was hoping that even if they had to lock him up for what he did, he would have been happier if they did not stop looking for his daughter.
He said, "They were always asking me to bring money. Anytime I went there and ask if there was any information, the policemen at the station would look at me and ask 'have you brought the money?'
"I begged and said I had spent all the money I had. But that was when they stopped the investigation.  May God judge those policemen. I have nobody but God. I prayed when she went missing that she would end up in the hand of a childless person who would take care of her and not ritualist who might want to harm her."
In Nigeria, lack of funds for police operations has corrupted policemen to the point where investigations are not possible without a complainant having to pay at every turn.
Unfortunately, through this kind of alleged corruption, the police may be inadvertently aiding a multibillion-dollar international illicit enterprise – human trafficking.
According to a 2017 report by the Global Financial Integrity, globally, the annual value of human trafficking is estimated at $150.2bn.
But the Ananis are not the only family of a missing child who experienced the same kind of treatment in the hands of the police.
The report of last week included the account of Akeem and Munirat Mohammed, who lost two of their children to a "baby hunter" who disguised as an apprentice.
It has been 10 months since the abductor, Gladys Austin, took away their kids, Aaliyah (8) and Mariam (5), but there has been no clue about the fate of the children.
Akeem told Saturday PUNCH that shortly after his children were abducted, he was surprised that at the moment of his desperation, the police rounded up some residents of their neighbourhood under the pretext of being suspected to have something to do with the children's disappearance.
He said, "I hoped that they were right because I just wanted my children back. Soon after, the police released them. When my neighbours who were arrested got home, I became their enemy. They said I was the one who made the police arrest them.
"I was shocked when they told me that they were only arrested because the police wanted to make money from them. All of them were made to pay so much money before they were released from custody.
"They now look at my wife and I as bad people in the neighbourhood. It was clear the police only arrested them to make money from them.
"I stopped going to the police when I noticed all they were interested in was collecting money from me all the time. I was even ready to give the police investigating officer more money. But I noticed that anytime I called him, he would tell me to bring the money somewhere.
"I asked why I could not just bring the money to his office at the station but he began insulting me. At that point, I knew he just wanted to collect my money. If the money was for the investigation, why should I bring it to somewhere other than the police station? So, I stopped calling him."
Unfortunately, Akeem said with each passing day, he agonises over what could be happening to his children where they are.
Again, it is the same story with Fatai and Suliat Azeez, whose children, Farouk (4) and Kafayat (6) were abducted in November in Okokomaiko area of Lagos.
According to Fatai, after his wife, Suliat, was able to identify the suspect at the office of the Special Anti-Robbery Squad, where she was detained at Ikeja, Lagos, investigators told him the suspect had refused to confess.
"They said I should bring more money so that she could be made to confess where she took the children to. At a point, they told us they had arrested some of the men whom she sold the children to. But after a while, we heard nothing about them anymore.
"When I became frustrated with the way they were asking us for money while our children were still out there, I contacted a police officer in Abuja who influenced how I was able to get the case transferred to the Police X-Squad at Alagbon.
"Again, when I got there, they asked me for N50,000 to track a suspect's phone. Then they told me to get N500,000 to make the investigation run smoothly. I stopped going there."
For these three families, nothing compares to the sorrow of losing a child to abductors and not able to do a single thing about it.
The police are their only hope but unfortunately, they said they might never know what happened to their children.
The frustration suffered by parents such as the Ananis, Azeezs and Mohammeds is the same kind of stories shared by many parents whose children have been raped.
In some cases, the alleged rapists escape justice after they are arrested by the police.
A case in point is that of seven-year-old Talatu Musa, which received widespread shock when it broke on the social media in April 2017.
Talatu was the child of a security guard. Her father worked for a lawmaker in Taraba State, whose 21-year-old son allegedly raped the little girl through the anus.
Shortly after the girl was rushed to the hospital for treatment as she was said to be bleeding internally, she died.
As Talatu's father raised the alarm, the lawmaker allegedly had him locked up for 'trying to ruin his political career' by accusing his son of rape.
Talatu's father did not know her daughter had died until he was released from police custody days later.
His daughter's alleged rapist and killer is still walking free, according to a source, Fulan Nasrullah.
Saturday PUNCH learnt that in some cases, policemen prevail on parents of victims to settle such cases without prosecution after they force both the complainant and accused to pay money.
This was the case of a five-year-old Rachael (not real name), who was raped by her mother's neighbour in Igando area of Lagos few months ago.
For three months, the police made no attempt to prosecute the suspect after Rachael's mother reported the case.
She had explained that the suspect was arrested initially but she was shocked when she realised that a policeman handling the case was the one appealing to her to settle the case with the alleged rapist.
She said, "The way the policeman was talking, you would think they were related. I knew that he had collected money from the man. While at the station, the policeman even told me to mention an amount I wanted so that the suspect could pay me.
"I said there was no way I could accept money for the rape of my child. I just wanted justice. He then got angry. He started blaming me for being careless with my child.
"He asked that he hoped I knew that if I insisted on going all the way, prosecuting him would cost me money. I just opened my mouth in surprise. I had already paid some money for writing statements.
"I left the station and the following day, I saw the man walking around freely. That was when I went to meet child rights activists for help."
Rachael's mother is just one of many others who met disappointment after reporting cases of child abuse to the police.
Only after child rights activists intervened in the case did the police re-arrested the suspect and charged him to court.
When a four-year-old Nursery One pupil of Victory International School, Maraba, Nasarawa State was allegedly raped by the proprietor of her school, 42-year-old Mr. Elias Oyeke, recently, again the police investigators drew the ire of the public when they demanded money from the father to investigate the case.
The little girl had reportedly been raped on several occasions after which the suspect gave her sweets. She said the suspect threatened her each time that she would get into trouble if she informed anybody of the acts.
The police only rearrested the suspect after pressure from the family lawyer, Mr. S. O Onoja (SAN).
Onoja, who berated the police for asking his client for money in such a case at the time, had to call for a transfer of the case to the force headquarters in Abuja for more effective prosecution.
Saturday PUNCH reached out to the Lagos State Police Command to find out if any attempts were still being made to locate the missing children identified in this report.
Spokesperson for the command, Mr. Olarinde Famous-Cole, explained that the cases were not closed and that as soon as investigators got a lead, they would set to work.
Asked if the investigators would be willing to work since the families had refused to give the bribes demanded, he said the family had a right to approach him and he would personally take them before the Commissioner of Police, Mr. Fatai Owoseni, to table their grievances.
"This command has a human face and would not hesitate to hear such families out.  The problem is that a child who has been abducted for many months is likely to change physically as they grow. This is why  we need the parents to supply us with more photos and information that can further aid our investigation," he said.
Children's units across police commands
There are a number of children's units scattered across the police commands nationwide. But stakeholders say lack of training and corruption keep undermining the effectiveness of the units.
According to the Child Rights Act 2003, there must be a children's unit dedicated solely to handling children's matter in police divisions across the country.
Last month, the Nigeria Police announced that it was partnering with the United Nations International Children Emergency Fund to establish a special unit that would complement existing efforts for the protection of children's rights across the country.
The police said apart from the units which already exist across the country, this would house the staff dedicated only to children.
UNICEF explained that the specialised unit would help in the investigations and prosecution of criminal cases like rape and other crimes committed against children.
Copyright PUNCH.               
All rights reserved. This material, and other digital content on this website, may not be reproduced, published, broadcast, rewritten or redistributed in whole or in part without prior express written permission from PUNCH.
Contact: [email protected]