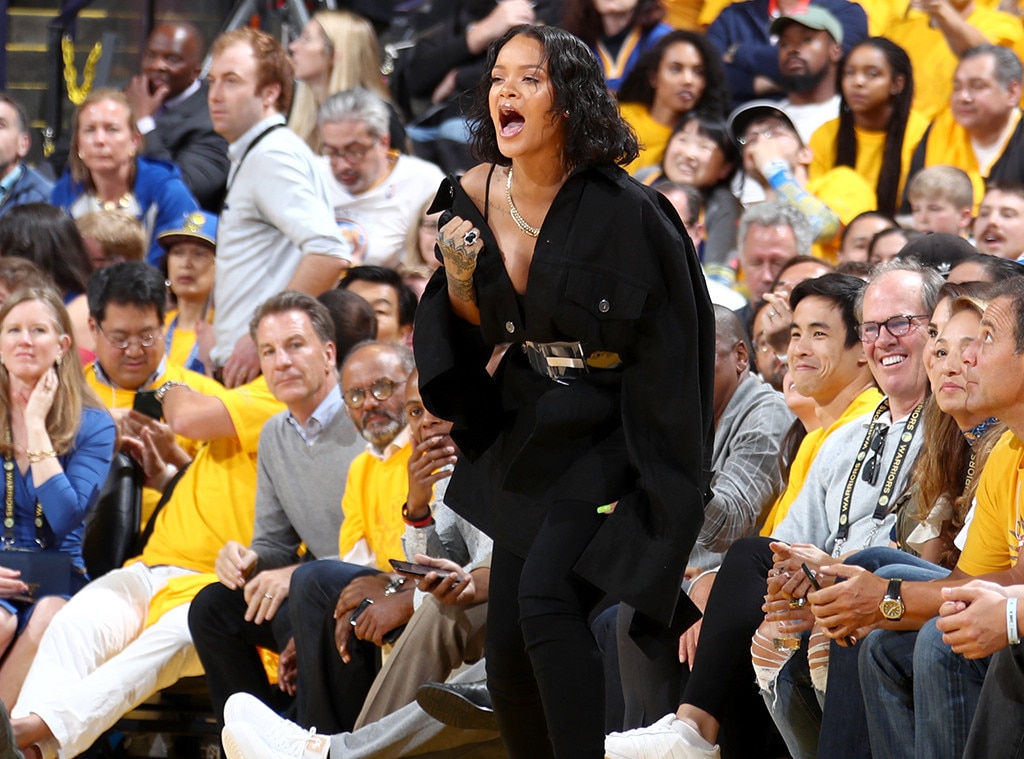 Nathaniel S. Butler/NBAE via Getty Images
Somebody may as well put a ring on Rihanna's finger…and by that we mean, an NBA championship ring because she's already won the series!
Bad Gal RiRi showed up to the first game of the finals on Thursday night and shut it down, simply by being there.
But other than her mere presence being a present in itself, the "Work" singer brought some awesome surprises that turned all attention her way. Even the on-air announcers couldn't help but show their excitement.
For example, ESPN analyst Jeff Van Gundy just couldn't keep his cool while color commenting for the game. Right after LeBron James made an incredible dunk, he yelled, "I don't know about this, but Rihanna just walked in front of me. Are you kidding me?!" 
His co-commentator Mark Jackson busted up laughing. "What are you doing, man? LeBron makes a spectacular play and that's what you deal with?" LOL!
But Jeff isn't alone…even the players couldn't help but notice her presence. 
The Twitter-verse took notice that Golden State Warriors' Kevin Durant appeared to stare her down a couple times, and we can't really blame him.
During one of his free throws she apparently screamed, "Brick" after which he ended up scoring and looking right her way when he did so.
Later in the game, he further proved his point by swishing a three-pointer and staring her down immediately after. Many people joked he "shot his shot" just to prove a point to her.
However, despite several different moments that seemed obvious to viewers, Durant promises he wasn't looking her way. During a press conference after the Warriors' victory, he said, "I don't even remember that. I'm cool. Have fun with that!"
But the Durant-Rihanna feud aside, she also made waves for heckling the Warriors fans around her and even bringing out a couple dance moves.
In fact, some people said she pulled off the best performance of the game with a fire "dab" she busted out in front of the whole crowd.
Needless to say, RiRi came seeking a "W" from her courtside seat, and even though her Cleveland Cavaliers didn't pull through, we have to hand the victory to her nonetheless.