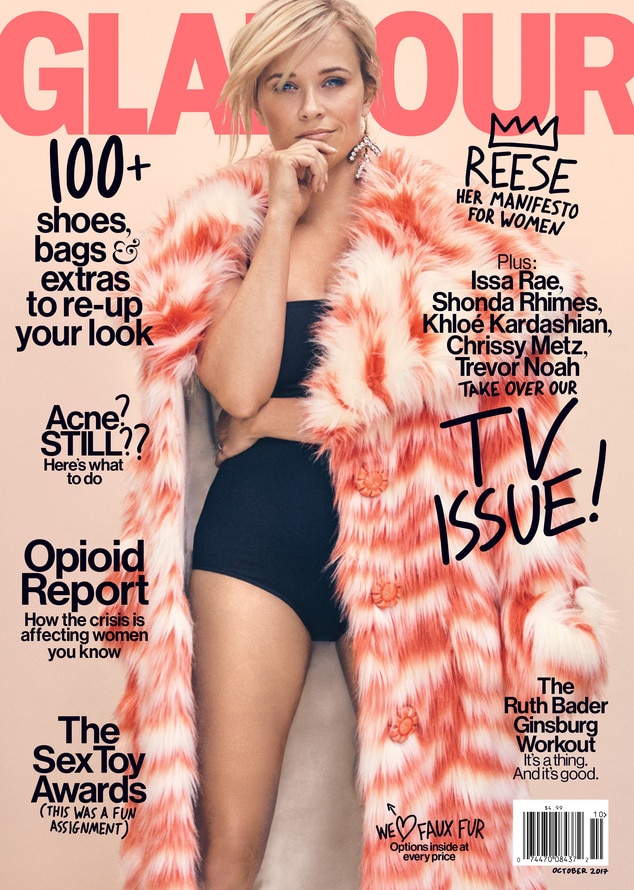 Glamour
She is woman, hear her roar!
In addition to being a wife and mother of three, Reese Witherspoon is an Oscar winner, a 2017 Emmy nominee and a hit-making film and television producer. Suffice it to say, she's a woman who knows what she wants and goes after it.
In a new interview with Glamour, the mag's September cover girl opens up about what it's been like having a long-running career in Hollywood and how things have changed (and stayed the same) over the years.
In the revealing sit-down, the 41-year-old, who is married to a behind-the-scenes Hollywood heavyweight, talent agent Jim Toth, said it was important to be with a man who wasn't threatened by a strong woman.
The actress, who is starring in the upcoming film Home Again, said, "Run away from a man who can't handle your ambition. Run. So many men think ambition is awesome and sexy!"
In the candid convo, Reese, whose HBO series Big Little Lies was highly acclaimed but also came under fire for its mostly Caucasian cast, made sure to recognize her privilege as a white woman in the industry. 
"Another thing I think about a lot is how it feels to be a minority woman in America, so rarely seeing yourself onscreen, and it's unconscionable. When I asked Mindy Kaling, 'Don't you ever get exhausted by always having to create your own roles?' she said, 'Reese, I've never had anything that I didn't create for myself.'" She continued, "I thought, 'Wow, I feel like a jerk for asking that; I used to have parts that just showed up for me. I can't imagine how hard it is to write your own parts and simultaneously have to change people's perceptions of what a woman of color is in today's society.'"
The trailblazer also spoke about creating an environment that was conducive to helping women grow. Reese said, "There's no point in toiling away and wasting your ambition on people who don't value your strengths."
She also encouraged people to start talking about these topics with their family and children. "We have to do our part to change the idea that a woman with passion and ambition is only out for herself. So talk to your kids about ambition as a positive trait in men and women," said the mother of Ava, Deacon and Tennessee. 
The superstar also had an inspiring message for other dreamers hungry to make their passions a reality.
"All we can do to create change is work hard. That's my advice: Just do what you do well. If you're a producer, you've got to produce. If you're a writer, you've got to write. If you're in corporate America, keep working hard to bust through the glass ceiling," she said.
"If you want our voices to be represented in government—and I think we're all getting behind that idea now—encourage women to run and help them with their campaigns. If you're one of those people who has that little voice in the back of her mind saying, 'Maybe I could do [fill in the blank],' don't tell it to be quiet. Give it a little room to grow, and try to find an environment it can grow in."
Home Again hits theaters on Sept. 8.