Madrid face Juve in the Champions League final this weekend, 19 years after beating the same opponents to end a 32-year hiatus for glory in Europe's elite club competition
By Richard Morgan
Last Updated: 03/06/17 7:03am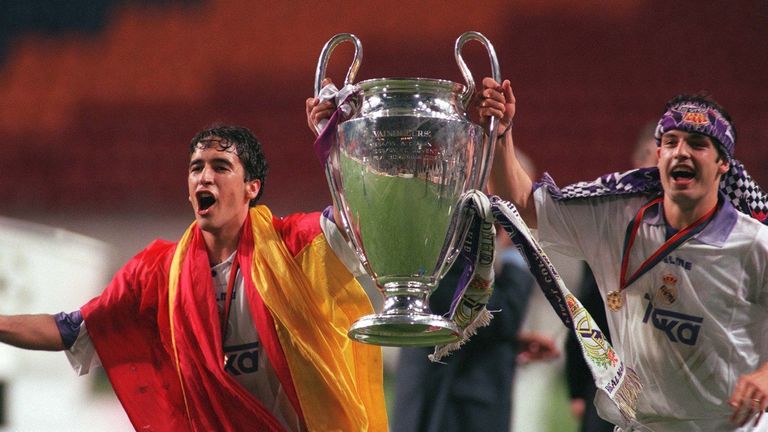 Raul Gonzalez (left) and Fernando Morientes celebrate Real Madrid's 1998 Champions League final win over Juventus
Nineteen years ago, Real Madrid upset Juventus to win their first Champions League title and on Saturday night against the same opponents, the competition's most successful side have the chance to claim their sixth European Cup of the modern era.
How times have changed, though. Back then, it was the 'Old Lady of Italian Football' who headed to Amsterdam as the undoubted kings of Europe, while Real were considered huge underdogs.
Marcello Lippi and his team arrived at the Amsterdam Arena to take part in their third consecutive Champions League final in high spirits having just sealed a third Serie A title in the space of only four seasons.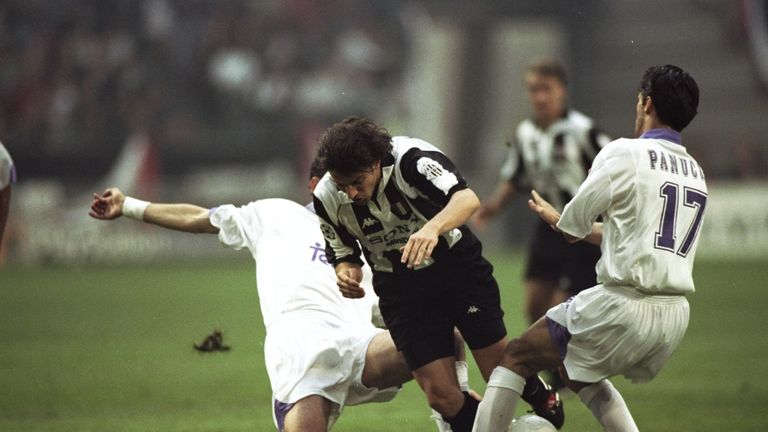 Juventus forward Alessandro Del Piero (centre) tries to escape the close attentions of two Real Madrid players in Amsterdam
In stark contrast, however, Los Blancos were competing in their first European Cup final since losing to Liverpool in Paris 17 years earlier, with the Spanish club looking to get their hands on the trophy they once considered their own for the first time since 1966.
All of which placed huge pressure on the shoulders of Jupp Heynckes, who had only replaced Fabio Capello as Real coach at the start of that season, and yet was already facing calls for his sacking after a disappointing league campaign that saw Madrid finish in a lowly position of fourth in La Liga.
And that meant Real had to beat Juve in order to feature in the following season's competition. Not that many gave Heynckes' side much of a chance in the Dutch capital, however.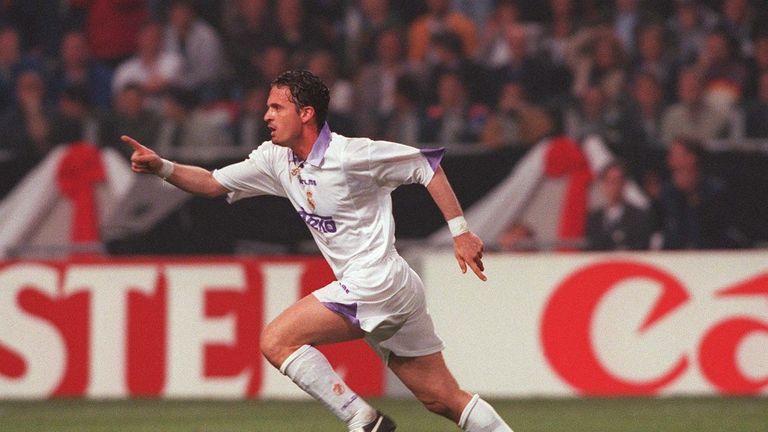 Boys, we are here and we don't know if any of us will get to a final again, so let's go out there and play a great match – we have to do everything possible to win
Predrag Mijatovic
The Spaniards – known then as 'La Quinta del Buitre' – had lost in the semi-finals of the competition in 1987, 1988 and 1989, only to go one better on this occasion after initially topping a group ahead of Rosenborg, Olympiakos and Porto.
In the last eight, Madrid easily disposed of Bayer Leverkusen 4-1 on aggregate, before edging past Borussia Dortmund, 2-0 over two legs in the semi-finals.
By this stage, excitement levels had reached fever pitch in Madrid as Real fans began to contemplate the possibility of seeing the European Cup return to the Bernabeu trophy cabinet.
Real Madrid's players celebrate with the cup with the big ears after winning the 1998 Champions League
And none more so than Mr Real Madrid himself, Manolo Sanchis. The club captain's father had played in the last Real team to have won the European Champions' Club Cup for a sixth time 32 years earlier, while the defender had suffered the heartbreak of those three previous semi-final defeats.
In what was a precursor to the soon-to-be 'Galatico' era at Real, the Madrid line-up that night in May 1998 was full of big-name players. West German World Cup winner Bodo Illgner was in goal, with Christian Panucci and Roberto Carlos at full back, the latter constantly roaming up and down the left wing much like his compatriot Marcelo will do in Cardiff on Saturday.
Elsewhere, Fernando Hierro partnered Sanchis in central defence, with Heynckes utilising Fernando Redondo as a protective shield in front of his back four.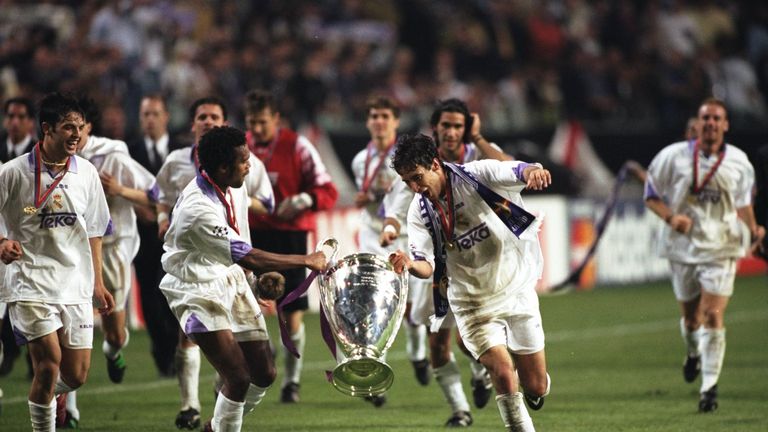 Real Madrid duo Christian Karembeu (left) and Raul celebrate with the trophy after beating Juventus in the 1998 Champions League final Amsterdam ArenA
But despite the presence of players such as Christian Karembeu and Clarence Seedorf in midfield, with Raul in the 'hole' behind strikers Fernando Morientes and Predrag Mijatovic, compared to the current version, this was not a particularly exciting Real side to watch.
Heynckes employed a safety-first approach in the final, with the German – who would go on to guide Bayern Munich to Champions League glory at Wembley in 2015 – wary of going behind to the Bianconeri.
Mijatovic, who was a major doubt for the game due to a calf problem, signalled Real's mindset going into the final by telling his team-mates in the pre-match team-talk: "Boys, we are here and we don't know if any of us will get to a final again, so let's go out there and play a great match – we have to do everything possible to win."
Starting line-ups
Juventus: Peruzzi (c), Torricelli, Mark Iuliano, Montero, Di Livio (Tacchinardi, 46), Deschamps (Conte, 77), Davids, Pessotto (Fonseca, 70), Zidane, Inzaghi, Del Piero
Subs not used: Rampulla, Teixeira, Birindelli, Amoruso
Real Madrid: Illgner, Panucci, Sanchis (c), Hierro, Roberto Carlos, Redondo, Karembeu, Seedorf, Raul (Amavisca, 90), Morientes (Jaime, 81), Mijatovic (Suker, 89)
Subs not used: Santiago Canizares, Fernando Sanz, Víctor Sanchez, Savio, Davor Suker
In the end, Real did not play a great match, but they did enough to stop Juventus – and in particular now Madrid boss Zinedine Zidane – from playing the type of football that had seen them dominate Europe under Lippi.
And it was Mijatovic who proved to be the match winner, with the mercurial forward first to react to Roberto Carlos' driven cross that deflected kindly into his path, before rounding Juve goalkeeper Angelo Peruzzi and steering the ball home from three yards with 24 minutes left to play.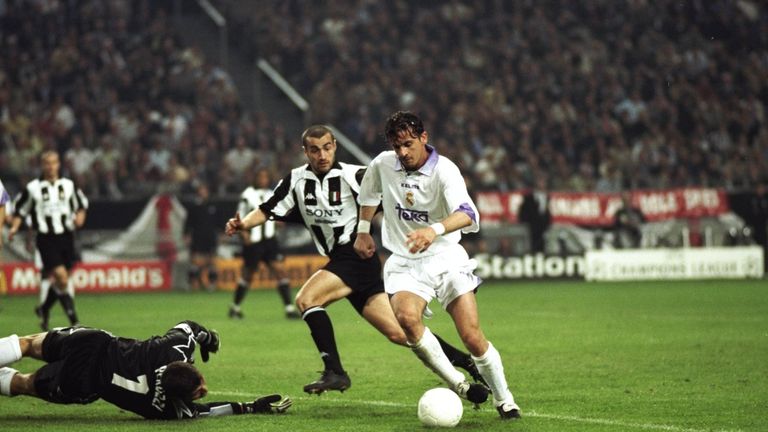 Predrag Mijatovic (right) scores Real Madrid's winner against Juventus
Real's unlikely win sparked jubilant scenes around the Cibeles statue upon the team's return to Madrid, although it was not enough to save Heynckes from being given his marching orders eight days later.
"If we had not won the European Cup, this would have been one of the worst seasons in recent years," was Real president Lorenzo Sanz's verdict on the German's brief tenure at the Bernabeu.
If we had not won the European Cup, this would have been one of the worst seasons in recent years
Lorenzo Sanz
Sanz would go on to oversee a second Champions League triumph – and eighth overall in Europe's premier club competition – with victory against Valencia in Paris two years later, only to then lose out to Florentino Perez in that summer's presidential elections.
However, by signing players of the calibre of Mijatovic and Davor Suker with his own money, the Spanish businessman had laid the foundations for the 'Galatico' era that was to follow under Perez, and with it the return of Real to Europe's top table.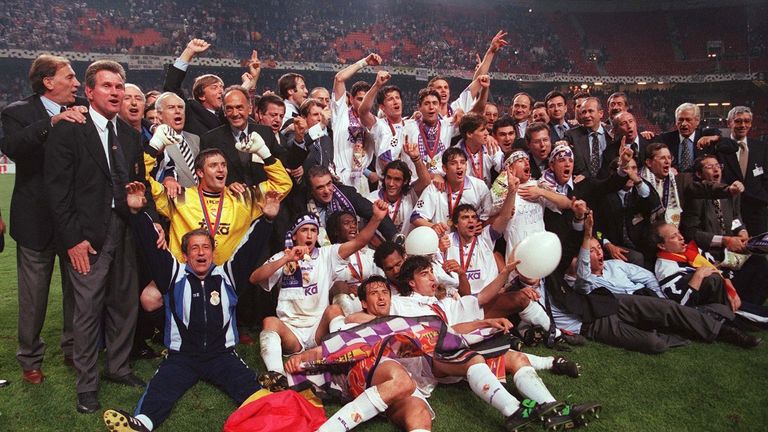 Real Madrid's players, and manager Jupp Heynckes (far left, top row), celebrate their win over Juventus in the 1998 Champions League final
Los Blancos won further Champions Leagues in 2002 when Zidane, who by then had swapped Turin for Madrid, scored the goal to see off Leverkusen in Glasgow, as well as in 2014 as La Decima at last become a reality, and then again last year with the Frenchman at the helm.
As a result, beating Juventus at the Principality Stadium – and rather ominously for Max Allegri's men, the Spaniards have never lost a Champions League final – would make Real the first side since AC Milan 27 years ago to retain the trophy.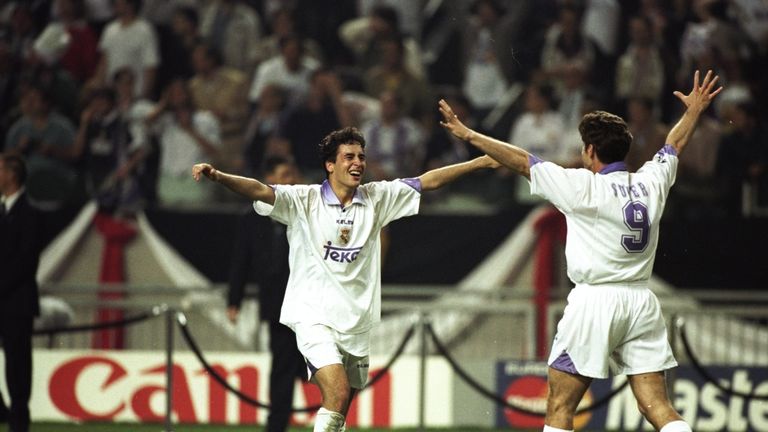 Real Madrid duo Raul (left) and substitute Davor Suker congratulate each other at the final whistle in Amsterdam
And so in many ways it is fitting that the 'Old Lady' now stand between Los Merengues and a place in history on Saturday night, as it was Real's shock win over them almost 20 years ago that proved the catalyst for the creation of the modern Madrid.