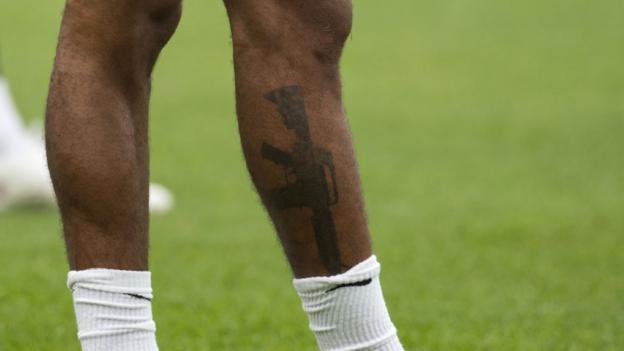 The Football Association has offered its support to Raheem Sterling after the England forward revealed a tattoo of a gun on his right leg.
The Manchester City player, 23, said the tattoo had a "deeper meaning" after criticism from anti-gun campaigners.
Sterling said on Instagram it reflected a vow to "never touch a gun" after his father was shot dead when he was a boy.
An FA spokesperson said: "We all support Sterling and acknowledge the honest and heartfelt account he gave."
The statement added: "He and the rest of the squad are focused solely on preparing for the forthcoming World Cup."
Sterling, who will travel to Russia this summer as part of England's World Cup squad, revealed his tattoo on Instagram in a photo of himself training with team-mates at St George's Park.
In a later post, he wrote: "When I was two my father died from being gunned down to death. I made a promise to myself I would never touch a gun in my lifetime.
"I shoot with my right foot so it has a deeper meaning."
He added that the tattoo was unfinished.
According to previous reports, Sterling's father was killed in Kingston, Jamaica.
He posted his message after The Sun newspaper ran a story in which Lucy Cope, who founded the Mothers Against Guns group after her son was shot dead in 2012, said Sterling should not play for England unless he gets rid of the tattoo.
After scoring 18 goals to help Manchester City win the Premier League title, he is expected to be one of England's key players at the World Cup.
He has previously asked fans to "give love" to the team ahead of the tournament, adding: "I feel sometimes there is too much negativity. I would love to hear some positive notes coming in, just to let the boys know everyone is behind them."
Former England player-turned-pundit Gary Lineker said Sterling was "a terrific footballer with a brilliant work ethic", and called The Sun's treatment of him "disgusting".
England begin their World Cup campaign against Tunisia on 18 June.