Written by
Leher Kala
|
Published:August 7, 2017 12:00 am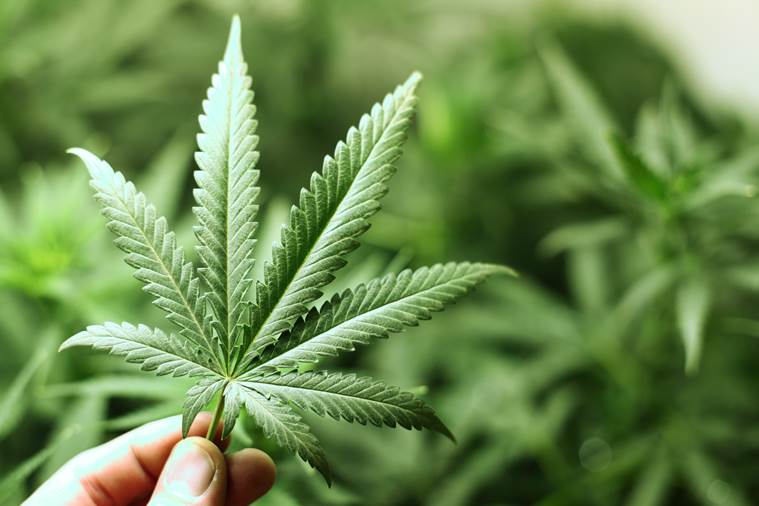 The years 2016 and 2017 have been watershed years for marijuana legislation all over the world. (Representational Image)
Women & Child Development Minister Menaka Gandhi's recommendation that marijuana be legalised for medical purposes has been received with much amusement. Shivji ka prasad, as it is referred to (with a straight face), is deeply entrenched in our culture and its relatively harmless pleasures, socially sanctioned. Perhaps, more so now, because countries all over the world have relaxed rules around it, giving marijuana a mainstream respectability it didn't fully enjoy before. It's not clear whether Mrs Gandhi intends marijuana to be available at a pharmacy with a prescription (like in the US). Or how they plan to ensure that it's not bought for recreational use. Considering, cough syrups and inhalants are freely accessible to get high and the state has failed miserably to do anything about it.
The years 2016 and 2017 have been watershed years for marijuana legislation all over the world, after 20 countries decriminalised possession of small amounts (under 10 grams). India has a 2,000-year history of cannabis use. It finds mention in ancient texts, which refer to it as a sacred plant and secret source of happiness. Conveniently enough, some religious festivals recognise the human need for occasional revelry, and bhang — a blend of milk, sugar, nuts and cannabis — adds many more (psychedelic) colours to Holi.
Though there has been a crackdown, every year, tourists from all over the world come to trek through dense deodar forests and spectacular waterfalls to reach the scenic Parvati Valley, home to allegedly the best hashish in the world, Malana Cream. They're not all wayward hippies or thrill seekers, just people curious about this famously divine export from a remote and beautiful Himalayan village. Four hours away, the hip cafes in Manali, populated by 20-something Indian and Israeli students, are thick with hashish smoke. In Haridwar and Rishikesh, where saffron robed sadhus abound, it's questionable whether they have achieved any kind of moksha but they're lucky enough to transcend ordinary reality with a lot of help from ganja and charas.
So, considering some derivative of marijuana is available at every nook and corner of India, it seems laughably hypocritical that its cultivation or sale remains illegal. It could be big business, since Malana Cream and Kerala Gold (another famous hashish) are already brands. When the rest of the world is busy tapping into its supposedly miraculous healing properties, it seems foolish that India will, as usual, arrive late to the party. There are many excellent arguments for legalising cannabis, like the money to be made and the end of the drug dealer. Once it's off the streets and bought from shops, the quality will be consistent, and safer for the user.
Except, one has to wonder, if the popular din around marijuana right now, that it's risk free, safe and even healthy, isn't grossly over exaggerated and the downside, completely glossed over. It's one thing for a 60-something rheumatoid arthritis sufferer in New York to use it to ease pain in stiff joints (after a recommendation by a physician), but quite another for a 20-year-old unemployed youth from some long forgotten hamlet in UP with zero prospects to have unfettered access to it. That is exactly the kind of vulnerable person who will abuse it as a gateway drug before moving to more dangerous substances. Regulating who's buying would be impossible, an administrative nightmare. Legalising marijuana will work in mature democracies with an enlightened public, where literacy and income levels are more uniform. That time has not yet arrived in India.
Laws are only changed for the greater good of a majority of citizens and legalising weed sends the message that it's okay to have it. Perhaps, the most convincing argument against the legalisation of marijuana is the one I heard a doctor on CNN say: it makes you slow and stupid. So does alcohol, but it would take a lot longer and you would need to consume copious quantities of it to reach the same level of stupidity. Anyone who's tried a hash brownie, or a joint, can attest to the fact that the world suddenly (and pleasantly) looks like you're gazing out of the Reyes Instagram filter. There is something to be said for adults having the right to choose if they want to go through life in a state of semi-stoned delirium.
However, the question remains, if popular opinion should influence the discourse around marijuana so profoundly, in utter disregard of medical reality.
For all the latest India News, download Indian Express App