Last Updated: 02/06/17 4:32pm
Paul Pogba celebrates after Manchester United's Europa League victory last month
Former Manchester United skipper Bryan Robson believes Paul Pogba has all the ingredients to be a successful future captain at Old Trafford.
The 24-year-old French international rejoined United last summer for a world-record transfer fee of £89m, having left for Juventus in 2012.
Nobody played more games for United last season than Pogba but due to his astronomical transfer fee, many pundits have described his campaign as being disappointing.
Robson, however, is not one of them and the 60-year-old ex-England skipper said: "I think he's improved United. When he's been missing, we've missed something.
"He maybe dwells [on the ball] a bit too long for a central midfielder sometimes – you want to move it quicker – but Paul has got real ability and he can see a pass that splits defences.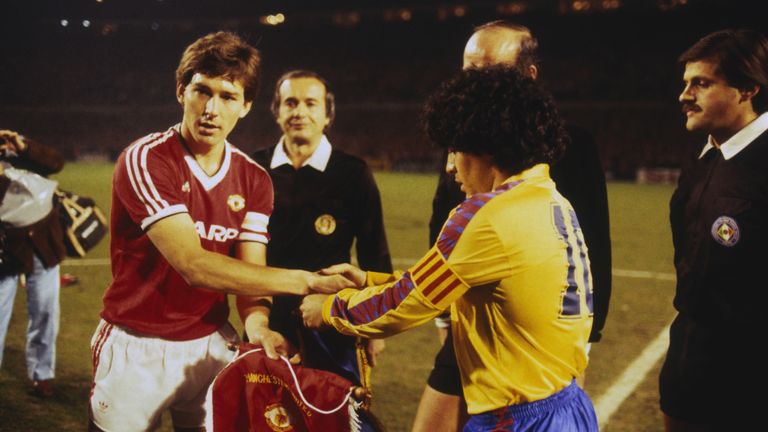 Bryan Robson shakes hands with Barcelona skipper Diego Maradona before United's European Cup Winners' Cup match at Old Trafford in March 1984
"When he's not in the team, we don't have that. I think if Paul starts improving his performances, he could be a captain for United who leads by example."
Robson's former team-mate Gary Pallister thinks Pogba will get better as the years progress.
He said: "I think he'll be better for a bit of a rest and the hype of the transfer fee has played its part in that. And he's just lost his father, which is tough.
"But I think with a full pre-season behind him, you'll see the best of Paul Pogba.
"He's got that infectious way about him, he loves life and he seems to really enjoy playing football, so I think he'd be the type of player to follow.
"If Pogba starts playing the way we know he's capable of, he ticks all the boxes."
Robson and Pallister were speaking on behalf of Marathonbet, the Official Global Betting Partner to Manchester United.