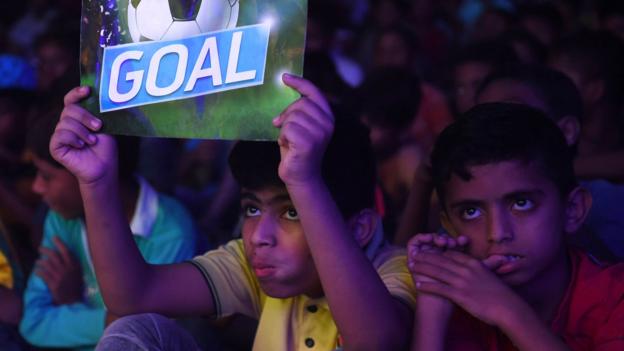 For three years football ground to a halt in Pakistan. No national fixtures, no funding.
Until last month, Pakistan had not been in action since March 2015 – a goalless World Cup qualifier against Yemen.
That led to an all-time low Fifa ranking of 201 out of 206 countries. The likes of Bermuda and Ethiopia rank higher.
How did it happen and who is taking on the onerous task of lifting the Green Shirts out of the doldrums?
A fall and an awakening?
Matters deteriorated for the Pakistan Football Federation (PFF) following the June 2015 re-election of Syed Faisal Saleh Hayat as president, which was accompanied by accusations of vote-rigging.
Rival camps and infighting led to a Lahore High Court-appointed administrator overseeing footballing matters in the country. But that fell foul of Fifa's stipulation that a governing body cannot be under the control of "undue third party interference". Fifa gave the PFF two years to put its house in order.
Fans, former players and referees staged street protests, urging the government to intervene to resolve the PFF impasse and later to lift the Fifa ban imposed in October 2017.
The Pakistan Premier League, which has been operating since 2004 in a 12-team format, also ground to a halt in 2015, with the PFF unable to run the game or produce fixtures because of a separate dispute.
Club academies were unable to function, player development and club progression stopped and potential income was lost. The impasse lasted three years, but the loss to current and developing players may be felt for years to come.
After years of stagnation, however, football in Pakistan received a boost when Fifa lifted the sanction it imposed on the country last year.
As of March 2018, the PFF was once again free to run the game following the ramifications of the contested re-election result and internal disputes.
And in August, Pakistan returned to the international fold at the 2018 Asian Games in Indonesia, where they narrowly failed to progress from their group as one of the best third-placed teams.
Fielding an under-23s team, which included three senior players, Pakistan won their first match at an Asian Games in almost 44 years – a 2-1 win over Nepal.
New Pakistan head coach Jose Antonio Nogueira, a 52-year-old Brazilian who previously coached Saudi Arabian side Al Ahly, as well as Sierra Leone and St Kitts & Nevis at international level, will have been heartened by what he saw.
But he knows the real test will come at the South Asian Football Federation Championship held in Dhaka from 4-15 September.
India – who are the current champions – Sri Lanka, Nepal, Bhutan, the Maldives and hosts Bangladesh will also contest the title.
"I have a good plan for Pakistan. To build football in Pakistan is very important. It stopped for a long time so now we need to start again," said Nogueira.
"I'll stay in Pakistan for a minimum of three years to review the development of football and young players in order to turn them into a force in Asia."
'Players had to buy their own kit' – the scale of the task
Former Tottenham defender Graham Roberts was Pakistan's head coach from late 2010 until January 2011. He enjoyed his time in the country, but endured frustrations.
He recalls players who had to buy their own training kit and others who had to travel for hours to train at their own expense.
"There's lots of potential there, but they need better facilities. In Pakistan you need 4G pitches that the players can train on. We went to the national stadium in Islamabad, and the facilities there were really good, but the ones in Lahore and Karachi weren't up to standard.
"The federation should step in. Go to Fifa and say: 'We want six or eight 4G pitches.' Two in Islamabad, two in Lahore, two in Karachi, two in Peshawar."
Key to the PFF's ambitions are Hayat, vice-president Sardar Naveed Haider Khan and general secretary Lt Col Ahmed Yar Khan Lodhi. The trio are ambitious, aiming to make football the most popular sport in a cricket-mad country.
Lodhi wants a fully professional league in Pakistan within three years, as well as men's and women's national teams competing with the top-tier teams in Asia.
And when it comes to the South Asian Football Federation Championship: "Our target is to play the final – and ideally win."
Hayat – a politician for over 40 years – comes from a powerful feudal family. He studied at Lahore's famed Aitchison College and later at King's College in London.
He has been PFF president since 2003, but unproven allegations of corruption and malpractice have tainted his tenure.
It is Pakistan's declining Fifa ranking and emergence from the ban which urgently occupies Hayat and the PFF.
He remains close friends with Fifa senior vice-president Sheikh Salman, the Bahraini head of the Asian Football Confederation (AFC) who was a candidate for the world governing body's presidency in 2016.
In 2005, the PFF struck a deal with the Bahrain Football Association to fund the services of former Bahrain coach Salman Sharida. A similar deal is in place for the services of Nogueira.
Pakistan will play friendly 's emergence from the footballing doldrums will also see the nation play friendly matches in the tiny Gulf Kingdom.
Could Europe be a source for Pakistan's success?
Key to the country's development could be the emerging players with Pakistani heritage in Europe.
Former Fulham defender Zesh Rehman, ex-Huddersfield Town midfielder Adnan Ahmed and former Northampton Town defender Kashif Siddiqi were among those who turned out for the Green Shirts from 2007 – and they witnessed a team with potential.
Siddiqi won nine caps for Pakistan, making his senior debut at the 2008 South Asian Football Federation Championship, hosted in the Maldives, against Nepal, India and Afghanistan. He believes Nogueira will be a success.
"Pakistan have had a tendency to recruit good international coaches," said the 32-year-old, who founded the Kashif Siddiqi Foundation, which aims to get more British south Asians playing football.
"It's the first time we've had a South American coach. The Middle East have great success stories, and I'm hopeful we can be led in the same way."
As it stands, players based in Denmark, England, the Netherlands, Norway and Scotland are eligible to play for Pakistan – and a few international legends have helped raise the profile of the game.
Last summer, Pakistan witnessed the landmark visit of some greats of the game when Brazilian Ronaldinho, French pair Nicolas Anelka, Robert Pires and Wales' Ryan Giggs were among former players who travelled to play two seven-a-side games for teams which included local players.
In a nation that avidly follows the Premier League, Champions League and Spain's La Liga, the city of Chaman in Balochistan and the densely populated Karachi town of Lyari were gripped.
Packed stadiums in Karachi and Lahore hosted the exhibition matches, and for a country whose cricket side play 'home' fixtures in the United Arab Emirates because of security concerns following an attack on the Sri Lanka team in 2009, this was seen as a coup for football in Pakistan.
However, it will take more than gimmicks to get football in Pakistan moving in the right direction.
With regional footballing powers Iran, Iraq, North and South Korea, China and now Australia to aim for, the PFF is under no illusions as to what it will take to emulate these nations on the pitch.