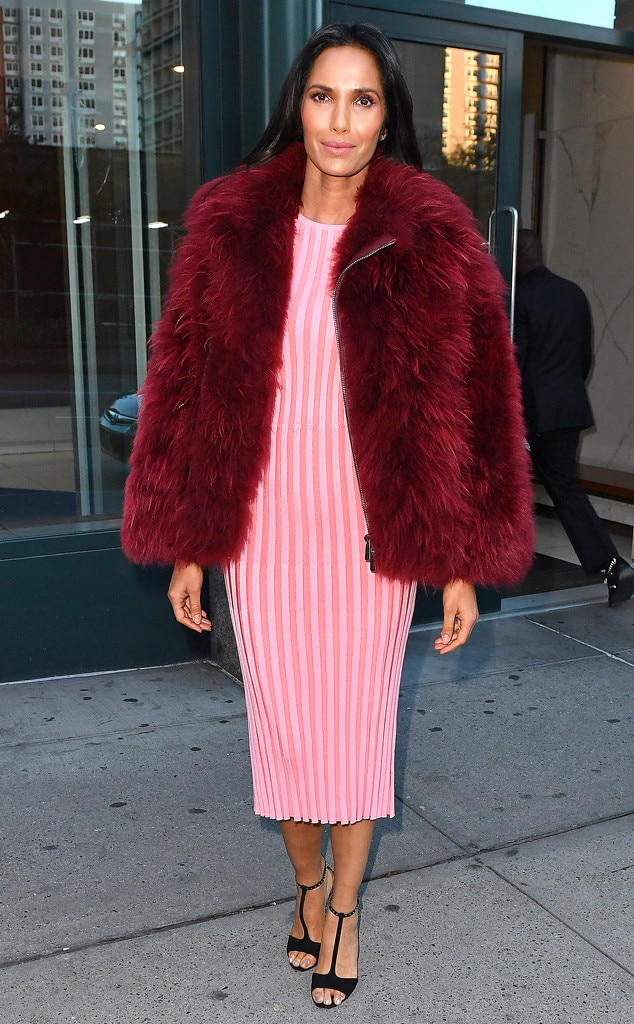 Robert O'neil/Splash News
Top Chef host Padma Lakshmi testified in a federal trial today and detailed her frightening encounter with angry Teamster union members.
Boston-based Local 25 union members John Fidler, Daniel Redmond, Robert Cafarelli and Michael Ross are accused of threatening to disrupt the filming of Top Chef if the non-union production company did not agree to hire union laborers, Boston station WCVB reported. The men have pleaded not guilty to federal charges of conspiracy and attempted extortion. 
The accusation stems from a confrontation between Teamsters and the show's non-union production company's crew at a Boston-area restaurant where they were filming scenes for the show in 2014.
During the trial, Lakshmi recalled the encounter and admitted she was struck with fear when one of the protesters approached her car.
"One guy came up to the car, and I had the windows down," she said in court, according to Boston Globe reporter Milton Valencia. "He rested his arm on the door when the window was down, [and said], 'Oh looky here, what a pretty face, or what a shame about that pretty face.' And he said something to my driver which was very derogatory."
Lakshmi said her heart began pounding, and continued, "I felt he was bullying me. I felt he was saying, 'I might hit you.'"
[youtube https://www.youtube.com/watch?v=ynwxNtkVCas?wmode=transparent&w=560&h=315]
Showrunner Ellie Carbajal previously testified with similar remarks, saying Teamsters Union members physically threatened the crew and hurled racist insults at Lakshmi, leaving her "paralyzed with fear," Fox News reported.
"They swarmed her vehicle and surrounded it," Carbajal told the jury, according to Deadline.
She claimed that one of the workers said to the others regarding Lakshmi, "That's the pretty one. We want to smash her face in."
Erica Ross, the show's former co-executive producer, had testified she witnessed the same incident and that Lakshmi was "visibly terrified," Deadline also reported.
The men's defense lawyers have said the Teamsters had exercised their right to picket and did not act unlawfully. The four men each face up to 20 years in prison if convicted.
Prosecutors said the Teamsters had blocked vehicles, slashed tires, yelled profanities and homophobic and racial slurs and threatened to use physical violence. A video from the scene was shown in court.
A fifth Teamster, Mark Harrington, Redmond's union supervisor, had last year pleaded guilty to attempted extortion as part of a plea deal. He was sentenced to two years of probation and six months of home confinement.
(E! and Bravo are both members of the NBCUniversal family.)