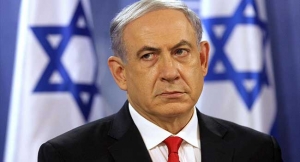 Israeli Prime Minister, Benjamin Netanyahu on Sunday called for the dismantling of the U.N. agency that aids millions of Palestinian refugees.
He accused it of anti-Israeli incitement, adding that he had conveyed his message to the U.S. ambassador to the United Nations.
Adnan Abu Hasna, a Gaza-based spokesman for the United Nations Relief and Works Agency (UNRWA), said Netanyahu was pursuing a "fantasy".
The United States, Israel's main ally, was the biggest donor to UNRWA last year, pledging $368 million.
Speaking at the weekly cabinet meeting, Netanyahu charged that "in various UNRWA institutions there is a lot of incitement against Israel, and therefore the existence of UNRWA – and unfortunately its work from time to time – perpetuates the Palestinian refugee problem rather than solve it.
"Therefore, the time has come to dismantle UNRWA and merge its components with the (UN) High Commissioner for Refugees," the premier added.