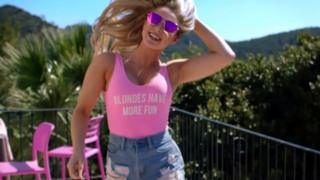 An ad for breast enlargement at a cosmetic surgery clinic shown during ITV's Love Island has been banned by the advertising watchdog.
The ad for MYA, shown in May, June and July, depicted young women posing, dancing and laughing around a swimming pool, on a beach and on a boat.
Its voiceover said: "These girls had breast enlargements with MYA and all feel amazing."
There were 17 complainants, including one from the Mental Health Foundation.
The foundation said it felt the ad exploited young women's insecurities about their bodies, trivialised breast enhancement surgery and portrayed it as aspirational. It challenged whether the ad was irresponsible and harmful.
The Advertising Standards Authority (ASA) agreed and said the ad, which was broadcast on ITV and in its catch-up service, must not be shown again.
It has also banned a Spotify ad which mimicked a horror film for "unjustifiably" distressing children.
MYA Cosmetic Surgery had told the ASA it believed the ad did not make any direct claims about the positive impact of surgery and did not show a better time in social events as a result of surgery.
It pointed out the on-screen text stating "No surgical procedure is without risk. 18+" and "Any decision to have cosmetic surgery should not be undertaken lightly. Allow plenty of time to reflect before going ahead with a procedure" was prominent and stressed the seriousness of the procedure and the need to take plenty of time to reflect before proceeding.
That text is in small type and only appears in the final 10 seconds of the 30 second ad.
However, the ASA said it considered the ad went beyond presenting the lifestyle of women who had breast enlargement in a positive light.
The watchdog said it implied that the women were only able to enjoy the aspirational lifestyle shown, and to be happy with their bodies, because they had undergone that surgery.
The advert had previously been criticised by the chief executive of NHS England, who said the images were "playing into a set of pressures around body image", leading to young people needing mental health services.
Isabella Goldie, director at the Mental Health Foundation, described the ASA's decision as a watershed moment: "We believe that concern around body image is one of the root causes of mental ill health in young people. Our research shows that almost half of young people aged 18-24 have felt so stressed by body image and appearance that they have felt overwhelmed or unable to cope.
"Implying that people can only enjoy body confidence and an aspirational lifestyle by undergoing cosmetic surgery is dangerous and unacceptable. All of us, including commercial organisations, have a role to play in strengthening our young people's resilience."
The British Association of Aesthetic Plastic Surgeons (BAAPS) has called for a full ban on advertising for plastic surgery