Lionel Messi scored the goal that puts Barcelona in pole position to progress from their Champions League tie with Chelsea. But the feeling persists that Ernesto Valverde's system puts too much of the onus on one man, writes Adam Bate from Stamford Bridge.
Lionel Messi finally got that long-awaited goal, his first against Chelsea in nine attempts. The late equaliser at Stamford Bridge ensured Barcelona remain big favourites to progress to the quarter finals of the Champions League. But the manner of the performance raised doubts over the wisdom of Ernesto Valverde putting so much of the burden on his star player.
Messi's output this season is remarkable. The top scorer in La Liga with 20 goals, he has also provided more assists for his team-mates than anyone else in Spain too. Contrary to that idle old cliché that argues the exact opposite, if anybody else other than the great man had been clocking up such numbers, nobody would be able to stop talking about them.
But it is no coincidence that Messi is the one making things happen. It reflects the structure of Valverde's Barcelona. After spending time out on the right wing under Luis Enrique, Messi is at the heart of Barca once more and central to everything that they do. He now operates as a deep-lying forward in what – whisper it – is not too far away from a 4-4-2 system.
"Without Neymar we are more balanced," claimed Messi himself in an uncharacteristically revealing interview with World Soccer magazine earlier this season. "His departure led to a change in the way we play. We have lost a lot of our offensive potential but we have improved in defence. We have more balance and this allows us to be more solid."
Since Neymar's departure, Ivan Rakitic, Sergio Busquets, Andres Iniesta and Paulinho now function as a much narrower midfield four. Against Chelsea, that made for a tight contest in which space was at a premium and the onus for the away side to create was firmly placed back on the shoulders of Barcelona's No.10. Not easy with N'Golo Kante for company.
Messi attempted five dribbles but completed only one of them. "There was a lot of traffic around their box and we struggled to break through," acknowledged Valverde afterwards. It was an accurate assessment but the fact that Messi felt compelled to dribble his way through that maze of bodies reflects the lack of passing options that he had ahead of him.
In prioritising the team's defensive structure, Valverde has robbed Messi of runners beyond him in a Barcelona side that is already alarmingly short of pace. As a result, with nobody ahead of him, dribbling often looks the best bet. Indeed, the statistic show that Messi has completed almost twice as many dribbles as any other player in La Liga this season.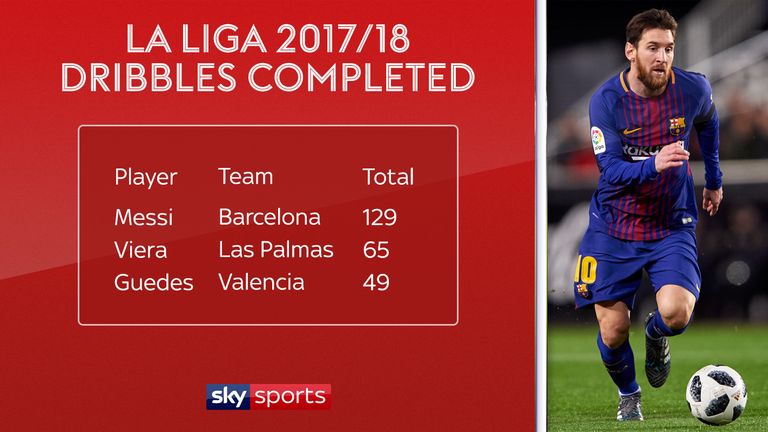 It is a somewhat curious evolution for a player who turned 30 last year. Many had supposed that his game would undergo a very different transformation, perhaps one that would take him further away from the sharp end of the pitch and instead make use of his often overlooked playmaking ability. After all, Messi is a supreme passer of a football too.
Much of football is the search for space and that is easier to come by in deep areas where his vision could be put to good use. Messi is more than capable of lofting passes over defences and finding the angles others cannot. Instead, he continues to be the one trying to wriggle free in the final third – the man expected to "cause chaos" in the words of Xavi.
Long-time rival Cristiano Ronaldo has undergone his own metamorphosis but it has been a more logical one from wide forward to poacher. Without the pace of old, Ronaldo deserves credit for finding a way to score as effectively as ever. His game is now distilled. Against Paris Saint-Germain last week, he attempted as many shots as passes in the opposition half.
This evolution makes sense. Ronaldo retains a formidable shot and is an obvious box threat because of his physical presence, while other facets of his game have declined. Seven years ago he was completing a dribble three times as often as he has over the past two seasons. In essence, this is because dribbling is a young man's game. The research supports this.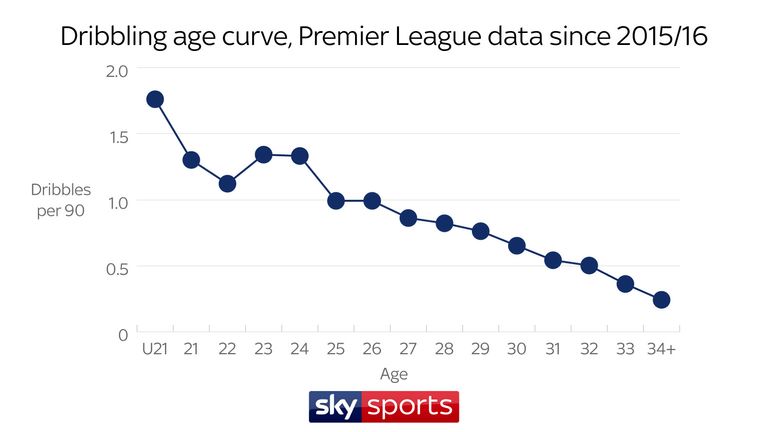 While the reputation of goalkeepers and defenders can continue to grow after the age of 30, this is rare for wingers precisely because dribbling – with its emphasis on agility and explosive pace as well as skill – suits the young. The age curve for dribbles per 90 minutes in the Premier League shows that numbers decline steadily from the age of 24 onwards.
Messi is bucking this trend right now and emphatically so. He has already completed more dribbles this season than in either of the previous two and is currently averaging more dribbles per 90 minutes than he has in any of his previous six league campaigns. In other words, he is now dribbling more than he has at any time since he was aged 24.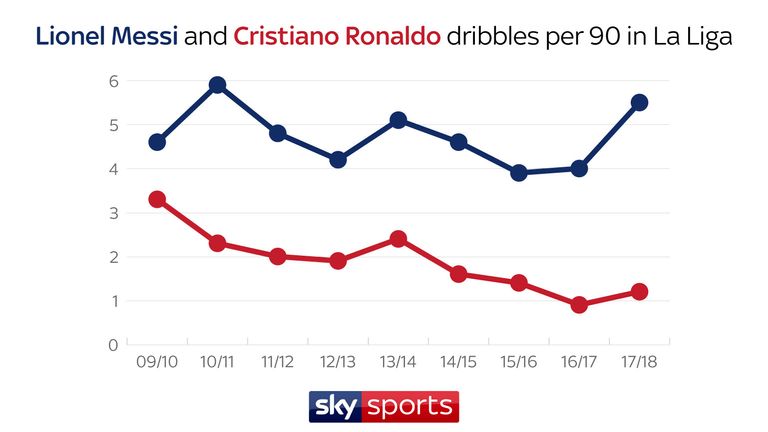 Given that Barcelona are currently clear and unbeaten at the top of La Liga, it seems to be working. Certainly, the sight of Messi in full stride remains as compelling as ever – whether it is seeing him draw admiring applause from Real Betis fans for an outrageous dribble inside his own half or twisting away from trouble to open the scoring against Espanyol.
But even on a night when Messi was able to capitalise on Andreas Christensen's error, the wisdom of expecting him to carve out openings from nothing at Champions League level feels questionable. They might be more solid but the Catalan journalists in the press room afterwards were still openly debating whether this is the worst Barcelona side in a decade.
"Everybody expects many things from him," said Valverde recently when discussing his decision to rest the Argentine. "Sometimes it is too much because we have to let Messi breathe a bit." But he would do well to take his own advice because the limitations of Barcelona's system allowed Chelsea to stifle a player who it should not be possible to stifle.
"The seasons get tougher and tougher as you get older," said Messi back in November. It has not stopped him topping the goals chart or the assists chart. Nor has it stopped him rolling back the years with his dribbling. But if Barcelona are to reclaim their Champions League crown, they may need to make it a little easier for their little genius to shine.
Stats Credit: SkySports
Also See:
Patrice Evra completes free transfer to West Ham