Exactly one year ago today, Khloe Kardashian filed for divorce from Lamar Odom—for the second time.
The 32-year-old cited, once again, "irreconcilable differences" as the reason behind the split following her initial filing in December 2013.
In October of 2015, Khloe famously called off the divorce while she was tending to Lamar's medical needs following his hospitalization in Las Vegas that same month.
So now, with a year under her belt since filing for divorce again, and six months since the divorce case was finalized, it seems as though Khloe has truly come into her own.
Let's look back and review exactly how much as transpired and changed in Khloe's world since she filed for divorce.
June 2016: During an episode of Keeping Up With the Kardashians, Khloe's sisters Kourtney and Kim Kardashian pampered her with a day of serious TLC to ensure that she would get her mind off of the divorce. "This just shows that you my sisters do love me and they are aware of everything I'm going through," Khloe explained on camera. "I do not have a clue what I would do without them. When you have people that you know you can depend on, even though you're going through s–t, you just know that everything is going to be OK eventually."
July 2016: Shortly after coming to the "bittersweet" decision to file, Khloe admits on the hit E! reality show that she "was holding out to help Lamar but Lamar's not helping himself." She added, "There's no reason to hold on to this, it was always be love and I will always like, love Lamar and be his friend, but it's time for me to start the next chapter of my life."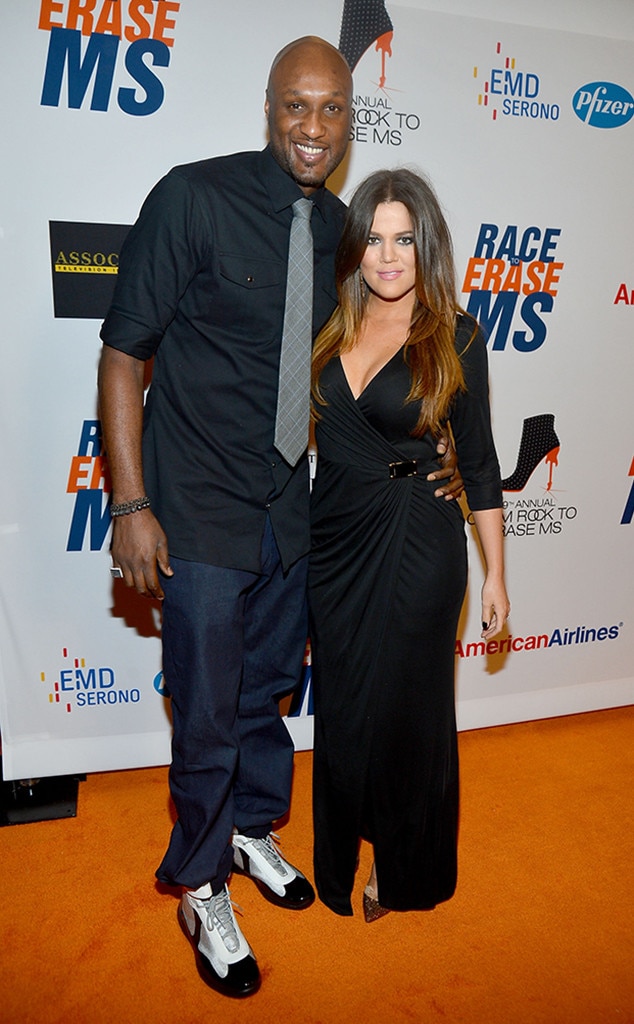 Frazer Harrison/Getty Images for Race to Erase MS
August 2016: Between her grueling workouts, getting her Good American denim line off the ground and working on her multiple other successful projects, Khloe kept a relatively low profile complete plenty of quality family time.
September 2016: Over Labor Day Weekend, Khloe was spotted spending time in Cabo San Lucas with none other than Cleveland Cavaliers player Tristan Thompson. The two fueled romance rumors during their romantic getaway but played coy about their relationship on social media.
October 2016: During a guest appearance on The Ellen DeGeneres Show, Khloe gave some insight into how her sister Kim was doing following her horrific Paris robbery. "It's just a wake-up call to make a lot of life adjustments. This is a really serious matter for Kim…I think it's a wake-up call for all of us."
November 2016: After months of dating and keeping their relationship as private as possible, Khloe opened up about her boyfriend Tristan during a chat with Jimmy Kimmel. "I'm in [Cleveland] very often," she said while smiling from ear-to-ear. "I like just having my routine and being a little more under the radar." Over Thanksgiving, Khloe also thanked her family and friends on Instagram for helping her through her "crazy, chaotic" year. "I thank the lord for blessing me with the world's best support system."
December 2016: Khloe and Lamar's marriage was officially over, as of December 17, E! News confirmed at the time. The news came just days after the former Los Angeles Lakers player entered an undisclosed rehabilitation facility.
January 2017: Following a 30-day stint in treatment, Lamar was seen filming a segment for The Doctors to discuss his struggles with his health. His attorney told E! News at the time that he was focused on "being a better father to his kids, being a better friend and just taking responsibility and live a more healthy and fulfilled life."
February 2017: Vacay time! Khloe and Tristan skipped out on NBA All-Star Weekend festivities in favor for an adventurous getaway trip to Jamaica. The lovebirds were seen zip-lining and taking in the local sights for all on Instagram to see.
March 2017: In the season 13 premiere of KUWTK, Khloe finally introduces her famous sisters to her boyfriend Tristan. "I'm just happy that she's having a good time and starting a new relationship," Kim explained of her sister's new romance.
April 2017: While chatting with ES magazine, Khloe admitted that she's "never been in this type of love," and would absolutely say yes if Tristan proposed to her on the spot.
May 2017: Khloe and Tristan have been as close as ever in recent months, and the reality star has also been busy juggling her work schedule with trips to visit her love in Cleveland. Only time will tell what another year will bring for Khloe!
Watch a brand new episode of Keeping Up With the Kardashians Sunday at 9 p.m., only on E!