Kate Hudson and Demi Lovato have teamed up to make Fabletics twice as fab. To launch the collaborative athleisure wear collection, the stars hosted a party in L.A. Wednesday.  E! News' Sibley Scoles caught up with Kate to find out how their powerhouse partnership became a reality.
Hudson chatted about how she first met the "Stone Cold" singer, which Hudson couldn't help but laugh about.  
"We actually met in the gym," the company's founder said, "which I think is kind of hilarious."
Although Lovato is primarily known as a singer and Hudson as an actress, they have a surprisingly similar outlook—which led to an eventual collaboration.
"We're kind of tough girls," the Deepwater Horizon star said. "I think we connected there. And I'm a girl's girl, so it's really hard for me not to connect with people, if I'm being totally honest. I like people so much. But it was nice ,and we've got a lot of mutual friends, so the connection was easy."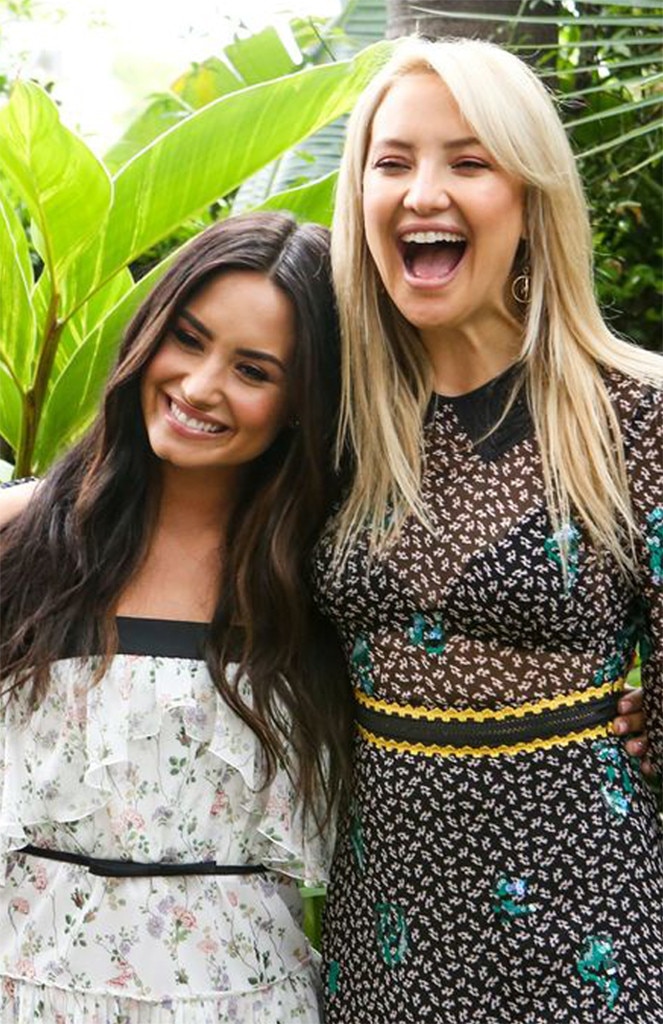 Scott/BFA/REX/Shutterstock
Hudson also spoke about Goldie Hawn, whose new comedy Snatched is in theaters Friday. Although her mom has a busy schedule of events surrounding the film's wide release, the family will still make time to celebrate Mother's Day together.
"I'm going to the [Snatched] premiere tonight," Hudson said. "Mother's Day is starting off strong. We'll all be together this Mother's Day. We're always all together. But I think this year, we might do mani-pedis. I'm not sure."
The only thing that gave Hudson pause was the fact that her mom has been so busy promoting the film that she might need a break.
But fortunately, Hudson is easygoing and said she's fine with leaving the Mother's Day plans up in the air. "We'll see. Mom might be exhausted. She might just want to sleep all Mother's Day," she said. "She's just been going and going."
Snatched also stars Amy Schumer, who's also been working hard to promote the film. Hudson said Schumer will probably have similar Mother's Day plans, joking, "She'll be in bed with my mom!"