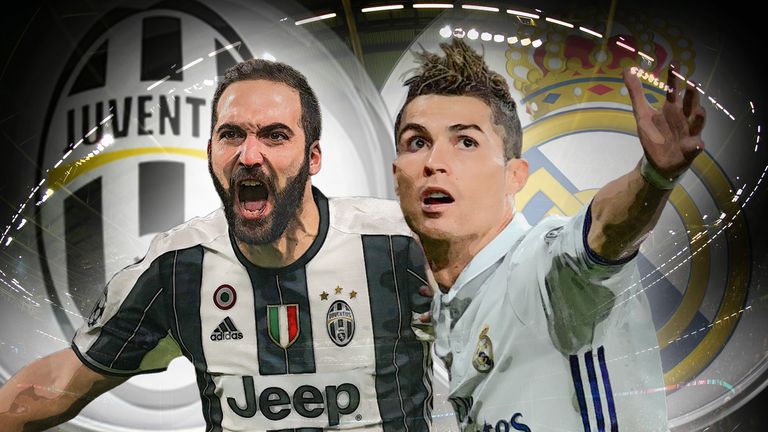 Juventus and Real Madrid face each other in the Champions League final at the Principality Stadium in Cardiff on Saturday – but how will the two teams approach the game tactically?
Juventus finished top of their group, ahead of Sevilla, Lyon and Dinamo Zagreb, respectively, progressing past Porto in the last 16, dumping Barcelona out in the quarter-finals and recording a 4-1 aggregate win over Monaco in the semis.
Real finished behind Borussia Dortmund in their group, but eight points clear of Legia Warsaw and nine ahead of Ronaldo's former club Sporting Lisbon.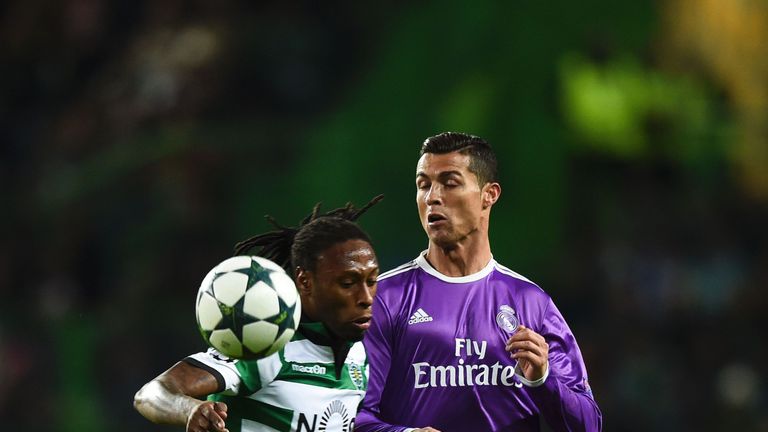 Cristiano Ronaldo (right) vies with Sporting Lisbon defender Ruben Semedo during the Champions League group stage match in November last year
Los Blancos produced home and away 3-1 wins over Napoli in the last 16, before defeating Bayern Munich 6-3 on aggregate and overcoming neighbours Atletico Madrid en-route to the final.
MANAGERS
Zinedine Zidane replaced Rafa Benitez as Real boss in January 2016 and ended that season just one point behind Barcelona in La Liga – but won the Champions League with a penalty shootout victory over Atletico.
This season, Zidane has led his side to their first league title in five years and stands to win his second successive Champions League trophy.
Meanwhile, Massimiliano Allegri took the helm at Juventus in July 2014 after spending four years with AC Milan, replacing now-Chelsea boss Antonio Conte – who had resigned and become the head coach of Italy's national side.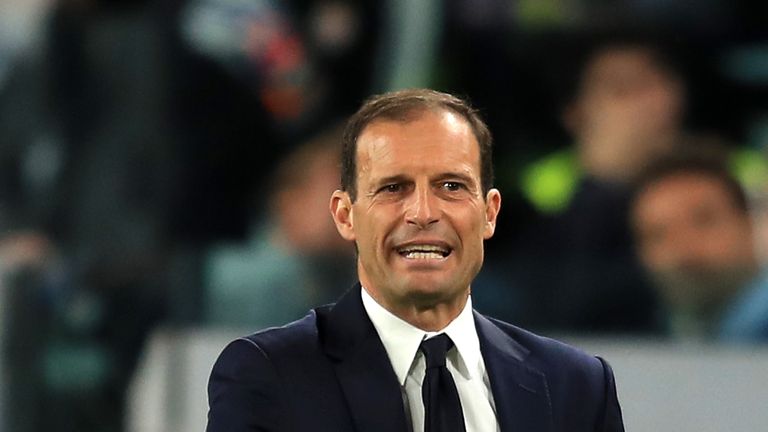 Juventus manager Massimiliano Allegri
Since then, Allegri has won the Serie A title in each of his three seasons and guided the Old Lady to two Champions League finals, losing his last 3-1 to Barcelona in 2015.
But how do the tactics of both clubs compare?
ATTACK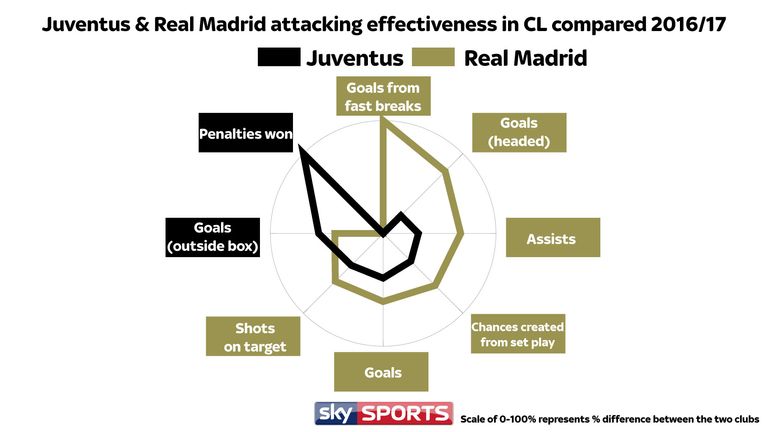 Real Madrid obliterate the attacking stats of their upcoming rivals, scoring more goals, creating more chances, hitting more shots on target, providing a greater counter-attack threat and possessing superior attacking aerial threat.
In fact, Real's top scorer Cristiano Ronaldo, who has fully adopted his new No 10 centre forward role, has scored 10 goals in the competition – twice as many goals as Juve's most prolific striker Gonzalo Higuain.
However, it should be remembered that Juve have the capability to score in abundance against powerful, attacking Spanish sides, having all-but secured a quarter-final victory over Barcelona with a 3-0 first-leg home win.
Despite Real's dominance up front, Juve have been awarded two penalties to Real's blank – won by regular centre-back Leonardo Bonucci and back-up midfielder Stefano Sturaro.
Juventus have also scored three goals from long range compared to Real's two, with former Barcelona full-back Dani Alves finding the net twice from distance and forward Paulo Dybala also scoring one.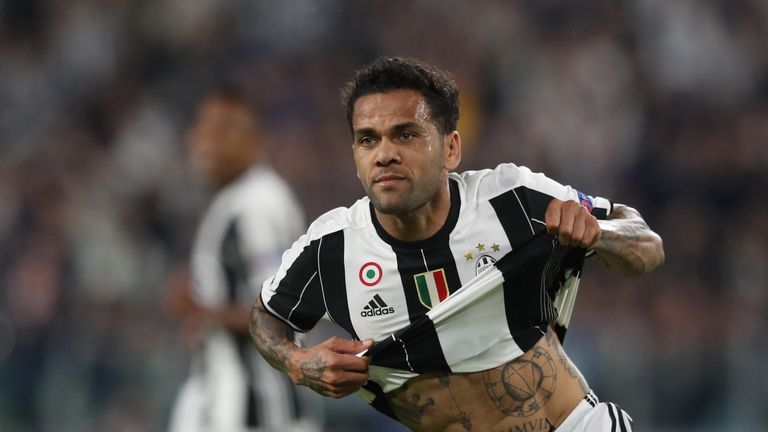 Dani Alves is a key player down the right flank for Juventus
For Real, Gareth Bale and defensive midfielder Casemiro have scored from outside the box in the competition this season.
Bale has been sidelined with a calf injury but could be available for selection on Saturday after returning to fitness.
Real will look to breach Juventus' renown defensive guard with their explosive aerial threat. Forwards Karim Benzema and Ronaldo have scored three and two headers, respectively, while Sergio Ramos and Alvaro Morata have also headed goals.
However, centre-back Giorgio Chiellini has found the back of the net with a header for Juve and is likely to roam into the box for corners – which will catch the eye of Real's aerial guardian Ramos.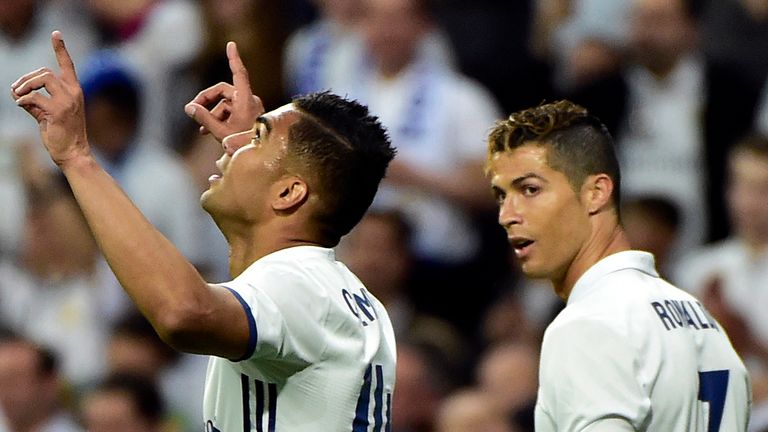 Casemiro wins the duels and tackles in midfield for Real – but can also strike from distance
In terms of creating chances, Toni Kroos and full-back Marcelo lead the way for Madrid – with the former also able to launch pin-point precision from set plays.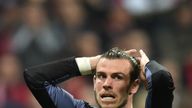 Bale to join exclusive CL club?
Gareth Bale will hope to join an exclusive club of Champions League winners to lift the trophy in their hometown
Alves and former Chelsea winger Juan Cuadrado provide the bulk of Juve's chances, while midfielder Miralem Pjanic is likely to take the lead for free-kicks aimed into the box.
If there's a free-kick within striking range, Ronaldo and Alves are likely to claim any opportunities for their respective teams – both scoring direct from a set play in the Champions League this season.
STYLE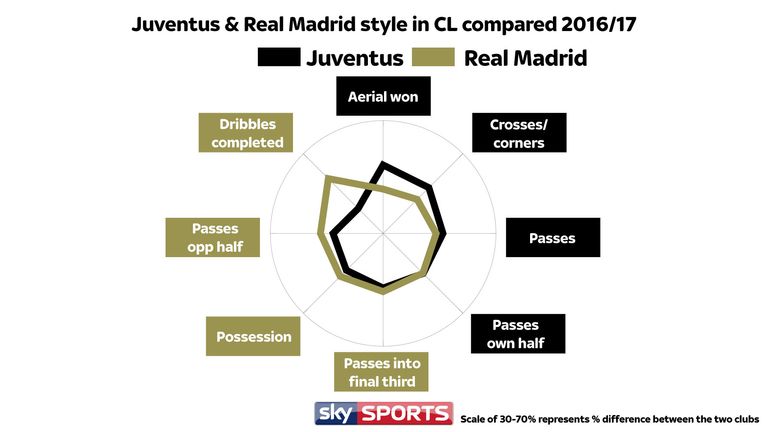 The two clubs attempt a similar number of passes, but Juventus complete a slightly higher proportion in their on half than Real – primarily by Medhi Benatia and Andrea Barzagli.
In contrast, Real attempt more passes in the opposition's territory than their upcoming opponents, dominated by Toni Kroos and Marcelo, and also record a slightly superior average for passes into the final third and possession.
Medhi Benatia (left) tends to complete deeper, possessional passes
More notable differences include Real's tendency to attempt more dribbles, with Isco, Luca Modric, Marcelo and Mateo Kovacic inclined to run with the ball.
Meanwhile, Juve win more aerials from towering trio Chellini, Patrice Evra and Mario Mandzukic – which may help nullify Real's impressive aerial attacking stats in the box.
The Old Lady also attempt more crosses than Real, from the likes of Pjanic and Alves, with Alex Sandro and Cuadrado also prone to firing balls into the boxes.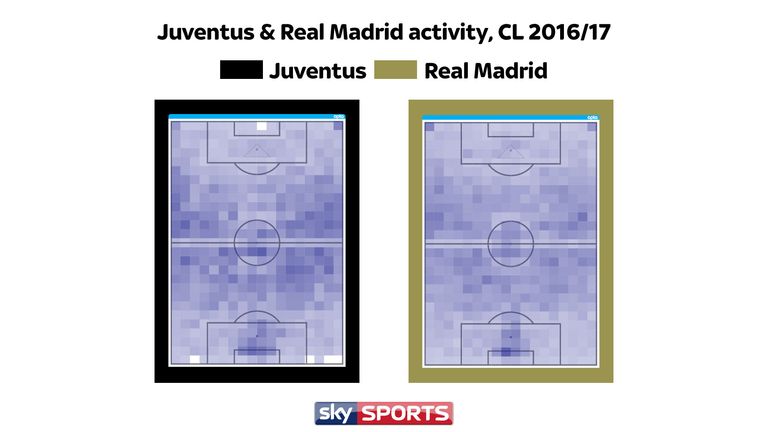 The heatmaps above show how Juventus typically remain active across the middle third of the pitch, particularly across the halfway line in midfield where Pjanic, Mario Lemina and former Real midfielder Sami Khedira can operate.
Juve also record greater levels of activity in the wider areas, deeper in the opposition half, with full-backs Alves or Sandro rampaging forward with little invitation.
Allegri has commonly deployed a 4-2-3-1 or 3-5-2 formation in the Champions League this term and the latter may be used to counter Real's typical 4-3-3 set-up and pack the territory they will look to dominate when in possession, while providing the defensive cover of wing-backs when on the back foot.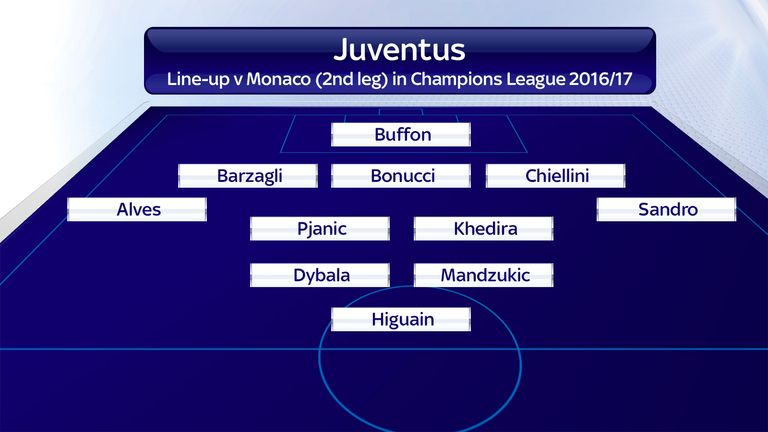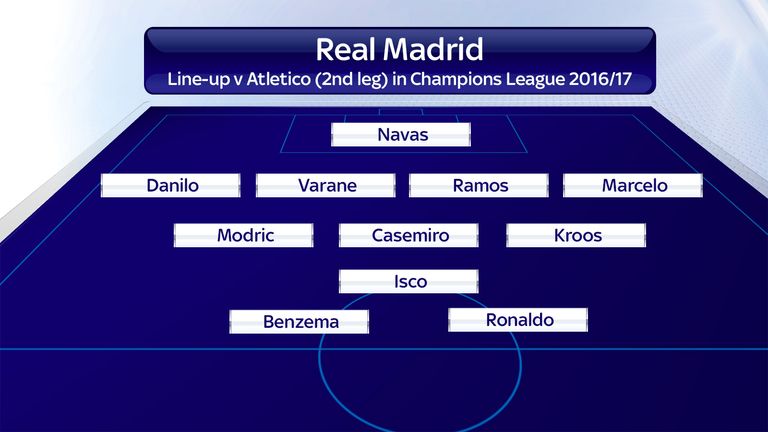 Real may look to play a more direct game centrally, if in-form Isco plays instead of Bale, who will be looking to start the game in his hometown Cardiff.
Should Isco get the nod, Zidane could start with a 4-3-1-2 formation – as used against Monaco in the semi-finals.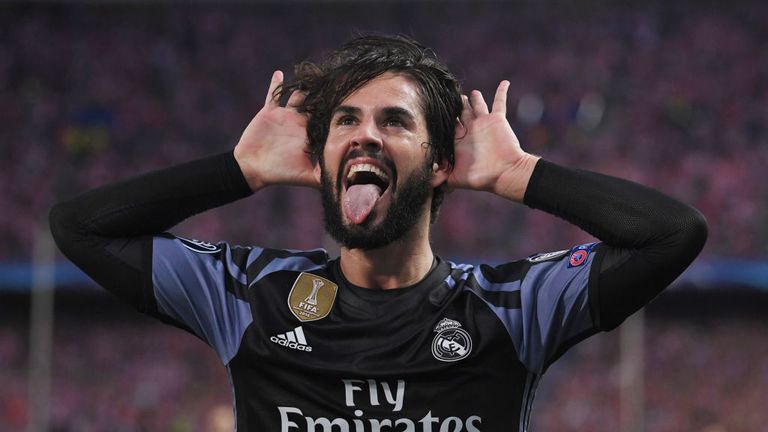 Isco has hit form for Real Madrid this season and could start the final ahead of Wales forward Gareth Bale
But Marcelo's impact down the left flank can be seen on the heatmap and will produce an interesting clash against his former Clasico rival Alves, who will also be looking to gallivant down his right flank – which will likely present opportunities for both sides.
DEFENCE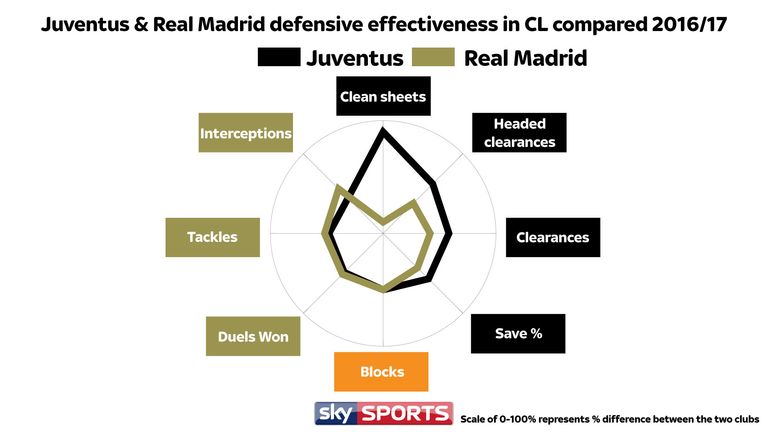 While Real obliterate Juventus in attack, the opposite applies for defensive qualities.
Juventus are likely to line-up with right-back Alves, Bonucci, Chiellini, and either left-back Evra or Sando – although Alves and Sandro can both play wing-back roles in a three-at-the-back system.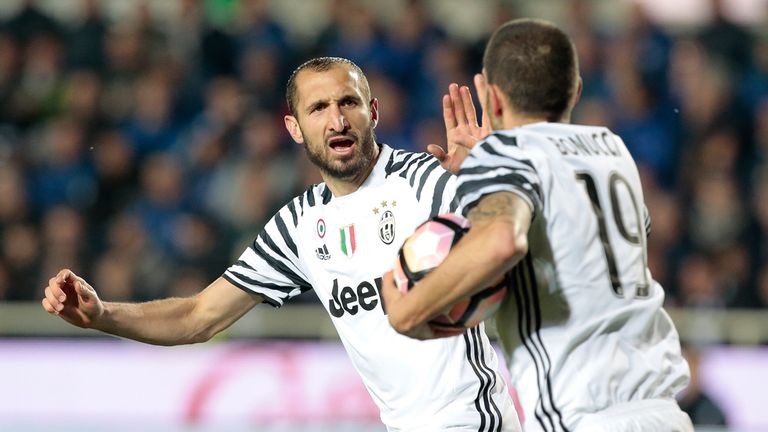 Juventus centre-back Giorgio Chiellini provides an aerial threat at both ends
Meanwhile, Zidane is likely to start a tried-and-tested back four, from left to right, Marcelo, Ramos, Raphael Varane and Daniel Carvajal – with the latter hoping for a return to fitness after suffering a hamstring injury.
Juve have kept a remarkable nine clean sheets from 12 games – which emphases just how hard the Serie A champions are to break down – while Real have only recorded one shutout.
The Turin-based club also record more headed clearances, clearances and veteran 'keeper Gianluigi Buffon has a better save percentage than Madrid stopper Keylor Navas.
Both clubs win a similar number of duels and tackles, stats dominated by defensive midfielders Cuadrado and Casemiro for either side – but Modric helps Real win the edge for interceptions.
WEAKNESSES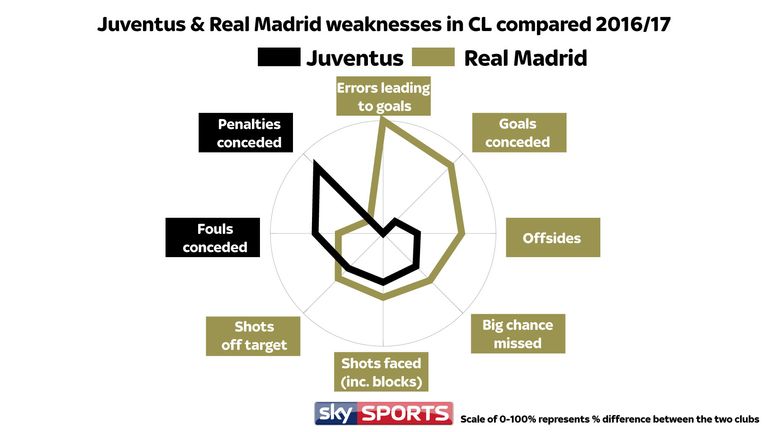 The graphic above reveals a string of Real weaknesses that Juventus could look to exploit.
Los Blancos may look to outscore and blast their opponents away with pure firepower. But Allegri will know that Real are vulnerable across a defence line charged with attacking intent, in addition to being more error prone and facing more shots.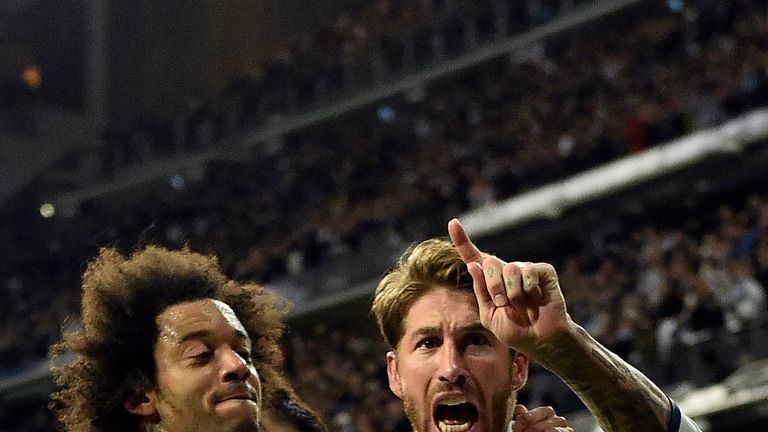 Real Madrid defenders Marcelo and Sergio Ramos provide serious attacking threat
In addition, Madrid are more prone to being caught offside, missing more shots and more big chances – although those stats are skewed by a higher number of attacks attempted.
However, firepower has seen Real win La Liga this term, despite scoring 10 fewer than second-placed Barcelona. Zidane's men conceded 41 goals more than any other top-five side barring Sevilla. In contrast, Juventus conceded a league-low 27 in Serie A.
But Juventus will seek to be economical in attack and Higuain will need to convert any opportunities at goal, as the game is likely to be a case of attack against defence.
If they fail to breach Juve's defensive solidity, Zidane's men might be due their first spot-kick in the competition – given Ronaldo is one of the most fouled players on the pitch, while Juventus concede more fouls and, crucially, more penalties.