Oprah Winfrey ended her eponymous talk show just before Jennifer Lawrence became a megastar. As part of its annual Power 100 issue, The Hollywood Reporter chose Lawrence as this year's Sherry Lansing Leadership Award recipient—and, to her delight, played matchmaker.
Though they'd met before, this marked the first time Winfrey had ever interviewed Lawrence. In September, Lawrence suffered the first misstep of her career when mother! received mixed reviews and underperformed at the box office. Winfrey could no doubt relate to how that feels, as she once confessed to eating "about 30 lbs. of macaroni and cheese" after Beloved flopped in the late '90s. Times were a little different then, as social media wasn't even around. "I read Twitter, and I was looking for bad mother! things. It was horrible. It was really bad," Lawrence recalled. "I loved this so much, and it just broke my heart, especially for [Darren Aronofsky], because he loved this person. And any time you're in a relationship, their pain is your pain."
"I didn't know that's what I was doing. I don't know how to look up these things," she said. "I started twittering 'mother!' 'cause I didn't know how else to get news, and that was really bad."
Lawrence told Winfrey she chooses her film roles based on "chemistry" alone. "It's like meeting a boyfriend. Red Sparrow was sexual, and I haven't done anything sexy or sexual," she said of the upcoming thriller. "I've been afraid of that since 2014, when I got my pictures hacked. I just thought, 'I'll never do that again. I'll never share that part of myself ever since it got shared against my will.' And then when I said yes to Red Sparrow, I felt I was taking something back."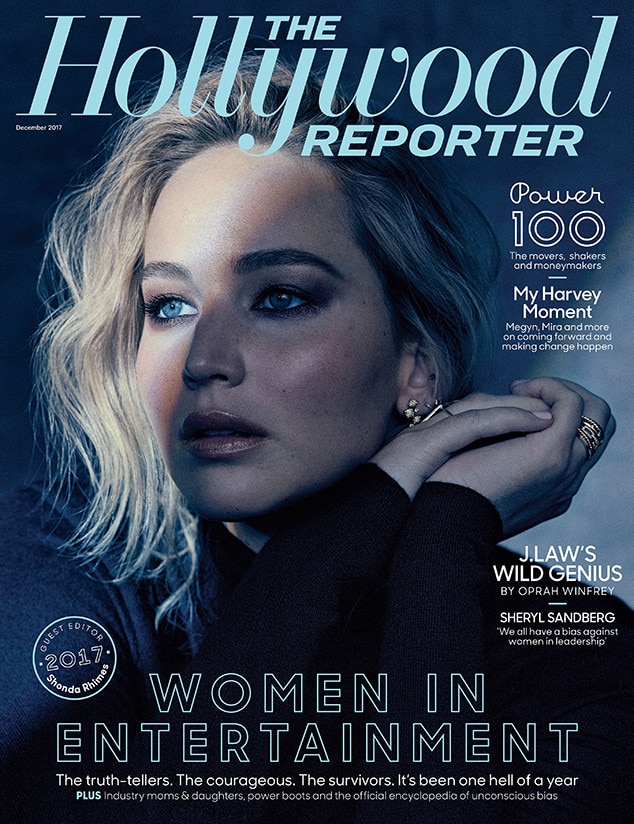 Miller Mobley/The Hollywood Reporter
Having her personal photos exploited was traumatic, and Lawrence is still recovering. "I would much prefer my whole house to have been invaded. That's what's so scary about electronic [things]," she said. "I have such fear with my phone and my computer and electronics. It's taking somebody's intellectual property but also my body. It was violating on a sexual level."

As Lawrence once told Vanity Fair, it was a "sex crime"—not a sex scandal.

Speaking of scandals, Winfrey also asked the actress about wave of sexual assault allegations lobbied against some of Hollywood's most powerful men. "I don't know a woman who hasn't been touched by some sort of abuse. I'm sad by the women's stories, but I'm excited by the change that's going to come from it. The rule book is being rewritten right now," Lawrence explained. "People are terrified. I mean, specifically, men using their power to abuse women."

Last month, Lawrence talked about being "abused" by a female producer, whom she did not identity. She said she was forced to "do a nude lineup with about five women who were much, much thinner than me. And we all stood side by side with only paste-ons covering our privates."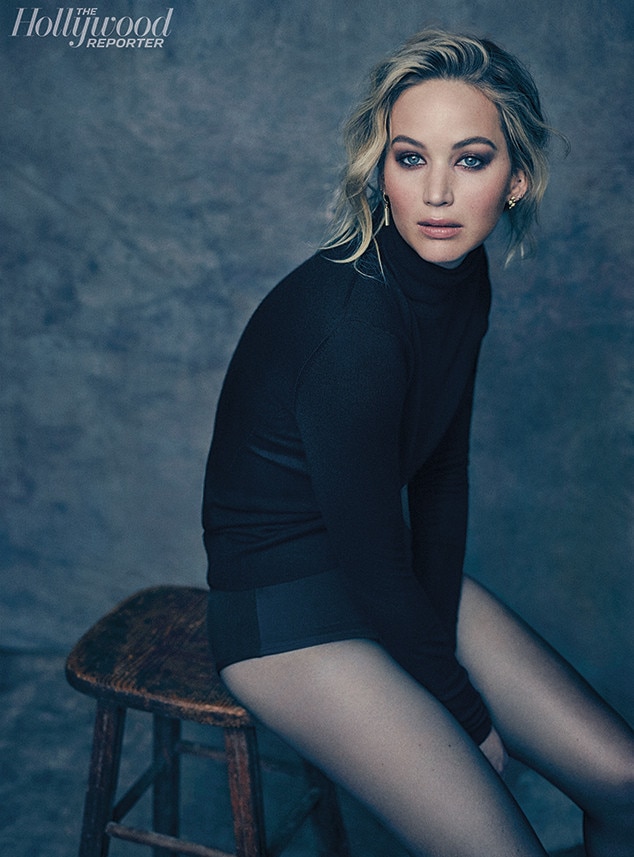 Miller Mobley/The Hollywood Reporter
As she told Winfrey, "There was a general consensus on [that] movie that I was fat, and so it wasn't just the woman. Everybody agreed that I was fat. And she had to be the mouthpiece." Lawrence was told to lose 15 lbs. in two weeks, until someone said she "was already f–kable."

"It was abusive," Lawrence said. "I mean, it wasn't sexually abusive, but—"

"It was abusive," Winfrey said.

Lawrence said she talked to her agent and several others about the degrading experience. "It's like, there's not really anything anybody can do because the behavior is so normalized," she said. "And then you become more powerful, and people start f–king with you less. People at the beginning of their careers don't want to rock the boat because if you rock the boat, you'll be called difficult. How can there be rules in place where there are certain ways that you just cannot treat people? Or a commission, somebody that they can call? If every A-list actor decides to join this commission, we know everybody in the industry. I know every studio head in town. If I'm on this commission, and I get an email about somebody being treated badly on a set, I can send an email. We have to all put our heads together and figure out how to not let this moment go, not just be like, 'Oh, well, that was crazy.' Something has to really get done."

After The New York Times published its damning exposé about Harvey Weinstein in October, a tidal wave of women he had allegedly abused or harassed came forward to share their stories. At first, Lawrence—who'd worked with him on several projects—was unsure how to respond.

"There was this moment when all of this broke out and everybody was silent, and then all of a sudden, every actress' Twitter was blowing up with, 'You need to come forward and you need to say something and you need to condemn!' Which is true: We do have a responsibility to say something; we've all worked with him, but everybody needed a moment," Lawrence explained. "Just speaking for myself, I had known him since I was 20, and he had only ever been nice to me—except for the moments that he wasn't, and then I called him an a–hole, and we moved on. He was paternal to me. So I needed a moment to process everything because I thought I knew this guy, and then he's being accused of rape. We all knew he was a dog, we knew that he was a tough guy, a brute, a tough guy to negotiate with. I didn't know that he was a rapist."
(In a statement Wednesday, Weinstein's attorneys told E! News, "Mr. Weinstein has never at any time committed an act of sexual assault, and it is wrong and irresponsible to conflate claims of impolitic behavior or consensual sexual contact later regretted, with an untrue claim of criminal conduct. There is a wide canyon between mere allegation and truth, and we are confident that any sober calculation of the facts will prove no legal wrongdoing occurred. Nonetheless, to those offended by Mr. Weinstein's behavior, he remains deeply apologetic.")

Sexual abuse and harassment is so pervasive, Lawrence argued, that everybody needed time "to [process it]. Everybody needs to deal with this in their own way; everybody needs to heal."

"Being able to hear when the woman wore the microphone and Harvey was telling her to watch him shower—I felt sick in my bones for an entire day. I was just sick. I was just like, 'I can't,' after hearing that," the Academy Award winner sad. "And that's why it's so important to talk about abuse, all of the different forms of abuse, because he didn't lay a finger on her, and I felt chilled to my bones. Imagine having a man who is that powerful telling you to do something…"

Lawrence hopes that as more people share their stories, "social change" will spread across all industries—not just the ones that directly impact her line of work. "Men need more social awareness," she said. "But this comes down to equality, and until all women in every job are paid equally for the same amount of work, how are we ever going to be thought of as equals?"

For more from Winfrey's interview with Lawrence, buy The Hollywood Reporter's new issue.