Last Updated: 05/07/17 1:24pm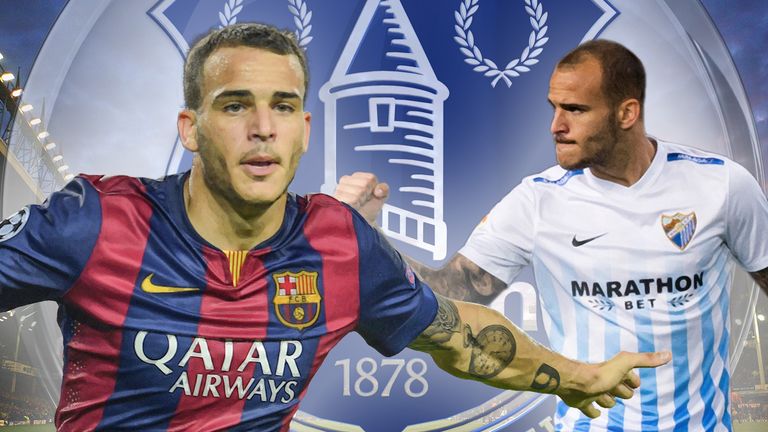 Sandro Ramirez has joined Everton on a four-year contract
Everton have been busy in the transfer market this summer but could Sandro Ramirez be their smartest signing yet? From the Canary Islands to Merseyside, Nick Wright charts the striker's journey to the Premier League with the man who spotted him for Barcelona.
In a summer of big transfer spending across Europe, Everton's £5.25m move for Sandro Ramirez stands out. The 21-year-old cemented his status as one of the most exciting young players in Spain with 16 goals in 31 appearances for a struggling Malaga side last season, but due to the meagre buy-out clause in his contract, he was available for a fraction of his true value.
Atletico Madrid seemed his most likely destination before their transfer ban was upheld at the start of June, and there were whispers about Real Madrid before Everton finally got their man. "There was a lot of interest in Sandro," admitted Ronald Koeman afterwards. "He's a goalscorer, he's young and he has a big future in the game."
Everton paid far more for Jordan Pickford, Davy Klaassen and Michael Keane, but Sandro's ceiling could be higher. The youngster is an explosive talent whose career took off last season at Malaga, but he also has the benefits of a Barcelona education behind him. Jordi Gris, the club's scout in the Canary Islands from 2006 to 2011, was the man who discovered him.
"He was in the youth ranks at Las Palmas," Gris tells Sky Sports. "I started following him when he was playing in Infantil B – that's the U13s – but it was in the year after that that he really exploded. They moved him up to the age group above and he scored a spectacular number of goals.
Sandro Ramirez says Ronald Koeman was key in his decision to join Everton
"He had a natural gift for off-the-ball movement and the ability to play with both feet, something he still has today. He had a lot of confidence in himself and constantly demanded the ball, so he stood out even when he was 12-year-old playing with 14-year-olds. He was superior to the rest and his scoring record was unprecedented in the Canary Islands."
Gris, who had overseen Mauro Icardi's move from the Canary Islands to Barcelona's La Masia academy a few years earlier, urged the club to sign him as soon as possible. "I spoke to Albert Benaiges, the director of the academy at the time, but he didn't want to sign another striker of that age," he says. "They already had a very promising player called Jean Marie Dongou in that position."
But Gris was persistent, and Benaiges eventually decided to move Dongou up an age group in order to accommodate Sandro in the U15s. "Real Madrid came in for him at the last moment but thankfully we had already agreed everything with him," recalls Gris. "He and his family were Barcelona fans, so he was very clear about what he wanted."
Sandro initially found it difficult to adapt to his new life some 1,300 miles from home, but his ability was apparent from the outset. He was part of the Cadete B team that won the Nike Premier Cup in Manchester in 2010 along with the likes of Hector Bellerin and Sergi Samper, and his scoring exploits earned him promotion to Barcelona's B team in 2013.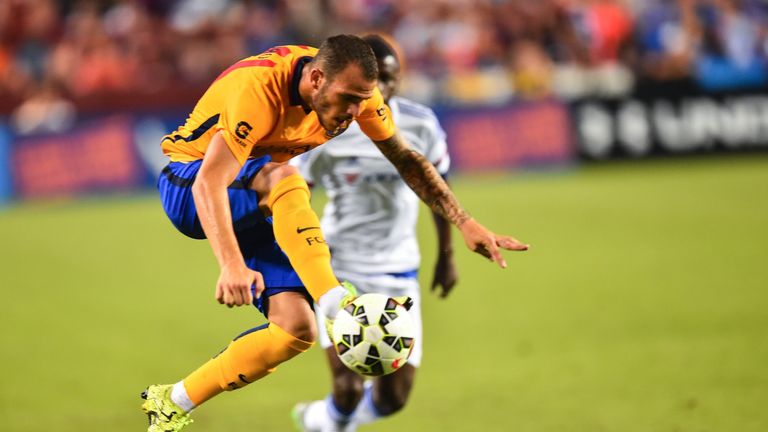 Sandro Ramirez spent two seasons in Barcelona's senior squad
Sandro netted a late winner on his first-team debut against Villarreal in August 2014, but it was not easy to make a lasting impression alongside Lionel Messi, Luis Suarez and Neymar. Sandro scored seven times in 32 games and celebrated plenty of silverware during his two seasons in Barcelona's senior squad, but the move to Malaga reflected a desire for more regular playing time.
"When we sign a young player for Barcelona, we understand that making it to the first-team will be very, very difficult," says Gris. "Of course I could never be sure that Sandro would make it there, but I always knew he was going to be a top player somewhere. It was great to see him do it at Malaga."
Sandro showed impressive maturity during a tumultuous season in Andalucia, shining under three different managers at the tip of Malaga's attack. By the end of the campaign, he had scored more than twice as many goals as any of his team-mates – including a memorable solo strike in a 2-0 win over Barcelona. His celebration riled some at his old club, but Sandro was determined to prove a point.
Malaga only won one out of 11 games without him in the starting line-up over the course of the campaign, and his importance was not lost on his fellow players. "It's not easy to find a player who performs like him in his first year," said defender Miguel Torres. "I might have to lock him in my house to make sure he stays," joked winger Jony.
"Sandro went from being a fringe player at Barcelona to being fundamental for Malaga," says Pedro Luis Alonso, a football journalist who covers Malaga for Diario Sur. "Being a starter and having continuity allowed him to grow as a footballer. He became an idol for the fans, which is why his departure hurt so much – even though it felt inevitable."
Watch Sandro Ramirez's best bits from the 2016/17 season with Malaga
Sandro worked tirelessly and linked the play effectively, but perhaps the most impressive aspect of his season at Malaga was the sheer variety of the goals he scored. There were close-range headers and thumping finishes with both feet. In a meeting with Atletico Madrid in October, he even curled home a free-kick from close to the corner flag.
"That's what he is," says Gris. "Malaga gave him confidence and trust and it paid off. Everyone was surprised by how he could strike a ball but this is a guy who trains hard, who wants to improve and who is football-mad. You can see that he was made to be a professional. If you make him an important player from the start, he will repay you."
That lesson will be heeded by his new club. Koeman struggled to get the best out of another La Masia graduate in Gerard Deulofeu, but Sandro's work-rate and temperament make him a different proposition. And with the pace and tenacity to complement his finishing ability, he will provide an exciting alternative to Romelu Lukaku in attack and another option on the flanks.
"The speed and the end-to-end nature of the Premier League will suit him," says Gris. "It will leave him more spaces to take advantage of. He's always been very clever at opening up spaces for his team-mates. I saw that when he was a boy and you could see it again recently with Spain's U21s.
"If you watch him in interviews you can see that he is a very humble guy," adds Gris. "He's quite shy and he doesn't like speaking much, but he's a good person and a talented player. I think Everton have signed a great striker who still has lots of room to grow."
And the price? "For six million euros in this market…" Gris pauses as he searches for the right words. "Hombre, you don't get many players like Sandro."