UPDATE: As new reports continue to surface regarding Rob Kardashian's relationship with Mehgan James, both took to social media to weigh in on the matter.
"Wait reading online about some chick I'm dating Megan something. Not true never even met her or heard of her before," he tweeted Thursday.
James retweeted his message and also wrote on Instagram Friday, "Before any of you start defaming my character .. I'm CLEARLY not dating rob , nor have I ever confirmed that I was . You all just so happen to believe everything you read. I posted one pair of Arthur George socks 2/3 weeks ago & now all of a sudden I'm a home wrecker, a fraud , a hoe… etc."
"I'm just 'Megan something.' that most of you 'never heard of,'" she added. "I don't have that type of power. I was just as confused as anyone else and was told not to even entertain it."
_____________________
Rob Kardashian is giving love another shot. 
As reports swirl around a possible romance between the E! reality star and Mehgan James, E! News can confirm the pair are in fact an item and started dating three months ago. As for what makes their relationship work, an insider tells E! News it's the encouragement Rob feels from the Bad Girls Club star that's really moved the blossoming fling in a positive direction.
"Mehgan supports Rob and all of his endeavors, and just wants to help him," the source shares. "They are very much best friends. She just wants to be there for him."
And while we've yet to see the celeb couple step out hand-in-hand, James has taken to social media to support her boyfriend's Arthur George sock line. "MY best friend knows I love socks & The Kardashians. So she got me a 2 in one," she wrote on Instagram last month. 
So what does Rob's A-list family think of his relationship with the provocative social media maven? Despite a source sharing that Mehgan has known sister Khloe Kardashianfor a "few years," it turns out Meghan might have her work cut out for her when it comes to gaining Kris Jenner's trust.
"They hope it will fizzle out quickly," a separate source close to the Kardashians tells us. "The family doesn't approve and they feel like this is déjà vu and Rob is going down the same path he did with Blac Chyna."
"This girl also seems to like drama and they don't trust her intentions," the insider adds. 
Instead of jumping back into the dating scene, the source explains his loved ones want him to "slow down and take a deep breath and take care of himself," adding, "Rob always moves very quickly and falls hard."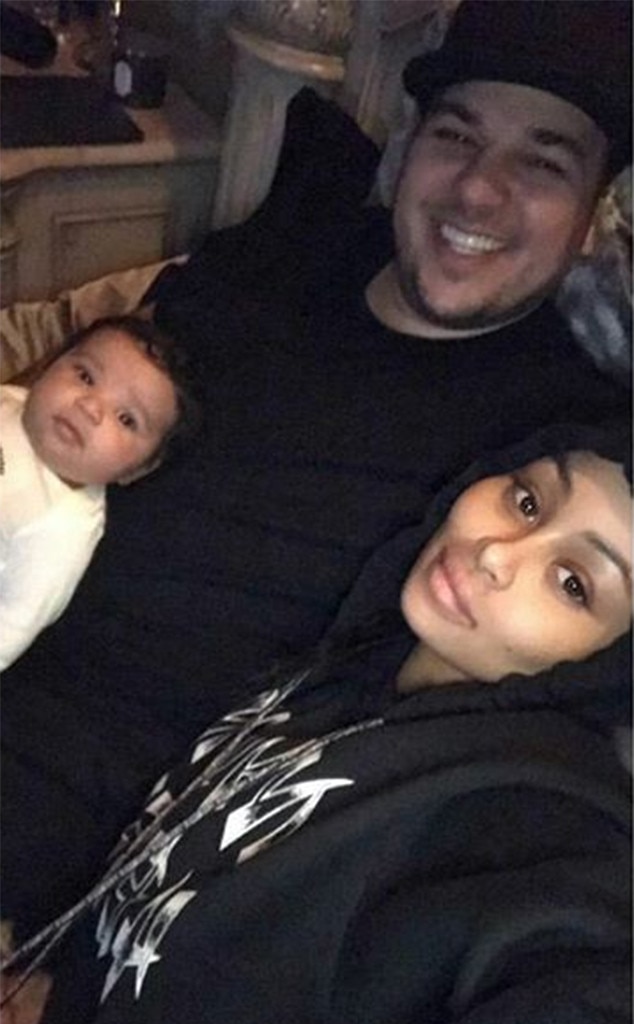 Snapchat / Blac Chyna
"The last thing they want for Rob is another toxic relationship now that he's moving on from Chyna," our source continues. 
As for how the 30-year-old is getting along with Dream Kardashian's mama, the insider reveals both parties "always come together" for their little girl "while living their lives independently." The exes celebrated Mother's Day in each other's company, and Rob recently paid tribute to the business owner in a since-deleted Instagram post. 
"On my first episode of Rob's Random Cornball Thoughts is This young lady who grew up to be the woman I love and the mother of my child," Rob wrote alongside a throwback photo of Chyna. "She is beautiful and gave me my first child. @blacchyna."
Only time will tell how Rob and Mehgan's romance continues to progress!
Watch a brand new episode of Keeping Up With the Kardashians Sunday at 9 p.m., only on E!
(Originally published Thursday at 5 p.m. PT.)