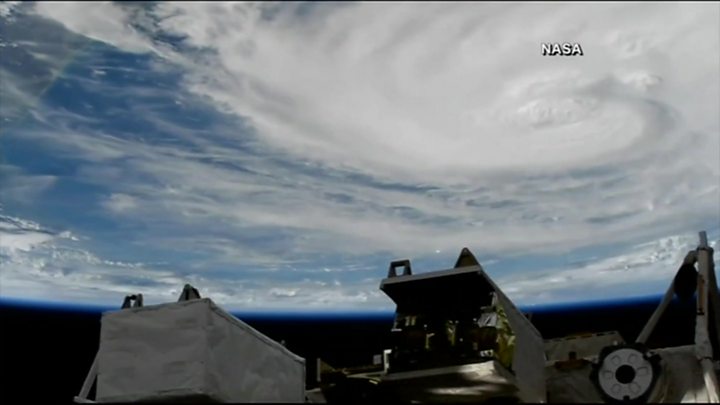 Texas is bracing itself for Hurricane Harvey, which may be the worst storm to hit the US mainland in 12 years.
Harvey, currently a category two storm in the Gulf of Mexico, is expected to make landfall on Texas' central coast late on Friday or early Saturday.
The National Hurricane Center said storm surges may bring life-threatening floods in and around Houston.
The storm may bring 97cm (35in) of rain, 130mph (210km/h) winds and 12ft storm surges, say forecasters.
At 07:00 local time (12:00 GMT), the eye of Harvey was about 80km (50 miles) east of the US-Mexico border and heading north-west at about 10mph, the National Hurricane Center (NHC) said.
Harvey – which has been gaining strength – will also strike at the heart of Texas's oil refining industry.
Houston, the fourth biggest city in the US, could face up to 20in of rain over the coming days, officials there said.
Meteorologists are warning of extremely high volumes of rainfall as the storm stalls over the middle Texas coast.
They say Harvey could remain in the area, dumping rain until the middle of next week.
On top of that, the central Texas coast is likely to see a significant storm surge – this happens when low pressure at sea "lifts" tides to a level higher than normal, up to 12ft in this case, and high winds then blow the water in land.
Energy companies have been evacuating staff from offshore platforms in the Gulf of Mexico.
Texan oil refineries on land are also shutting down in preparation for the storm. As a result, US fuel prices have reached a three-week high.
In the latest developments:
Texas Governor Greg Abbot has declared a state of emergency in 30 counties
More than 700 members of the Texas Army and Air National Guards have been activated
Mandatory evacuations have been issued in some coastal areas
Driscoll Children's Hospital in Corpus Christi has flown at least 10 babies from its neonatal intensive care unit to hospitals further inland, due to fear of power failures
"Now is the time to urgently hide from the wind," the National Weather Service (NWS) said in a bulletin.
"Failure to adequately shelter may result in serious injury, loss of life or immense human suffering."
Joe McComb, mayor of Corpus Christi, a coastal city of more than 300,000 people, urged householders to take the warnings seriously and evacuate low-lying areas.
"I hope people will listen to forecasters when they say 'beware of flash floods," he said. "Flash floods can come quickly, and they can be deadly."
According to the NHC, the wind speed is currently almost 110mph, though gusts are even stronger.
The NWS said on Friday it expected Harvey to make landfall as a Category Three hurricane.
If it does, it will be the strongest to hit the US since October 2005, when Hurricane Wilma struck the coast of Florida.
Wilma left 87 people dead, and was part of a record-breaking hurricane season that included Katrina, which devastated New Orleans and killed nearly 2,000 people in August of that year.
---
Are you in the region? How are you preparing for Hurricane Harvey? If you have any information to share with the BBC, you can email haveyoursay@bbc.co.uk.
Please include a contact number if you are willing to speak to a BBC journalist. You can also contact us in the following ways: