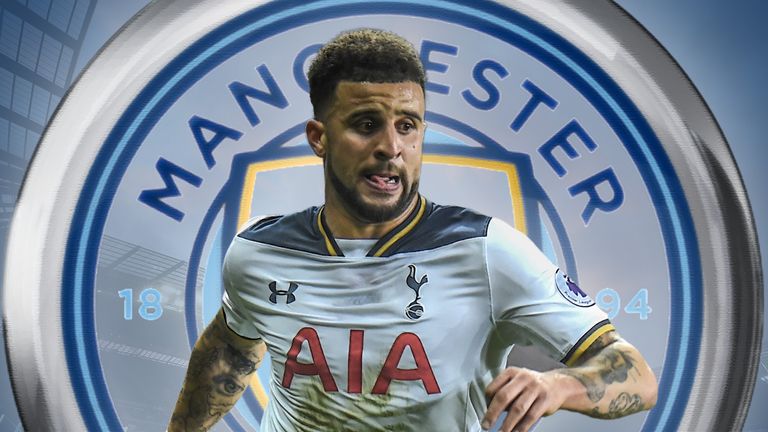 Kyle Walker is reportedly on the move to Man City
Manchester City have reportedly agreed a fee in excess of £50m to sign Tottenham's Kyle Walker – but how will he improve Pep Guardiola's side? We check the stats…
City offloaded five ageing, long-term servants since the end of the season – including full-backs Gael Clichy, Bacary Sagna and Pablo Zabaleta – along with Jesus Navas and 'keeper Willy Caballero.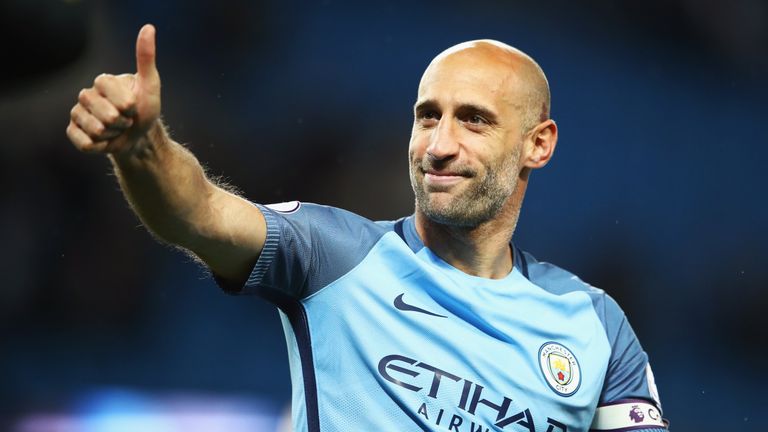 Pablo Zabaleta has left Manchester City and signed for West Ham
Indeed, 31-year-old Clichy and 34-year-old Sagna were City's most used full-backs last term, yet the former Gunners never fully fitted Guardiola's style with the City boss experimenting with no fewer than seven different players in the wide, defensive roles.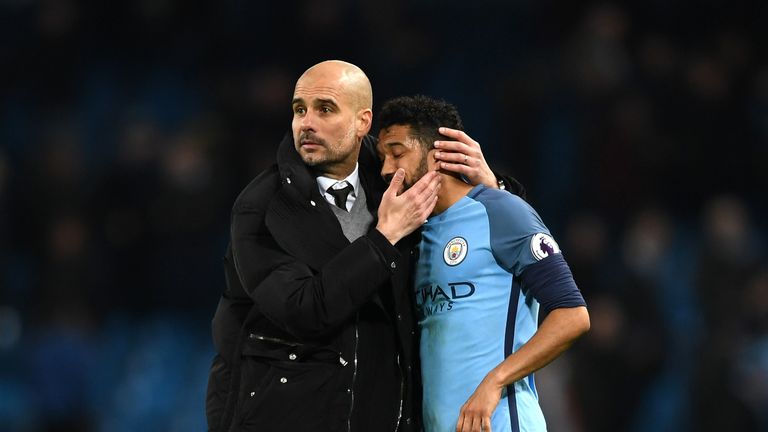 Manchester City released Gael Clichy after his contract expired
So replacements and an injection of defensive youth were to be expected, but racing full-backs, or wing-backs, are almost as coveted as a defensive midfielder – and Walker is set to break the world record transfer fee for a defender.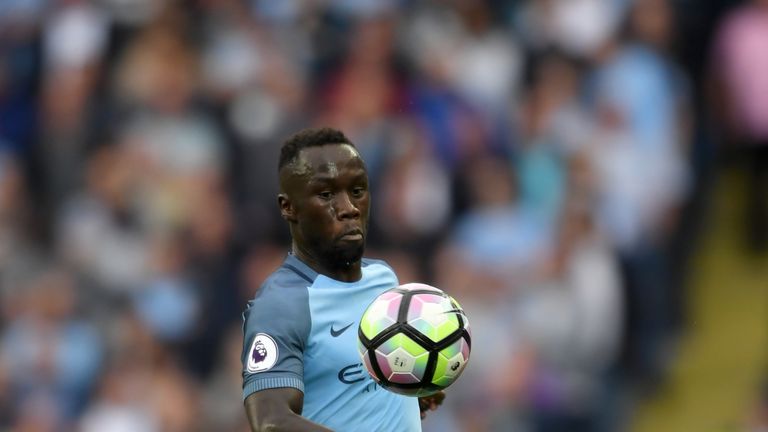 Manchester City released Bacary Sagna after his contract expired
The fee would be inflated by his 'homegrown' status, as Guardiola seeks to satisfy the Premier League ruling that requires teams to have a minimum of eight 'homegrown players' in a 25-man squad – but big fees rarely deter Manchester clubs.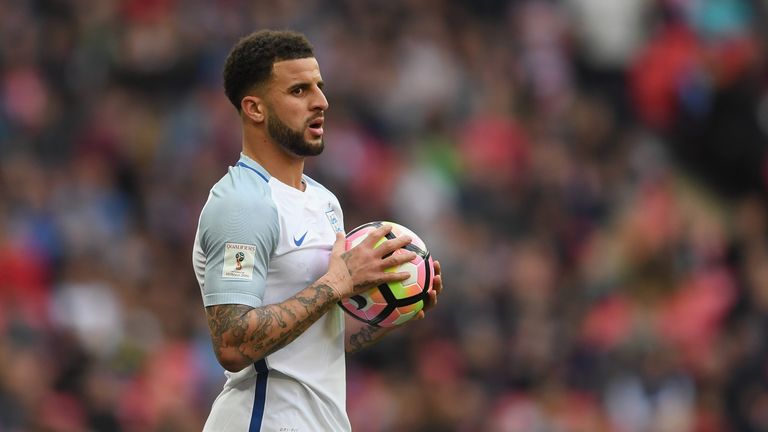 Manchester City are reportedly set to swoop for Tottenham full-back Walker
Previous Englishmen have struggled at the Etihad, including the likes of Jack Rodwell, Scott Sinclair and Fabian Delph – but Walker would be more than a squad player to appease quotas.
The England international would almost certainly be a guaranteed starter next season and significantly increase City's already lethal attacking threat, while bolstering defensive weaknesses with athleticism to track back.
Guardiola's perfect start in England fell apart during October last year, primarily due to defensive and goalkeeping frailties. Those recurring stutters in form cost the Spaniard a genuine title challenge during the closing months.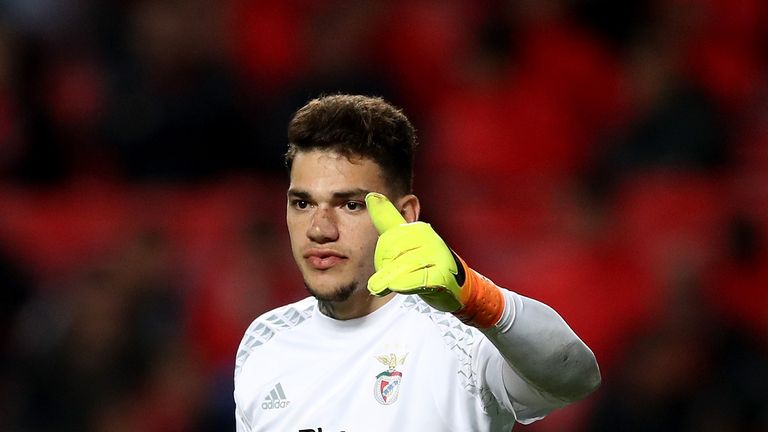 Manchester City signed Benfica goalkeeper Ederson for £34.9m this month
However, with new keeper Ederson signed from Benfica for £34.9m in June and, potentially, one of the league's most formidable full-backs added to the ranks, Guardiola is setting his stall for a title-challenging second term.
But how would Walker improve City's stats?
STATS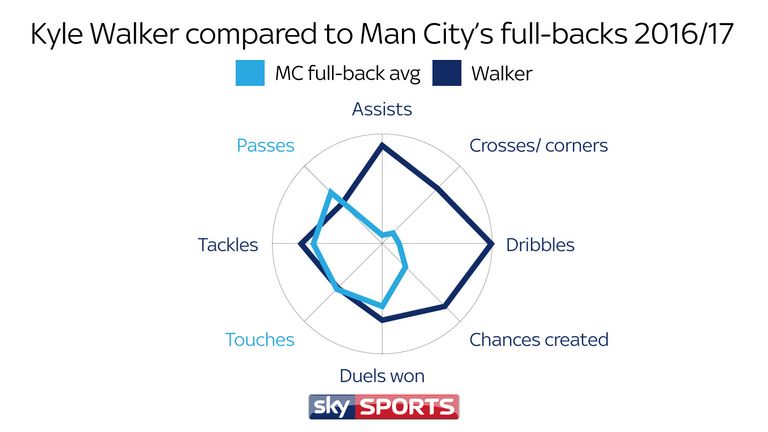 Walker dwarfs City's full-back stats for assists, crosses and corners, dribbles and chances created, and surpasses them for duels won and tackles
The radar graphic above shows how Walker compares to the combined average of City's most used full-backs: Clichy, Sagna, Zabaleta and Aleksandar Kolarov.
Walker is far in front of his counterparts for attacking threat, dwarfing City's full-back stats for assists, crosses and corners, dribbles and chances created, while also surpassing them for duels won and tackles.
All four of City's most used full-backs only managed one assist between them while fulfilling the role during the entire campaign. In contrast, Walker racked up four from flank and another from a central position.
ATTACK LOCATIONS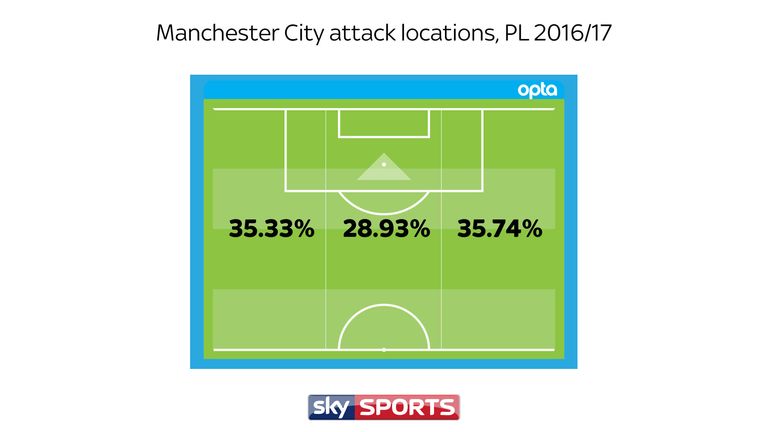 Manchester City primarily attacks down the flanks
In total, City's full-backs and deeper wide midfielders only registered seven assists, despite attacking primarily down the flanks – which suggests excessive dependence on the attacking wide midfielders.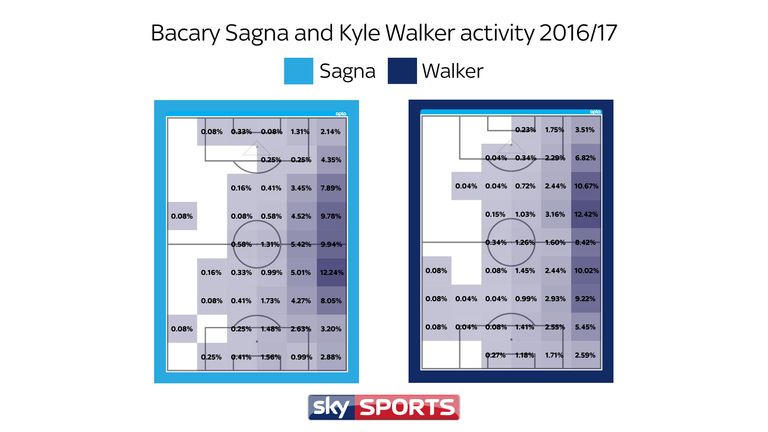 Kyle Walker covered far more attacking ground on average than Bacary Sagna
The graphic above shows how Walker would deliver a major attacking boost compared to what Sagna offered last season.
Guardiola primarily used a 4-2-3-1 or 4-1-4-1 formation last term and the graphic shows that Walker would occupy more prominent attacking positions, supporting and overlapping Raheem Sterling or new signing Bernardo Silva down the right flank.
Walker would also stretch opposition defences wider than achieved last season, which could also open pockets of space in and around the box for the likes of Kevin De Bruyne, David Silva, Gabriel Jesus and Sergio Aguero.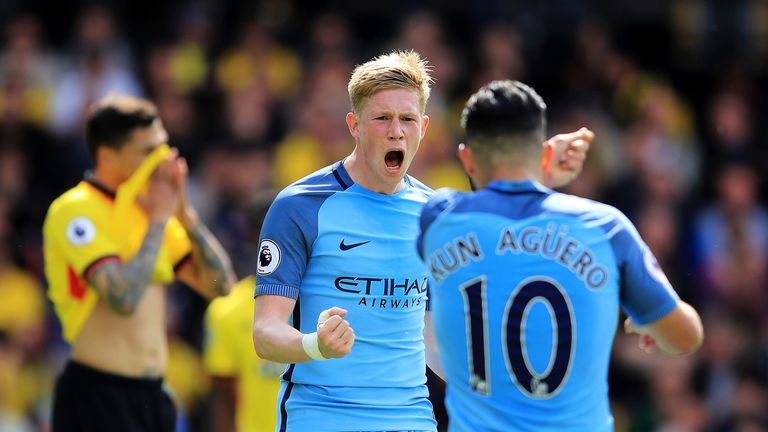 Sergio Aguero (right) and Kevin De Bruyne would benefit if Manchester City signed Walker and Bertrand
City had a league-high 79 attempts on goal from corners last season but only scored five of those. For comparison, West Brom scored a league-high 16 goals from just 58.
However, Guardiola's men scored 14 goals from crosses – bettered only by Crystal Palace (20), Liverpool (19), West Brom (19) and Arsenal (18) – and Walker would undoubtedly boost this figure, in addition to creating space for attempts in central positions.
FITNESS
Out of the six full-backs, Zabaleta covered the greater distance on average with 10.88 km per 90 minutes. In fact, Walker recorded lower figures than all of City's full-backs, with the exception of Sagna.
These greater distances are likely to be a result of Guardiola's physical demands on the pitch and the 27-year-old will be expected to cover a greater distance in Manchester.
However, Walker surpassed three of City's full-backs last season for sprints per game and all four for top speed at 35.18 km/h – a league high for Premier League defenders.
Running stats
| Player | Km per 90 | Sprints per 90 | Top speed km/h |
| --- | --- | --- | --- |
| Kyle Walker | 10.44 | 67.03 | 35.18 |
| Bacary Sagna | 10.36 | 47.44 | 33.69 |
| Gael Clichy | 10.59 | 52.43 | 33.94 |
| Pablo Zabaleta | 10.88 | 60.17 | 31.93 |
| Aleksandar Kolarov | 10.77 | 51.34 | 33.39 |
FORMATION FLEXIBILITY
It could be argued that Chelsea and Tottenham's wing-backs or full-backs separated the teams from City and the rest of the chasing pack last term.
Guardiola only used a three-at-the-back system in the Premier League on five occasions, but Leroy Sane and Sterling do not possess adequate defensive qualities.
Walker will provide Guardiola with a three-at-the back option – having played the wing-back role at Spurs.
Guardiola's defensive overhaul of youth and attacking intent could prove to be the difference if City are to dethrone Chelsea and win the title next season.