Last Updated: 29/05/17 7:50am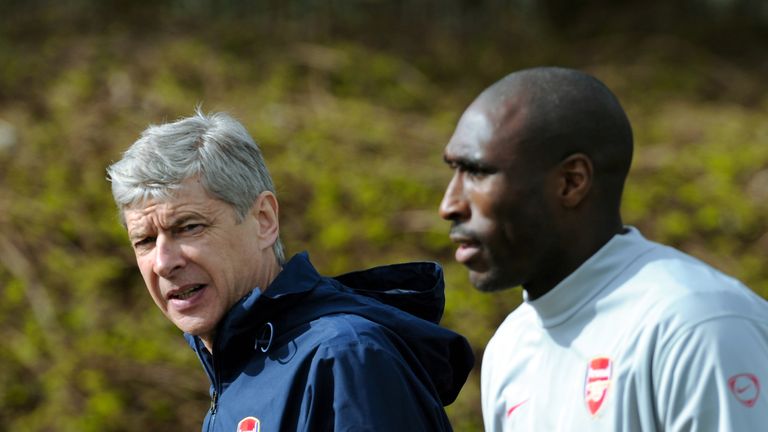 Sol Campbell was a key figure in Arsene Wenger's re-shaped Arsenal defence
In an extract from The Mixer, a new book on Premier League tactics, Michael Cox explains how Arsene Wenger changed the profile of defenders…
Arsenal's Invincibles, who achieved the historic feat of going the entire 2003/04 league campaign undefeated, are the most celebrated side of the Premier League era. That season, however, was simply the final move in a three-card trick.
Two years beforehand Arsenal won the Premier League in similarly impressive fashion, setting two extraordinary records in the process. First, they foreshadowed the Invincibles campaign by becoming the first top-flight side in over a century to go the entire campaign undefeated away from home. At this stage they appeared more fearsome on their travels; their home ground Highbury had the smallest pitch in the league, so Arsenal found more space away from home, where the opposition felt the onus to attack and left gaps that Arsenal could exploit in counter-attacks.
Second, and even more impressively, they became the first side in top-flight history to score in every league game, a record that's been unfairly – if understandably – overshadowed by the Invincibles campaign. If anything, it typified Arsenal better, underlining the consistency of their attacking threat.
Ahead of the following campaign, 2002/03, Arsene Wenger made an incredible forecast. "Nobody will finish above us in the league," he told reporters. "And it wouldn't surprise me if we were to go unbeaten for the whole of the season." The reaction was a mixture of scepticism and astonishment at Wenger's arrogance. But he went back for more.
"I am still hopeful we can go through the season unbeaten," he repeated after a 4-1 thrashing of Leeds in early September 2002. It was a very specific objective, which had no precedent since the Preston North End side of 1888/89.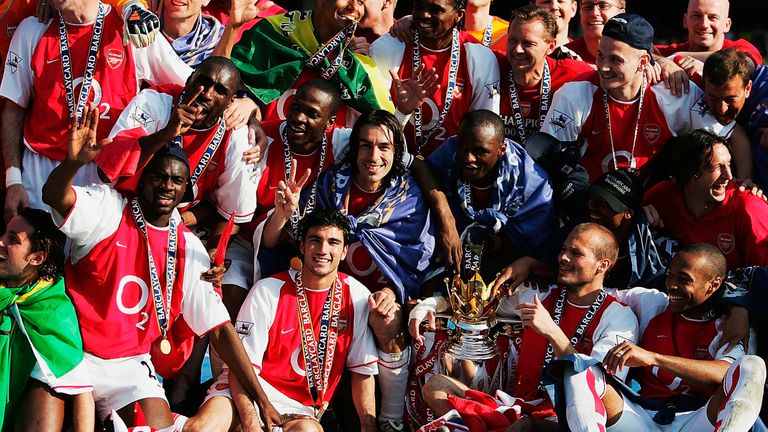 Arsenal's Invincibles celebrate their unbeaten title triumph in 2003/04
Wenger was left embarrassed the following month at Everton when Arsenal's 30-game unbeaten run was ended by Wayne Rooney's debut Premier League goal, a 90th-minute, 25-yard strike in off the crossbar. "He's supposed to be 16," Wenger sighed afterwards, devastated that his dream of an unbeaten campaign was over.
The psychological blow clearly affected Arsenal, as they contrived to lose four consecutive matches, their worst run since 1983. By April, with Manchester United favourites for the title, Wenger's 'unbeaten' prediction was widely mocked. "I'm sure they would love to turn the clock back six months," Sir Alex Ferguson said. "It might come back to haunt them."
Arsenal eventually limped home in second place behind Ferguson's side, their fate sealed by a shock 3-2 home defeat by Leeds, who simultaneously confirmed their Premier League survival and denied Arsenal the title.
Martin Keown, the veteran centre-back, blamed Wenger for the failure, saying his pre-season forecast had piled pressure upon the players. But, incredibly, that Leeds setback was Arsenal's final league loss before another staggering unbeaten run, this time of 49 games, which included the entirety of that 2003/04 campaign.
Wenger's seemingly ludicrous prediction came true – simply a year later than he'd anticipated.
Arsenal's 2001/02 and 2003/04 title-winning sides were extremely similar in terms of personnel. There were only two changes to Wenger's first XI: Gilberto Silva played alongside Patrick Vieira in midfield, with Ray Parlour and Edu demoted to deputies, while Kolo Touré had displaced Keown at centre-back.
In fact the 2003/04 side was structurally similar to Wenger's first title-winning Arsenal side of 1997/98 – still essentially 4-4-2, featuring two holding midfielders and a deep-lying forward, in a shape that would eventually be considered 4-2-3-1. Vieira remained in midfield, Dennis Bergkamp was still the number 10. Up front, Thierry Henry was a refined version of Ian Wright or Nicolas Anelka, Robert Pires was a goalscoring left-midfielder in the mould of Marc Overmars, and Freddie Ljungberg a hard-working, onrushing right-sided midfielder in place of Parlour. Gilberto was the Emmanuel Petit figure – both solid, World Cup-winning defensive midfielders who allowed Vieira to charge forward.
In midfield and attack, the Invincibles were not revolutionary themselves, simply a continuation of Wenger's initial revolution. Defensively, however, everything had changed.
For 1997/98 Wenger had stuck with the old back four developed by George Graham: Lee Dixon, Keown or Steve Bould, Tony Adams and Nigel Winterburn. They were proper, old-school defenders: tacklers, tight markers and a famously cohesive unit, particularly in terms of catching opponents offside.
They could play, too, as Arsenal's legendary title-clinching goal in 1997/98 proved, with Bould chipping the ball over the opposition defence for Adams, who burst forward from centre-back before smashing the ball home with his weaker left foot.
With his first title-winners, Wenger encouraged his defenders to attack. The Invincibles back line, however, were natural attackers whom Wenger had convinced to play in defence.
As Jamie Carragher once said, all full-backs can be broken down into two types: failed centre-backs and failed wingers. But the latter are a relatively modern phenomenon, and the development of attacking full-backs was among the most noticeable tactical shifts at the start of the 21st century.
At this point, with 4-4-2 the dominant formation, it was often the full-backs who had most space ahead of them, as the opposition's wide players dropped back alongside their midfield colleagues. The full-backs, therefore, could push forward to become vital attacking weapons.
Ashley Cole was a perfect example. A promising forward in Arsenal's youth team, Cole switched to a defensive position in his late teenage years. He would develop into the world's outstanding left-back, but his first couple of seasons were characterised by frequent positional errors.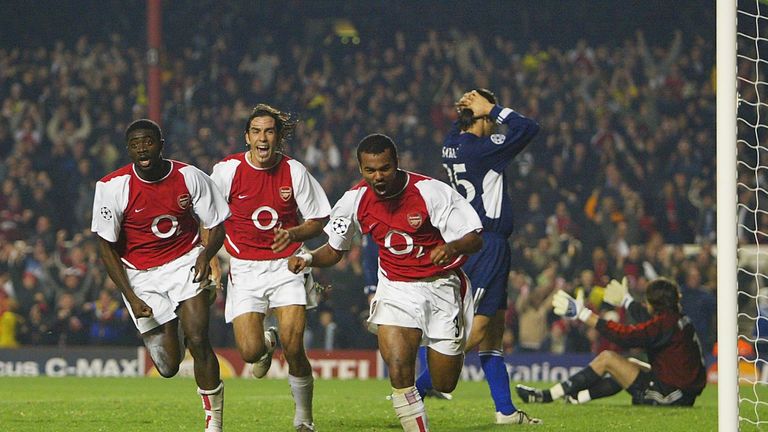 Ashley Cole was one of the world's top attacking full-backs
Wenger, however, loved his acceleration, stamina and quality in possession, and correctly believed that Cole had the right attitude to improve his defensive attributes. "I didn't really want to be a defender; I never really liked defenders or defending," Cole admitted after Euro 2004, the tournament in which he confirmed his status as one of the world's best full-backs. "I always liked scoring goals and attacking, and when I was asked to go to left-back for the Arsenal youth team I had to just take it. I know now I wouldn't have made it as a striker and I'm not disappointed that I'm a left-back, but initially I suppose I was. I always wanted the glory of going up front scoring goals for the team."
Arsenal right-back Lauren wasn't a natural full-back either and was initially sceptical about the positional switch. "When I first came I was playing as a right-winger. Wenger thought I was capable of playing as a right-back, but at first I didn't know it. It was something progressive; at the beginning it was a bit difficult… Arsene gave you the confidence in yourself to realise you could play in a new position."
Most remarkable, however, is the fact Wenger included a third unnatural defender in his regular back line. Centre-back Kolo Toure joined Arsenal as an energetic, slightly clumsy all-rounder who deputised effectively in midfield but looked uncomfortable when given opportunities at full-back, being dismissed before half-time in a goalless Champions League game against PSV in late 2002. He had never played centre-back until pre-season 2003/04, when Wenger paired him with Sol Campbell for a 1-0 friendly victory over Besiktas in Austria. Opposition manager Mircea Lucescu praised the power of Arsenal's centre-back combination, convincing Wenger that Toure could play there permanently.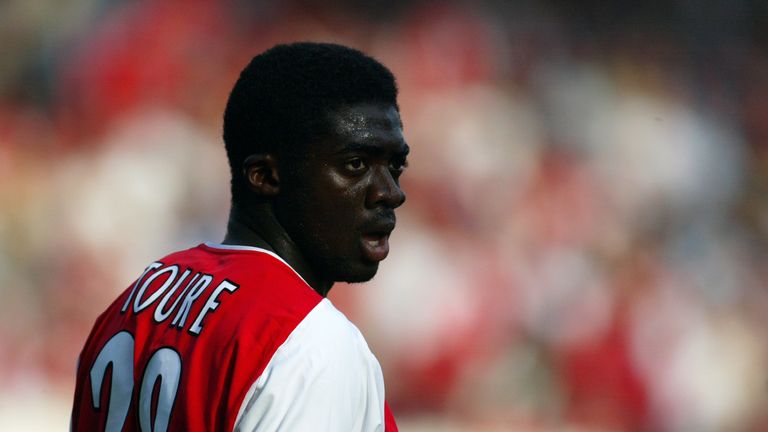 Kolo Toure brought pace and power to Arsenal's backline
Even Campbell, unquestionably the most solid of Arsenal's four defenders, had played higher up the pitch during his formative years. As a teenager at the FA's School of Excellence at Lilleshall he was often fielded on the right of midfield, and when breaking through at Tottenham was considered a potential centre-forward. He eventually became a settled defender, admitting he was forced to overcome initial problems with his heading ability, which is incredible when you consider his aerial dominance by the time he controversially crossed the north London divide in 2001. Arsenal's back four all developed with an emphasis upon attacking.
"I changed every player into a more technical player," Wenger later said of his defence. "First by improving existing players. After, when they had to be replaced, by a player who could contribute more to offensive quality, to build up the game from the back, like Kolo Toure, Lauren, Ashley Cole."
Wenger had done the same at Monaco, converting youngster Lillian Thuram from a right-winger to a right-back, in which position he would later be considered Europe's best.
Maybe it was a personal mission – Wenger was a midfielder himself, then moved to defence towards the end of his modest playing career. But he wasn't a defensive driller in the mould of Graham, and plenty of coaching came from the experienced defenders; Cole thrived thanks to Adams' instructions, Toure improved because Keown took him under his wing, Lauren had Dixon as a role model. This was the crucial difference between Wenger's Arsenal defence full of attackers and Kevin Keegan's Newcastle rearguard; the Arsenal brigade were actually taught how to defend.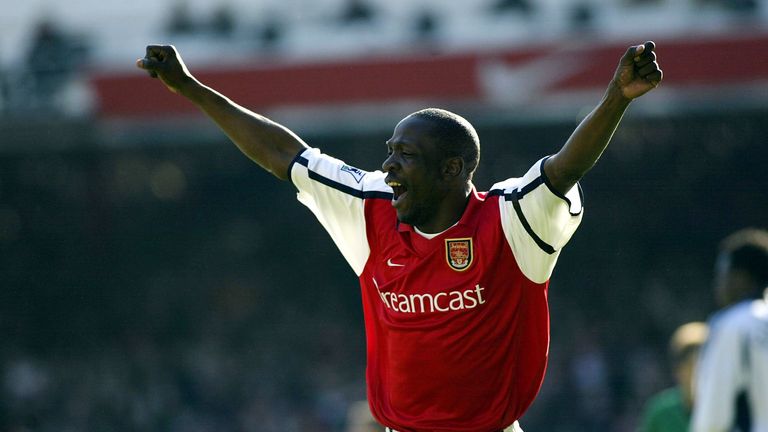 Lauren was turned from a winger into a defender by Wenger
"People always speak of the defence I inherited when I arrived here, and it was an exceptional defence," said Wenger in 2013. "But people forget a lot about the defence that was unbeaten. They never speak about that and it's unbelievable that that defence never gets any credit. It was Lauren, Kolo Toure, Sol Campbell and Ashley Cole, and they were absolutely exceptional. They didn't lose a game and yet no one speaks about them.
"Kolo and Sol were both very pacey players with unbelievable physical power. When a striker went beyond any of them you knew they would come back and catch them up, they were less calculating but much more physical. On the flanks we had two more footballing players, because Lauren was a midfielder and Cole has made a fantastic career."
The idea that defenders could base their game around pace and 'catching up' with forwards, rather than nullifying their threat proactively, would have infuriated the old Arsenal back four – but then they would have loved to have possessed enough speed to catch up with Michael Owen, whose pace won Liverpool the 2001 FA Cup Final against Arsenal.
As Wenger acknowledged, increasingly quick strikers necessitated increasingly quick defenders. Other defensive imports around the turn of the millennium, like Frenchmen Mikael Silvestre at Manchester United and Chelsea's William Gallas, weren't imposing aerially, six foot and five foot 11 respectively, but were astonishingly fast. Both, incidentally, would later be signed by Wenger.
The Mixer: The Story of Premier League Tactics, from Route One to False Nines, by Michael Cox (HarperCollins) £16.99, is out 1st June