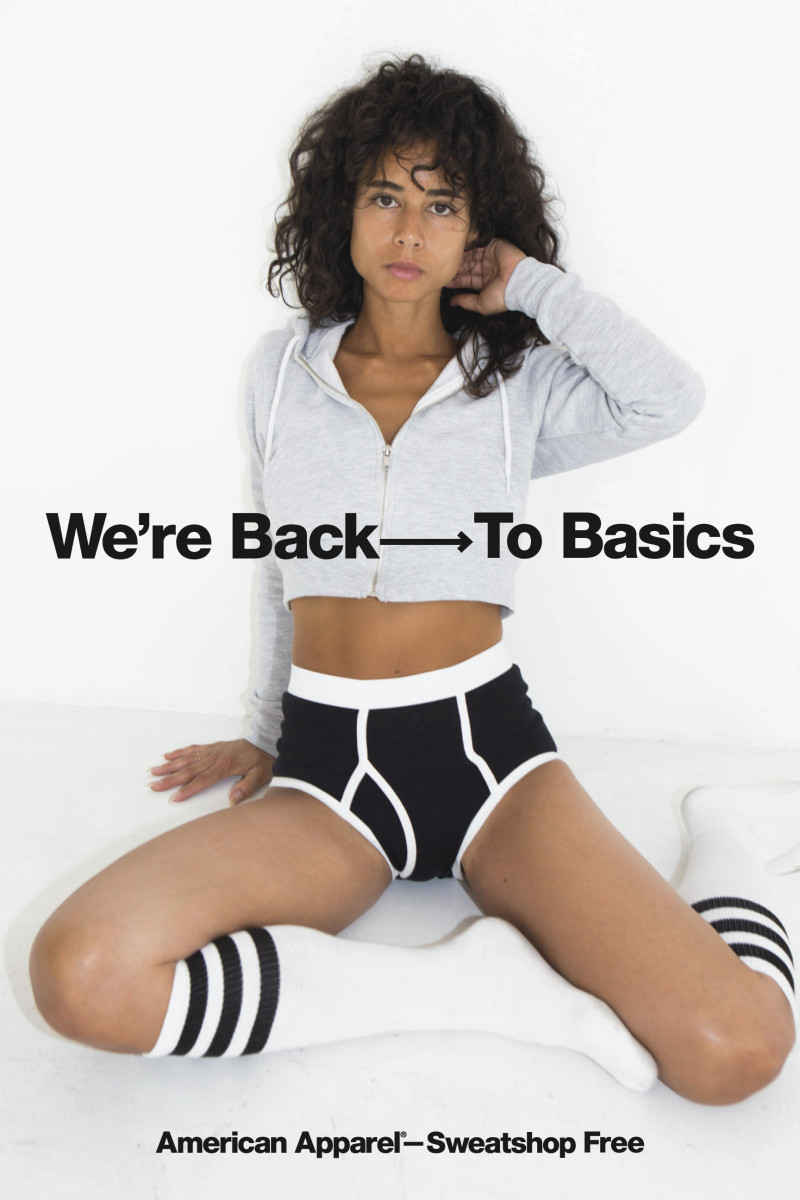 "We're basically a startup." That's how Sabina Weber, American Apparel's Head of Brand Marketing, describes the company as I enter its new headquarters in Downtown Los Angeles — about half mile from the factory over which Dov Charney once infamously presided — which does, in fact, look something like that of a startup. Or rather, a startup that grew too quickly, weathered countless controversies and debt complications, entered bankruptcy twice, generally failed to make money, ousted its founder, got acquired and then started all over. Around 25 people — mostly women, mostly young — work out of the modest, open-plan space, which is half-decorated with furniture and neon wall hangings taken from the original HQ.
That the team hasn't finished decorating can be forgiven, as they've been working hard for the past few months — and on a tight budget, apparently. On Monday, American Apparel secretly reopened its website for consumer business, but it didn't stay a secret for long. News travels fast online, especially when it's concerning a brand to which many people (including us) still have a strong, emotional connection. Naturally, everyone — from consumers on social media to writers at news outlets — were quick to compare the new American Apparel to the old one, whose stores and website shut down earlier this year. And many were surprised to find that there isn't much of a difference.
With its white background and black type, the website itself looks exactly the same and the inventory is comprised entirely of reissued bestsellers, including 50/50 and Triblend T-shirts and tanks, spandex leggings and crop tops, cropped sweatshirts and jersey T-shirt dresses. The offering is women's-centric with some unisex options. The "official" relaunch will deploy next Monday and be accompanied by a multi-channel marketing campaign with imagery that — yep — looks more or less exactly the same as the sexy, minimally retouched ads you remember. What's different — and, inevitably, better — are the operations behind it all.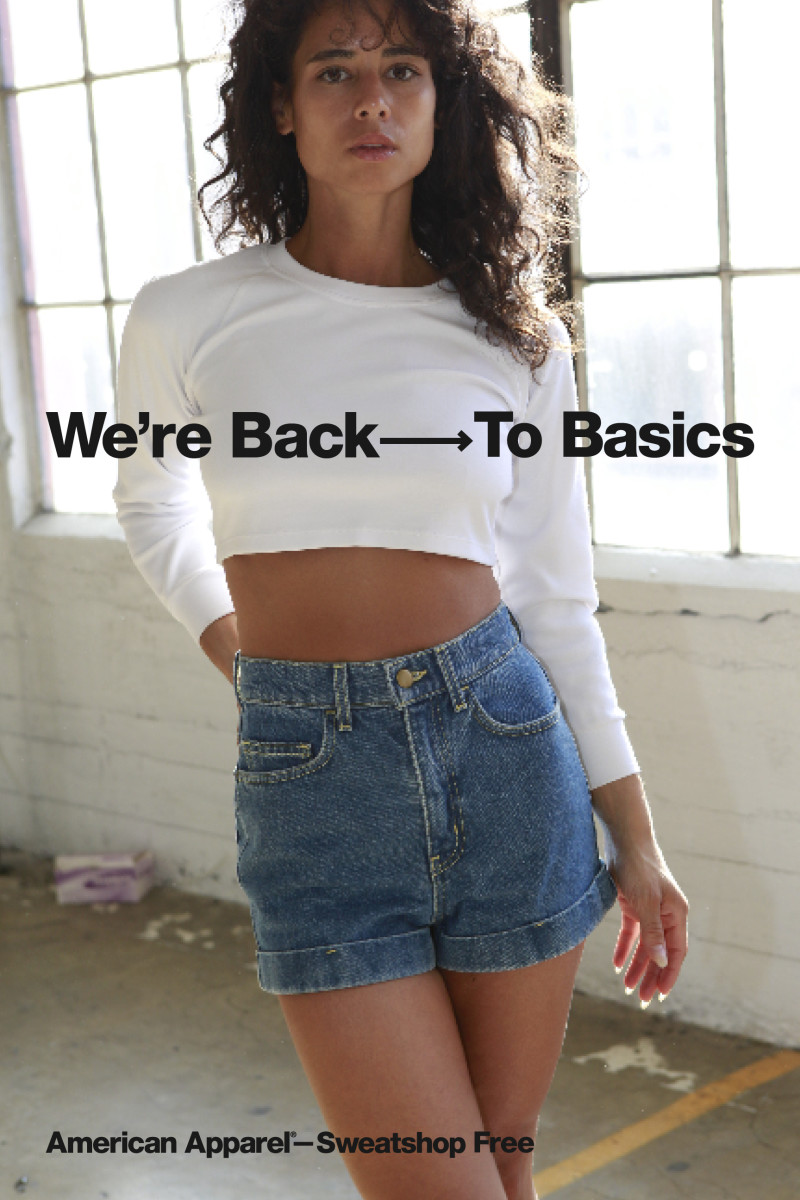 As a refresher, the twice-bankrupt, LA-based retailer's intellectual property was acquired in January for $88 million by Gildan Activewear. The Canadian company's bread and butter is wholesaling apparel basics for other companies (and Kanye West) to print things onto. Since that was also a large part of American Apparel's business model, it made sense for Gildan to bring AA into its fold despite its controversies and poor infrastructure. The wholesale piece of AA's business, which is now run out of Gildan facilities in Canada and Barbados, was relaunched right away, with the LA-based consumer-facing piece being prioritized second. Still, Weber and Silvia Mazzuchellli, AA's VP of direct to consumer — who've each been with the company around two years (post-Charney) — only had about four months to bring it back from the dead.
They had their work cut out for them. "Throughout the years, [American Apparel]… pretty much never made money," explains Mazzuchelli. "Even at the maximum level with $600 million of revenue, it still had no profit, so that tells you that something behind the operations of the business was just not right, because with that amount of revenue, we should be able to make operating income and profit." Gildan acquired what was still relatively healthy: "The most valuable part of the brand has always been the brand, has always been the customer base, has always been how the brand presented itself to the market and how the consumers really related to the brand in a visceral, passionate way," adds Mazzuchelli. "We're actually very excited when we see people saying, 'Oh, American Apparel is back and it looks the same;' for us, that's a compliment because we never wanted to change it."
Gildan hired an LA team — largely comprised of "the cream of the crop" from the previous AA staff, Mazzuchelli says — to complement the existing resources within the Gildan organization and oversee brand marketing, e-commerce, product development and design. The space also houses a "sample library" filled floor-to-ceiling with items spanning the company's history, including many bestsellers AA will continue to reintroduce. Despite being substantial, it's a very edited-down archive. Mazzuchelli notes that in 2016, the brand had "north of 6,000 styles," which she says is "really unmanageable from a business standpoint. It started to become everything for everyone a bit, and really diluted, so we wanted to go back and have a strong message."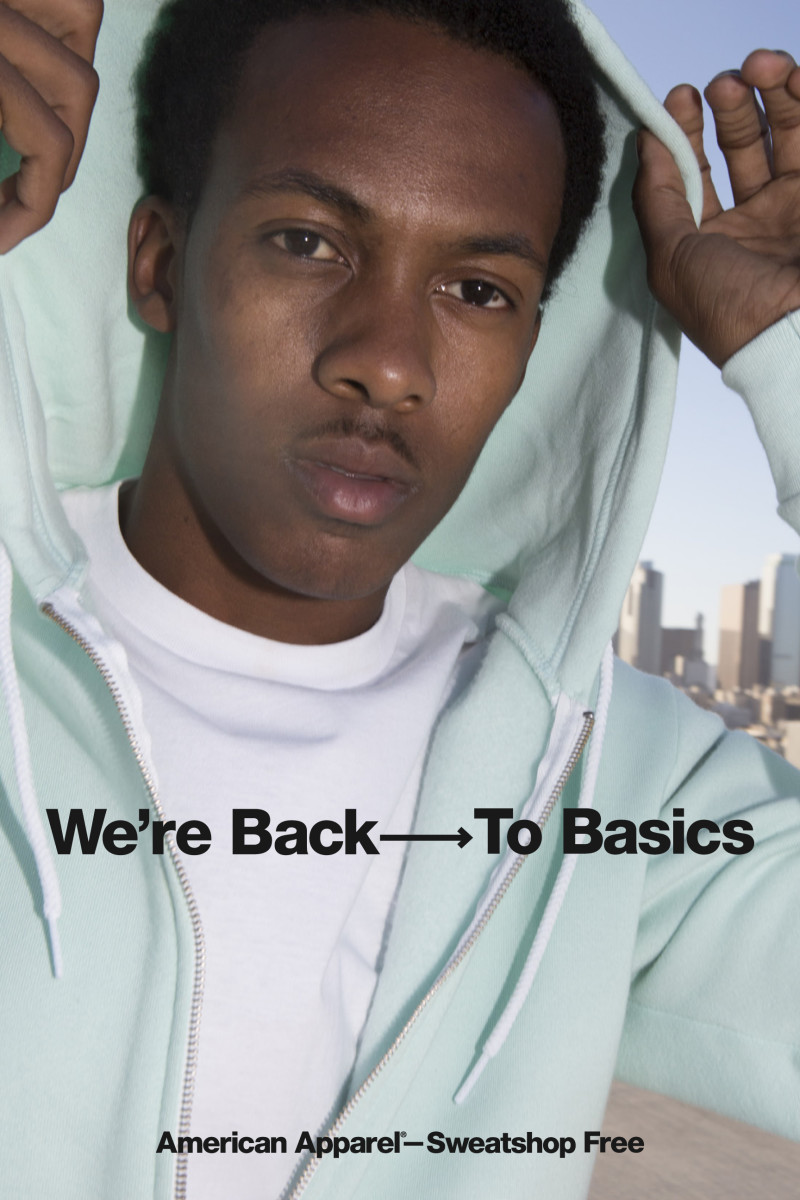 In addition to bestsellers from the past, the brand will begin introducing new collections by spring 2018 and menswear later that year — always focusing on "timeless, fashionable basics in a variety of colorways," per Mazzuchelli. "The uniqueness and strength of our business model is we don't try to be trendy or fast fashion."
American Apparel has lost one element that made it pretty unique, however: No longer will all of the clothing be made in LA, or even the U.S. The brand is utilizing Gildan's supply chain, including factories in Central America. Mazzuchelli and Weber insist that quality and social responsibility won't suffer as a result. In fact, customers will pay significantly less for the same product and can expect better predictability when it comes to sizing. Still, from a marketing perspective, Weber knows that many customers still associate the brand with "made in America." 
And those who really care can still get it: A new "Made in USA" shop presents two versions of identical items, one made in the U.S., the other globally. The only difference? The U.S.-made version costs $10 more. "This is going to tell us pretty quickly whether people actually care with their wallets," says Weber. "Then, depending on what the numbers are, either we will increase or we will decrease." Of course, those who buy a made-in-USA piece are still supporting a company that manufactures elsewhere, and is in fact based in Canada, which could be a deterrent for some.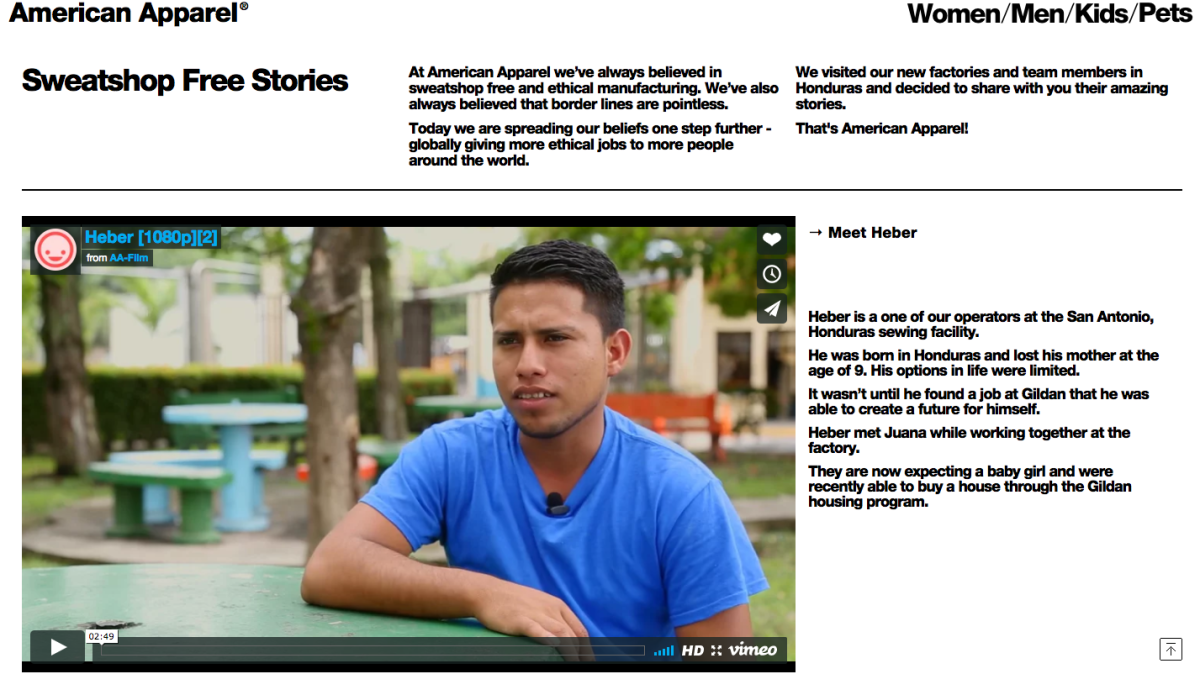 "I think there will be questions about why we're not made-in-the-USA-only anymore, but the real story is about being sweatshop-free and being part of a global community that provides jobs and work in an ethical, environmentally friendly way," she continues. "I think people want to feel like we're not just saying it, that we're actually showing it." That's why they dedicated prime real estate on the new website to declare that ethical stance and even tell the stories of their overseas factories and those who work in them, starting with Heber, an operator at a sewing facility in Honduras.
That the new American Apparel is not shying away from the issues that the original American Apparel was often vocal and transparent about — in a way that was pretty unprecedented at the time — is important, even if the dedication to local manufacturing is no longer there. "This brand has always been about controversy, it's always talked about things that made people uncomfortable, we've always stood for something and we still stand for sweatshop-free," says Weber.
It's also still not shying away from sexuality in its brand imagery, which is still shot in-house on "real," diverse, minimally retouched models, but with a subtly different approach. "The brand is still sexy, but it's about a woman's choice to be sexy; it's in the gaze; it's: 'If I wanna show my ass to the world, I'm gonna show my ass to the world,'" explains Weber, who only hires models found on Instagram without agents and employs both a male and a female photographer. She also wants to be seen as "a platform for discovering people," pointing out that AA was one of the first companies to hire photographer Petra Collins.
Instagram has become her biggest recruiting tool, not only for models but also for campus ambassadors similar to those utilized by Victoria's Secret and Glossier, who the company sends product in exchange for user-generated social media content. Weber says the company may start employing paid influencers down the line but, given that "startup" budget, wants to "see how far we can take it at a micro level." Marketing content will start to appear offline, too, in strategic neighborhoods in New York and LA with high concentrations of millennials. Weber also showed me a mock-up of a billboard — an ad format AA used to utilize frequently — that she didn't have the funds to actually execute. "I actually used this to entice the board to give us more money," she laughs. "They're behind it"
As for what's next, Mazzuchelli says the first priority has been reengaging existing customers, followed by bringing in new ones (who might find the lower price points attractive); she also sees opportunities in menswear and kids. Plans for physical stores have yet to be decided, but the company is "exploring different options for stores and international."
If Charney, whose existence Weber and Mazzuchelli don't ignore, made their jobs pretty easy from a branding and design perspective, they feel he also made it more difficult in other ways. Mazzuchelli explains that, aside from time constraints, the biggest challenge in resurrecting the brand was "cleansing after two bankruptcies and a lot of brand-tarnishing commentary that came out for reasons that we all know, in the past two-to-three years in particular; [we're] letting go of all of that and having the humility to go back to what was good about the brand, accept that many mistakes were made and move on."
Charney, of course, has a new brand that is already selling made-in-LA T-shirts to wholesale printers, though his former company beat him to the punch on the direct-to-consumer front. Weber has accepted that the outspoken entrepreneur is probably going to keep talking about them, but she doesn't plan to engage. "He needs the media, so he's definitely going to talk about it. We're just going to talk about our product."
Want the latest fashion industry news first? Sign up for our daily newsletter.