Last Updated: 27/06/17 8:33am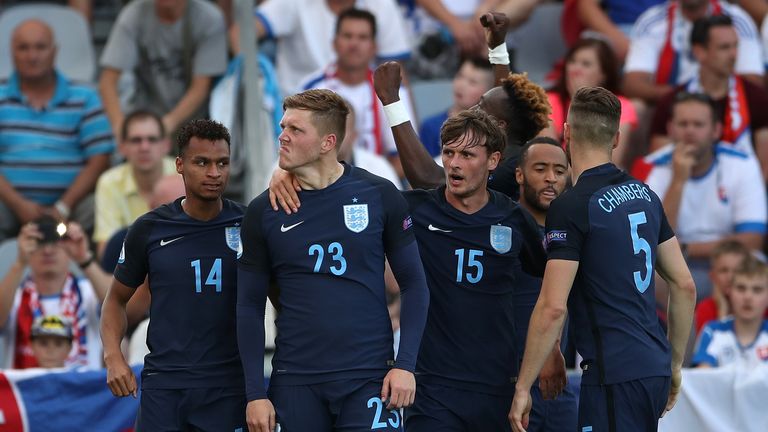 England will face Germany in the semi-finals of the European U21 Championship
Germany's players have made more top-flight appearances and scored more goals than their England counterparts before their European U21 Championship semi-final clash.
The two sides face each other live on Sky Sports 1 in Poland on Tuesday for a place in the final of the competition.
England may have topped their group while Germany had to settle for second in Group B, but it's the latter who have the edge in terms of experience.
Watch a selection of the best goals from the group stages of the Uefa Under 21 Championship in Poland
Germany's starting XI from their final group game against Italy have won 693 top-flight appearances between them, compared to England's 537, while the Germans also have more top-flight goals (83 to 45).
Germany also narrowly edge the battle in terms of senior caps won, with eight to England's five, and senior goals, four to none.
One area where the Young Lions do come out on top, though, is caps at U21 level, with 194 to Germany's 148, and they also edge them in terms of goals (30 to 28).
Here's a full comparison of the two sides:
England U21s
England totals
Top-flight apps (goals): 537 (45)
Senior caps (goals): 5 (0)
U21 caps (goals): 194 (30)
Jordan Pickford – Everton
Top-flight apps (goals): 31 (0)
Senior caps: 0
U21 caps: 13
Mason Holgate – Everton
Top-flight apps (goals): 18 (0)
Senior caps: 0
U21 caps (goals): 5 (0)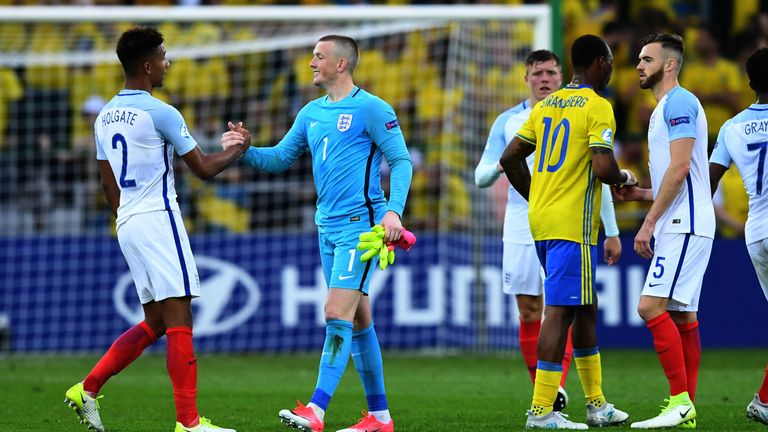 England defender Mason Holgate (L) and goalkeeper Jordan Picford
Alfie Mawson – Swansea
Top-flight apps (goals): 27 (4)
Senior caps: 0
U21 caps (goals): 5 (1)
Calum Chambers – Arsenal
Top-flight apps (goals): 82 (3)
Senior caps (goals): 3 (0)
U21 caps (goals): 21 (0)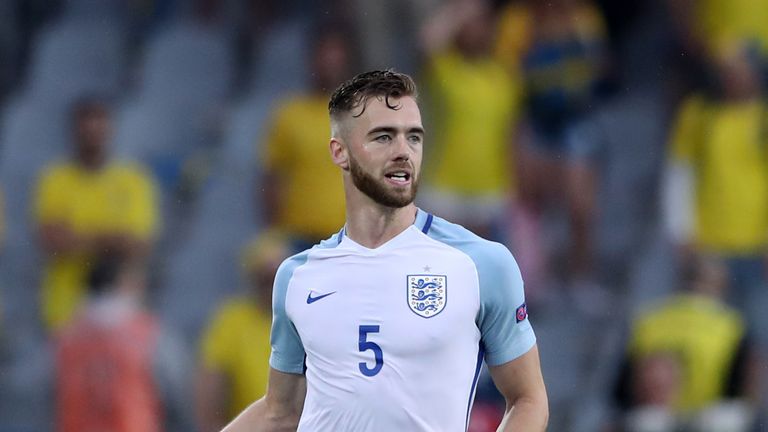 Calum Chambers has helped England U21s keep two clean sheets in three games at Euro 2017
Ben Chilwell – Leicester
Top-flight apps: 12 (1)
Senior caps: 0
U21 caps (goals): 6 (0)
James Ward-Prowse – Southampton
Top-flight apps (goals): 137 (7)
Senior caps (goals): 1 (0)
U21 caps (goals): 30 (6)
Nathaniel Chalobah – Chelsea
Top-flight apps (goals): 19 (0)
Senior caps: 0
U21 caps (goals): 39 (1)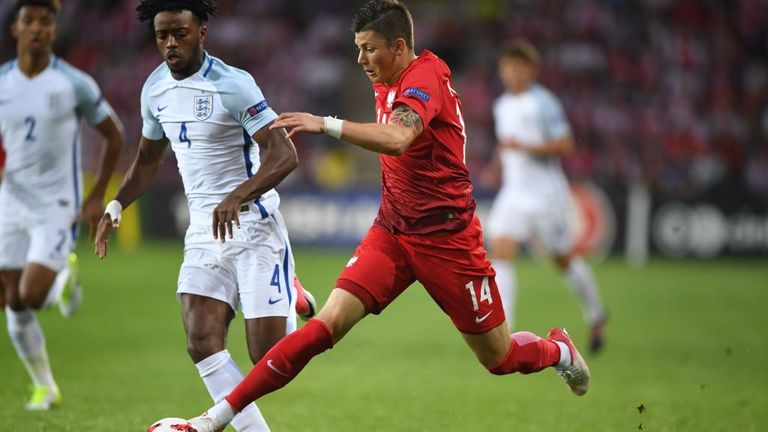 Nathaniel Chalobah (L) challenges Dawid Kownacki of Poland
Lewis Baker – Chelsea
Top-flight apps (goals): 64 (15)
Senior caps: 0
U21 caps (goals): 16 (8)
Nathan Redmond – Southampton
Top-flight apps (goals): 106 (14)
Senior caps (goals): 1 (0)
U21 caps: 37 (10)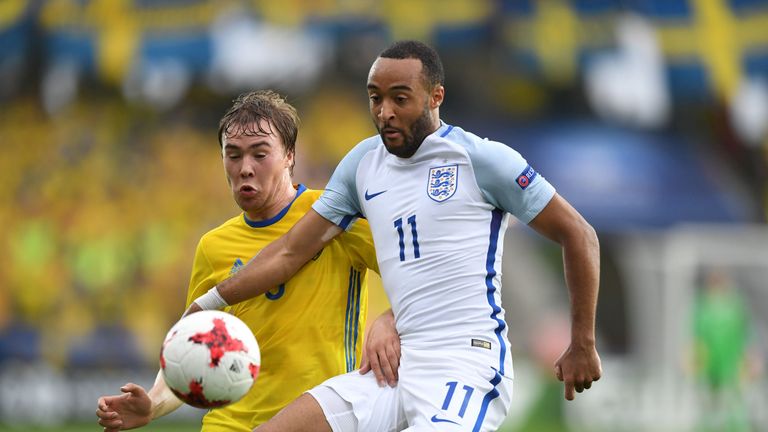 Nathan Redmond
John Swift – Reading
Top-flight apps: 0
Senior caps: 0
U21 caps (goals): 12 (1)
Demarai Gray – Leicester
Top-flight apps (goals): 41 (1)
Senior caps: 0
U21 caps (goals): 10 (3)
Highlights of England's Euro U21 Championship match against Poland
Germany U21s
Germany totals:
Top-flight appearances (goals): 693 (83)
Senior caps (goals): 8 (4)
U21 caps (goals): 148 (28)
Julian Pollersbeck – Hamburg
Top-flight apps: 0
Senior caps: 0
U21 caps (goals): 5 (0)
Jeremy Toljan – Hoffenheim
Top-flight apps (goals): 54 (2)
Senior caps: 0
U21 caps (goals): 16 (1)
Highlights of the Euro U21 Championship match between Italy and Germany
Niklas Stark – Hertha Berlin
Top-flight apps (goals): 72 (3)
Senior caps: 0
U21 caps (goals): 17 (2)
Marc-Oliver Kempf – Freiburg
Top-flight apps (goals) – 31 (2)
Senior caps: 0
U21 caps (goals): 5 (1)
Yannick Gerhardt – Wolfsburg
Top-flight apps (goals) – 72 (3)
Senior caps (goals): 1 (0)
U21 caps (goals): 15 (0)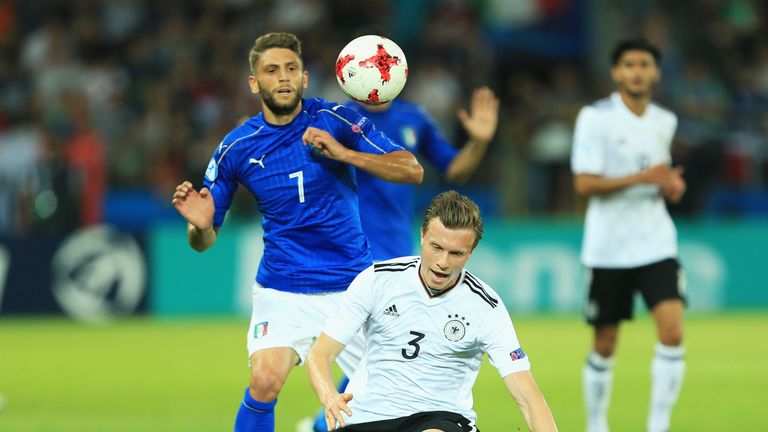 Yannick Gerhardt of Germany challenges for the ball
Maximilian Arnold – Wolfsburg
Top-flight apps (goals): 126 (19)
Senior caps (goals): 1 (0)
U21 caps (goals): 21 (5)
Mahmoud Dahoud – Borussia Dortmund
Top-flight apps (goals): 61 (7)
Senior caps: 0
U21 caps (goals): 9 (0)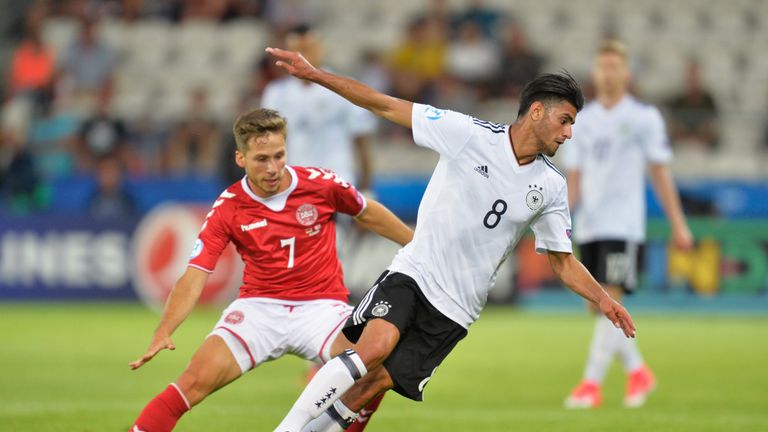 Andrew Hjulsager of Denmark puts pressure on Mahmoud Dahoud of Germany
Mitchell Weiser – Hertha Berlin
Top-flight apps (goals): 63 (5)
Senior caps: 0
U21 caps (goals): 11 (0)
Max Meyer – Schalke
Top-flight apps (goals): 122 (17)
Senior caps (goals): 4 (1)
U21 caps (goals): 22 (7)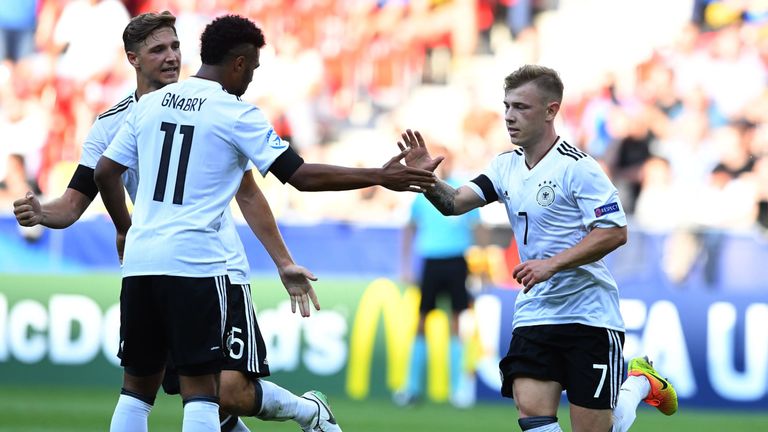 Serge Gnabry and Max Meyer celebrate
Serge Gnabry – Bayern Munich
Top-flight apps (goals): 38 (12)
Senior caps (goals): 2 (3)
U21 caps (goals): 13 (4)
Davie Selke – RB Leipzig
Top-flight apps (goals): 54 (13)
Senior caps: 0
U21 caps (goals): 14 (8)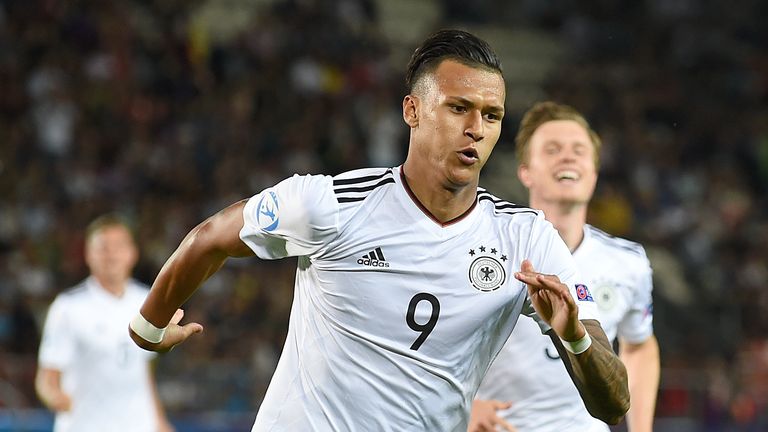 Germany forward Davie Selke celebrates scoring