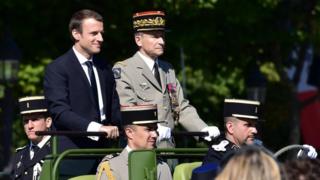 The head of the French armed forces has quit after a clash with President Emmanuel Macron over budget cuts.
Gen Pierre de Villiers said in a statement he could no longer "guarantee the durability of the army model" that he considered necessary to ensure France's protection.
France's government last week revealed major cuts to bring its budget deficit below the level of an EU cap.
Mr Macron had said he would not tolerate dissent from the military.
"If the military chief of staff and the president are opposed on something, the military chief of staff goes," Mr Macron, who as president is the commander-in-chief of the military, told Le Journal du Dimanche.
But he had also said the general had his "full trust" as long as he "knows the chain of command and how it works".
Gen de Villiers had reportedly said the president should not mess with him on the matter, using a far stronger expletive.
He was responding to an €850m ($975m; £752m) cut in the military spending budget for 2017.
It is part of an attempt to bring the national budget deficit below the European Union cap of 3% of national income.