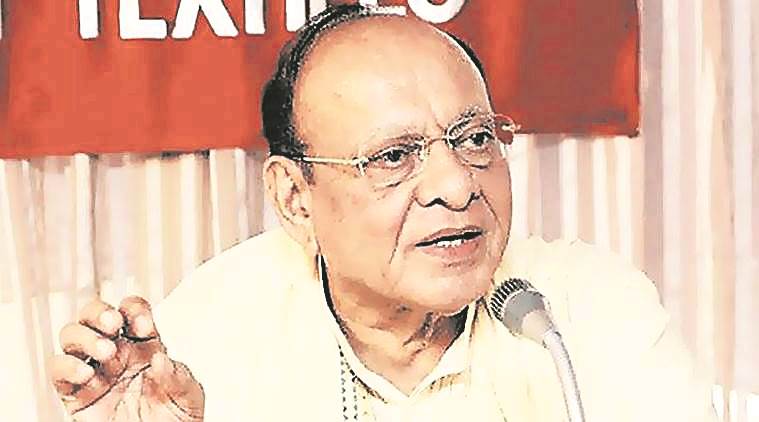 Former Congress leader Shankersinh Vaghela
Shankersinh Vaghela, who quit the Congress a week ago, will lead the ongoing agitation of textile traders against the imposition of Goods and Services Tax (GST) on the sector. "Leaders of textile traders met me and put forth their issues. I have assured them that I will definitely support their agitation (against the GST). I will visit Surat in the coming days and take part in the agitation. We will hold protests in Surat, Ahmedabad, Rajkot and Gandhingar in the days ahead," the former chief minister told The Indian Express on Thursday.
Vaghela's decision to support the textile traders comes ahead of the crucial GST council meet on August 5, where demands of the textile traders are most likely to be taken up.
After the GST came into effect on July 1, the textile traders in Surat had gone a strike demanding abolition of the five percent tax on the sector. They formed GST Sangharsh Samithi to lead the agitation. However, after getting assurance from Union Finance Minister Arun Jaitley that their demands will be taken up at the next GST Council meeting, the traders ended their strike on July 19, but decided to continue their agitation.
"Shankersinh Bapu is now not linked to any political party, and if he comes in our support, our agitation will get fuel. He is a popular person and has also served as the textile minister at the Centre earlier," said Hitesh Sanklecha, a member of the GST Sangharsh Samithi who had been on a hungerstrike for two weeks.
Tarachand Kasat, the president of GST Sangharsh Samithi, said that they will wait for the outcome of the August 5 meet before chalking out their future course of action. "We will wait till August 5. If our demands are not met, we will go on an indefinite strike again. The textile traders of Ahmedabad and other traders from across the state have pledged support and we all will go on a strike," Kasat told The Indian Express.
Meanwhile, textile traders's plan to hold a protest march in Surat on Friday was cancelled after the local administration denied the permission, citing law and order situation. Ahead of the GST council meeting, the traders had planned to hold a public meeting in the city on Thursday and a protest march to Surat district collector's office on Friday.
For all the latest India News, download Indian Express App