Written by
Nandini Rathi
| New Delhi |
Updated: August 14, 2017 7:19 pm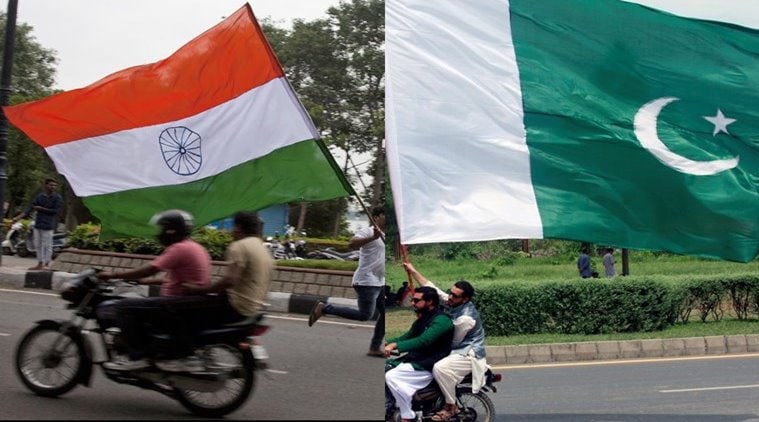 Flags (AP Photo/Mahesh Kumar A. + REUTERS/Faisal Mahmood
The 'flag war' between India and Pakistan near the Wagah border near Attari, Punjab is the latest feature in the dramatic one-upmanship practised by the two neighbors during the curious 'beating retreat' border ceremony enacted by the Indian Border Security Force (BSF) and the Pakistan Rangers (PR) while lowering their respective flags at the same time.
Earlier this year in March, the Amritsar Improvement Trust, under the leadership of Anil Joshi of BJP, hoisted a 360 feet tall Tricolor near the Attari-Wagah border — the tallest in the nation, a project that cost Rs 3.5 crores. The flag, however, had to be lowered by May as it proved to be unviable due to repeated damage on account of strong winds blowing at high altitudes. The district administration decided not to hoist it till a solution to the damage was found. It made a guest reappearance yesterday, on August 13, to celebrate the 70th Independence Day on Tuesday.  
Meanwhile, Pakistan had begun working on a parallel project of its own by deciding to hoist a taller flag at Wagah. Today on August 14, the day which Pakistan celebrates as its Independence Day, its Chief of Army Staff, General Qamar Javed Bajwa hoisted the nation's tallest flag which is 400 feet tall and 120 feet by 80 feet in size. In his patriotic address to Pakistan, he added that Pakistan's flag was a symbol of its dignity and lauded the Rangers for arranging a superb flag hoisting ceremony at the Wagah Border. The Crescent Moon near Wagah border has been widely hailed by the Pakistan media as the eighth tallest flag in the world, and more significantly, as the tallest one in South Asia.
The bickering, unrelenting competition against the other has been fundamental to the Indian/Pakistani identity since 1947. The ceremony at the Wagah (India side) and Hussainiwala (Pakistan side) border outposts, notably referred to by Michael Palin as "carefully choreographed contempt" and "chauvinism at its most camp," in his BBC movie, has long had a symbolic value in the spasmodically jerking of body parts of its enactors. The display of aggression without violence and the boisterous mating-dance like routine attracts large cheering crowds akin to a wrestling match audience, whose chest-thumping patriotism is matched only by their curiosity about the other side.
Albeit juvenile and jingoistic, the Wagah performances are entertainment at their core meant to arouse crowds. Until 2010, the BSF-Ranger choreography included the ritual of a hostile stare into the other's eye. The flag sizes and their me-better temporality are the same.
For all the latest India News, download Indian Express App