It was the perfect day for a white wedding.
Actress Emmy Rossum and Mr. Robot creator Sam Esmail tied the knot in an intimate ceremony in New York City, People confirms.
E! News has learned their wedding bands are estimated at $75,000 for both.
The couple began dating in 2013 after Rossum was cast in Esmail's first full-length film, Comet.
The bride wore a custom Carolina Herrera wedding gown—something she had been planning to do since late last year. The couple got engaged in August 2015, and a month later, Rossum told E! News' Marc Malkin that she was in no rush to make it down the aisle. "We're just chilling for a hot second," she said, adding that she was "just not sharing" details with her family or friends.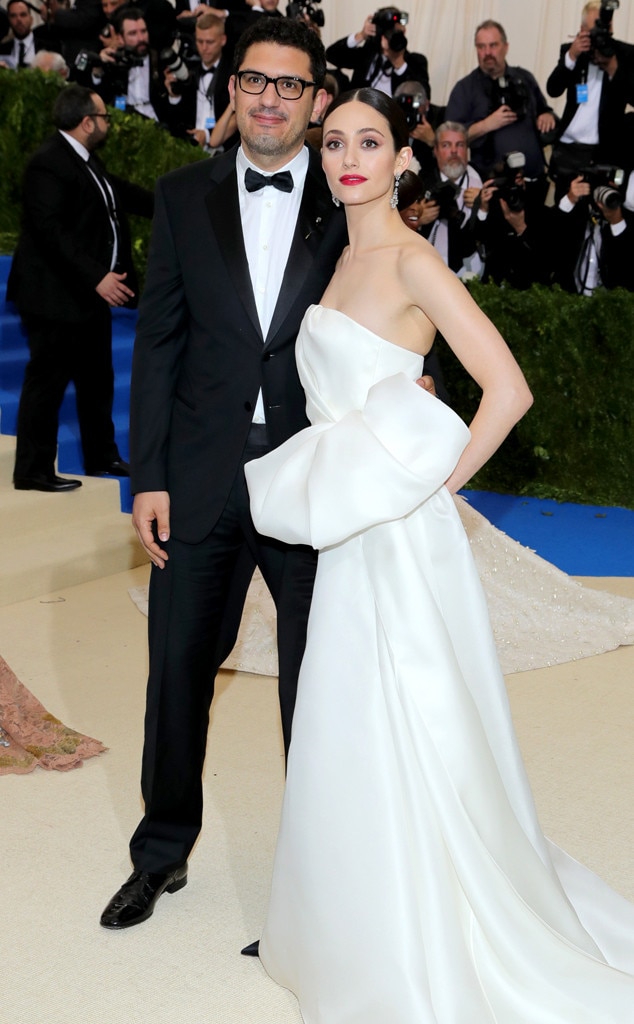 Neilson Barnard/Getty Images
When E! News caught up with Rossum three months ago, it was instantly clear that she hadn't transformed into a bridezilla since Esmail popped the question two years prior. At the time, the bride-to-be said she hadn't "done any" dress fittings. "We're nowhere. It'll be fine. She's got it. There's no rush," the Shameless star said. "She can turn it around in a day. I'm not concerned."
Esmail wasn't concerned either, so the hands-off couple decided to hire a wedding planning team to oversee their big day. "Weirdly, I feel like so many times in my life are about dressing up for a film premiere or for a fashion show, so this is the one kind of time in my life where I'm actually not that focused on details," Rossum said. "I don't really care what the dress looks like. I don't really care what the plates look like. I don't really care what the invitations look like."
"The only thing that's really important to me is that we get married and there's some kind of party. And everything else? I won't freak out if there's not, like, an orange peony on the day…Like, I don't care," said Rossum, who was married to Justin Siegel from 2008 to 2010. "There are so many more important things than what the tablescape looks like. I don't care!"