Team GB short-track speed skater Elise Christie qualified for the 500m quarter-finals with a win in her first heat at the Pyeongchang Games.
Christie, 27, finished in 42.872 seconds, setting an Olympic record which was bettered in the following heat just 11 minutes later by South Korea's Choi Min-jeong who set a time of 42.852.
The three-time world champion in search of her first Olympic medal, told BBC Sport following the race: "It's crazy. I didn't even feel like I was going at my maximum. It went really well and i just tried to maintain a good speed after my start.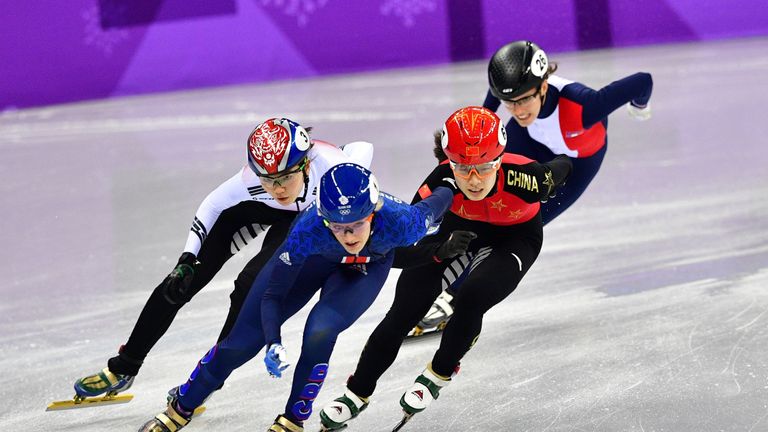 "I'm not going to lie, I don't think I've been as nervous as that for about six years. I think because everybody back home has been so excited to see me skate again, I thought 'Maybe I can't do this' but I did.
"Racing hasn't gone well this year because of injuries so I wanted to put a statement out there to say 'I'm back.' I think I've showed them.
"My best race is the 1,000m so I'm trying to build into that really. I'm not quite at full fitness yet. I just want to get it done and go out there and do it again. I feel quite good. It's going to be tough though. It's about getting the preparation in between done properly."
Christie will compete in the 1000m and 1500m events later in the competition.
Fellow Team GB speed skaters were unable to match Christie's success – Farrell Treacy fell in his 1500m heat while Kathryn Thomson suffered the same fate in her 500m heat.
Team-mate Charlotte Gilmartin was involved in a three-skater collision during her 500m race.
She did eventually cross the finishing line, but was later disqualified for causing the aforementioned crash.
https://wowplus.net/arsene-wenger-says-competition-destroyed-across-europe/
https://wowplus.net/olympic-weightlifter-sells-gold-medal-raise-money-iran-earthquake-victims/
https://wowplus.net/henrikh-mkhitaryan-blames-not-delivering-manchester-united/