I've commented recently on the dramatic changes happening in China and India regarding the switch to Battery Electric Vehicles (BEV). Yesterday Volvo (OTCPK:OTCPK:VLVLY)(OTC:OTCPK:VOLVF) announced that all new cars produced by 2019 will be BEVs or hybrids. This marks a historic end to Volvo's cars with just an ICE (Internal Combustion Engine). Volvo claims electrification is now at the core of its business. Volvo is not alone in this transition. In other news US parts manufacturers and the oil price are coming under pressure. I discuss these changes here.
Electrification of car manufacture
Volvo's press release is no ordinary announcement as it is couched in historic terms:
"The announcement represents one of the most significant moves by any car maker to embrace electrification and highlights how over a century after the invention of the internal combustion engine electrification is paving the way for a new chapter in automotive history." Volvo's President and CEO Hakan Samuelsson couches the announcement in terms of customer current and future preferences. Five BEVs will be launched between 2019 and 2021. These BEVs will be supplemented with plug in and mild hybrid options. ICE only cars will be phased out. This announcement puts some flesh on Volvo's plan to have sold 1 million electrified cars by 2025. In parallel with low carbon cars, Volvo plans to make its manufacturing emissions free.
It is perhaps worth noting that Volvo is owned by Chinese company Geely (OTCPK:OTCPK:GELYY)(OTC:OTCPK:GELYF) and Geely is not without forward looking views. Indeed Geely has just acquired futuristic vertical takeoff and landing flying car company Terrafugia.
Tricky time for auto parts manufacturers
Weak sales in Q2 are reported to be the cause of substantial underperformance of auto parts manufacturers yesterday, with O'Reilly Automotive (NASDAQ:ORLY) down 18.5%, Advance Auto Parts (NYSE:AAP) down 11.5% and AutoZone (NYSE:AZO) down 9.2%.
While the explanations given for the poor performance have focused on a mild winter and lack of confidence amongst lower income workers who support do-it-yourself purchases, I can't help but think that the transition to BEVs is beginning to enter the consciousness of investors. The stock charts for the past 12 months for ORLY, AAP and AZO are similarly bleak and these indicate a long term trend.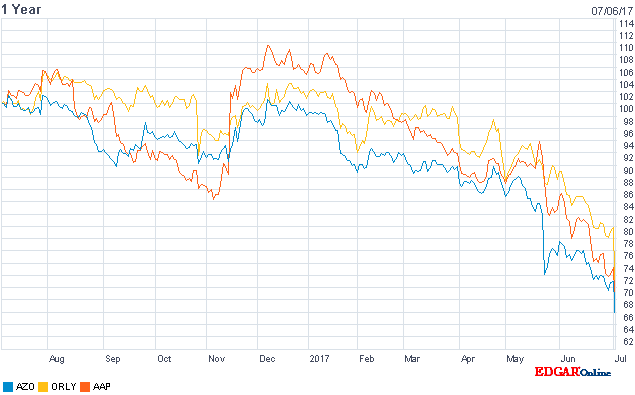 Stock charts for O'Reilly Automotive, Advance Auto Parts and AutoZone. Source NASDAQ
To get a sense of the here and now of the world of the BEV, here are a couple of images to help focus the mind.
Here is what a Tesla (NASDAQ:TSLA) looks like without its panels. There is not a lot to see.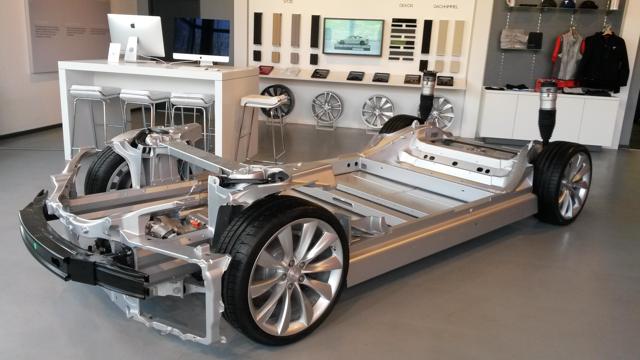 Now here is a just the engine of a BMW diesel car. You need to add in transmission and exhaust to begin to get a sense of the parts not present in a BEV.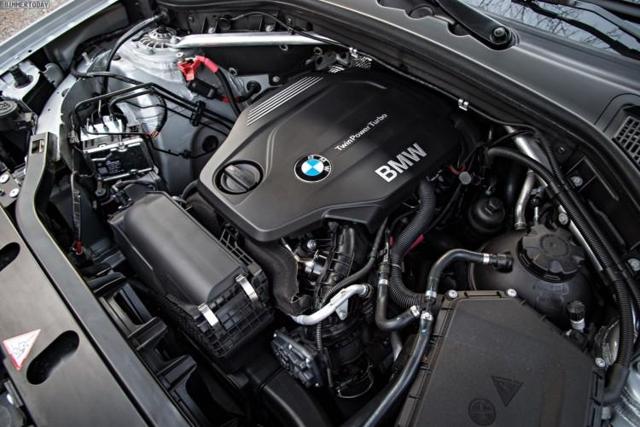 The BEV versus diesel engine ICE must be confronting for an auto parts manufacturer, as much of what their business is based upon is absent in a BEV. It is perhaps not surprising that short sellers are evident in the above auto parts manufacturer stocks in the expectation of more weakness.
The oil price decline: is this just supply/demand issues or are there deeper currents?
There are many views about the oil price and where it is headed. In traditional terms this is all about supply and demand and battles between conventional oil producers and US oil production in particular, with a critical point between $45 and $50 when US producers get back into production.
The past 3 months seem to be indicating a downward trend, and I wonder if this could have another element to it.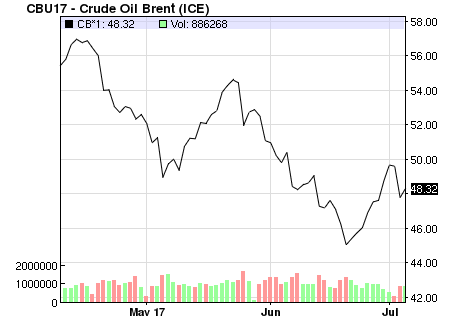 Brent crude oil price over the past 3 months. Source NASDAQ
With ~44% of oil production dedicated to cars, SUVs and trucks, electrification of transport has to be a threat to the oil industry. Are we seeing that threat begin to be reflected in the oil price?
Conclusion
I've suggested in several articles that we are seeing a quantum shift in the speed of electrification of transport that no longer relies solely on BEV startups like Tesla. Volvo's press release seems to be a deliberate move to position itself as a leader of the "pack" of traditional car manufacturers. While some might say that Volvo is just one of many car manufacturers, it is clear that essentially all car manufacturers (except possibly Toyota (NYSE:TM) which still hopes for a hydrogen future for cars) now have clear plans for electrification of their products. This includes trucks as as well as cars and SUVs. The coincidental (or is it?) decline in auto parts manufacturer stock prices points to the obvious, i.e. that this transition will impact well beyond the car makers into the broader automotive industry and indeed into the oil industry. Consider these huge structural changes as you review your investment portfolio.
I'm not a financial advisor, but I am interested in major structural change in energy and transport. If my commentary helps shape your views about investment in this space, please consider following me.
Disclosure: I/we have no positions in any stocks mentioned, and no plans to initiate any positions within the next 72 hours.
I wrote this article myself, and it expresses my own opinions. I am not receiving compensation for it (other than from Seeking Alpha). I have no business relationship with any company whose stock is mentioned in this article.
Editor's Note: This article discusses one or more securities that do not trade on a major U.S. exchange. Please be aware of the risks associated with these stocks.