Anaked earlobe now is like leaving your phone at home – an all-day type of fail. Earrings – once the garnish of an outfit – are now the main course, or make that the dessert you get to skip straight to. To be clear, we're not talking about an inoffensive stud that would pass a dress-code test in the City. The earrings that matter now are the kind that start conversations. Get used to lobe ache as normal service.
For examples of conversation earrings, you could check out the catwalk – beetles at Gucci, twig-like strands at Louis Vuitton, triangular at Céline, red and squiggly at Emporio Armani. But, crucially, they are also appearing on the front row, fashion's petri dish of trends. Look at the catwalk and think "fantasy". Look at the women in the front row – the ones that, in theory anyway, also have real jobs, play-date schedules and WhatsApp dinner groups to manage – and it's that little bit more relatable.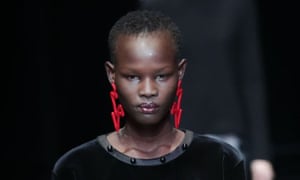 The players here are all upping their earring game. Yasmin Sewell, the new vice-president of style and creative at e-tailer Farfetch, has some delicious olive earrings, and is wearing a great pair of gold zigzag ones in her bio on Instagram. Influencer Pandora Sykes had bright blue beaded numbers that look like something Frida Kahlo might wear. Vogue's newly appointed publisher Vanessa Kingori has a nice line in classy-looking crystal earrings, while Caroline de Maigret's topaz ones at Chanel were dreamy.
Earrings are, of course, Instagram catnip. Tilly Macalister-Smith, an ex-Vogue staffer now based in New York, started her Instagram account Ear After Ear in 2016 to document fashion's rediscovery of the earring. It may sound niche, but it's actually engrossing – and increasingly required – viewing.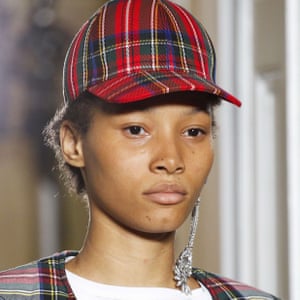 The emergence of earrings as big news again in fashion was kickstarted last year with huge hoops at Céline and the "face" earrings at JW Anderson. For SS18, they were at Topshop and Burberry – the diamante single earrings are already on wishlists even if they're not available until next year. But they have had other fashion moments: if the 60s were a golden age of the earring (see Edie Sedgewick or Nina Simone), the 80s were a highpoint, too: with Pat Butcher's gobstoppers and Joan Collins' crystal numbers ruling teatime telly, that was the last time big earrings were, well, this big. We're now in the third age of the earring.
Ruby Chadwick, a jewellery buyer at Liberty, says earrings make up 30% of the department's sales, up on the previous year. She explains that this comes from reframing the idea of statement earrings – and the realisation that bigger face furniture means the opportunity to dial down the outfit effort. "It's a definite way to dress an outfit up without being too much," she says. "In winter it's a great add-on to a jumper and boots that we all go to."
One of the most popular brands is Mounser, which produces sculptural earrings in silver and gold that fall just above the shoulder. "People are being a lot braver with things," says Chadwick. "It [the earring trend] has become a lot more entrenched, a lot more people are doing it so it doesn't feel so unusual."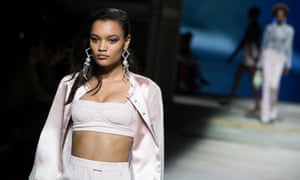 Indeed, Ivanka Trump is doing statement earrings, but even that hasn't managed to put fashionable people off yet. To subtly distance yourself from a Trumpian White House look, however, just make sure your earrings are never combined with a blowdry.
To do woke earrings, the choices are a messy-hair-don't-care situation (see Mica Argañaraz at Saint Laurent), or pared-back with short hair (Lineisy Montero at Burberry) or a simple ponytail . "I am loving hair really pared back with an amazing earring that does the talking," says Chadwick. Also go minimal with the makeup: "I think instead of a lipstick, people are leading with an earring."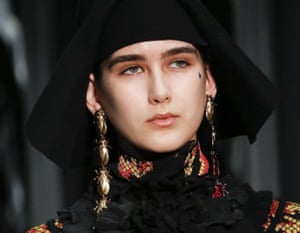 Colour is also something to consider. Chadwick recommends doing a Colour Me Beautiful on your own wardrobe: the colours that suit you in clothing will probably do the same when transferred to your jewellery box. I love a big earring and have four pairs of hot pink ones – as someone with dark hair, dark eyes and olive skin, bright pink suits me.
Ruby Chadwick recommends yellow gold as a shade that suits pretty much everyone. I would add that a pair of yellow gold hoops are the universal entry-level earring. Mine have a 4cm drop and are beveled to add a bit of extra sparkle.
Try those out for size, but be warned – the earring game can be addictive. It will only be a matter of time before you're wearing proper conversation-starters.