Talk about a major milestone! 
Coco and her daughter Chanel just enjoyed their first-ever trip to Disneyland together and it's safe to say they'll never forget it. As usual, the reality star and glamour model documented the duo's entire adventure at the Happiest Place on Earth, which included matching Minnie Mouse T-shirts, plenty of rides and one incredible firework spectacular. 
"Chanel's 1st visit to Disneyland was a success!" the adorable toddler's proud mama captioned a video montage of their day at the park. "I thought her being a year 1 and a half would be too young for her to enjoy but she is a ride freak! She even loved the Haunted mansion!"
Baby Chanel's grandma also came long, with Coco explaining, " My mom wanted to witness her 1st visit and I'm glad she was there because when I lived in California when I was young she took us every year as a tradition!"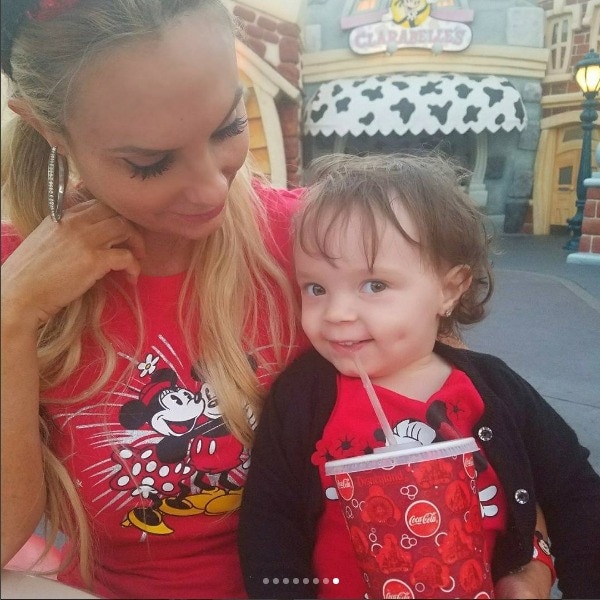 After many hours taking in Disneyland, it's no wonder Chanel fell fast asleep before she could witness the firework show. But as Coco added, "I thought Chanel was out for the night right before the fireworks but she luckily woke up when she heard music! Go @babychanelnicole!!"
The sheer excitement on Chanel's face really says it all, right? Coco and her hubby Ice-T threw a Minnie Mouse-themed celebration for their only daughter's first birthday last year, so her trip to the House of Mouse was really a long time coming. 
"The party planner had asked us, 'What is her favorite cartoon?' I was like, 'Pretty much anything Mickey or Minnie.' She just brightens her face up every time she sees them. So, I figured we'd just make it Minnie Mouse," she told E! News. 
Check out the duo's entire Disneyland photo album below!
Instagram
Cute as Can Be
Baby Chanel waits in anticipation as she heads to the amusement park for a fun-filled day of Disney magic.
Instagram
Totes Adorbs
The mother-daughter duo looks picture perfect in their matching Minnie Mouse T-shirts as they visited Toontown. 
Instagram
Say Cheese
The 21-month-old flashes her pearly whites as she waits patiently in line to hop on the Winnie the Pooh ride.
Instagram
Baby's First Soda
Coco treats her little girl to a sip of Coca Cola, and guess what: Chanel can't get enough!
Instagram
Grandmama Tina!
Coco's mom Tina Austin joins the dynamic duo for the Disneyland festivities
Instagram
Inseparable Bond
All together now: Aww!
Watch Daily Pop weekdays on E! at 12 p.m.
Don't miss E! News every weekday at 7 and 11 p.m.