Corinne Olympios wants her voice heard.
In a statement released to E! News, the reality star breaks her silence days after production on Bachelor in Paradise was suddenly halted over allegations of misconduct on set and an internal investigation was launched by Warner Bros. 
"I am a victim and have spent the last week trying to make sense of what happened the night of June 4," the 24-year-old Miami native shares. "Although I have little memory of that night, something bad obviously took place, which I understand is why production on the show has now been suspended and a producer on the show has filed a complaint against the production."
Corinne continues, "As a woman, this is my worst nightmare and it has now become my reality. As I pursue the details and facts surrounding that night and the immediate days after, I have retained a group of professionals to ensure that what happened on June 4 comes to light and I can continue my life, including hiring an attorney to obtain justice and seeking therapy to begin dealing with the physical and emotional trauma stemming from that evening."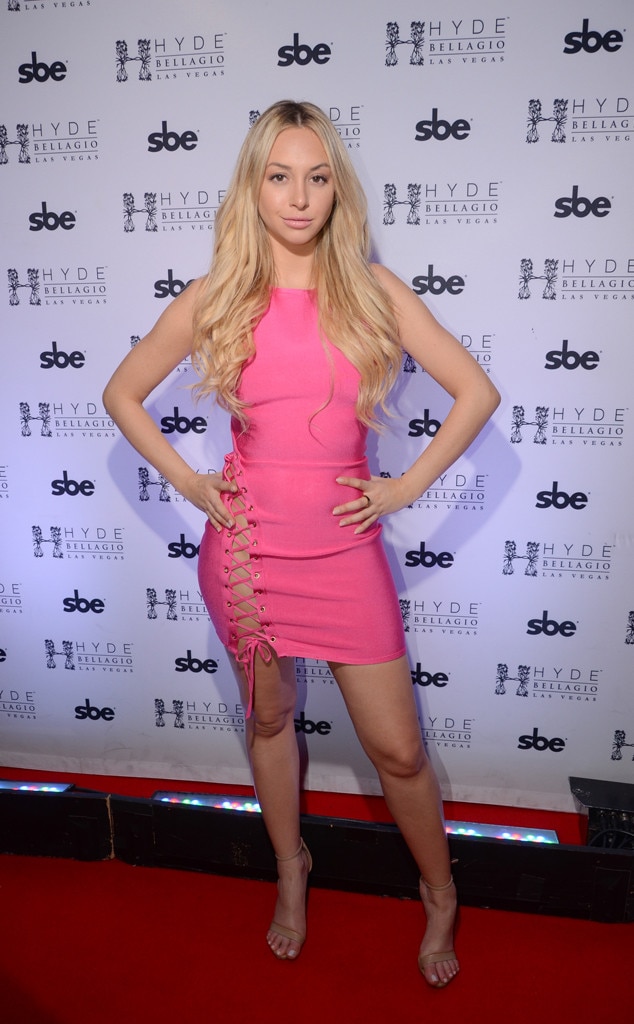 Hyde Bellagio
TMZ reports Olympios has hired high-powered attorney Marty Singer in the matter. E! News has reached out to the notorious Hollywood lawyer for comment. 
The incident revolves around allegations made by a producer who filed a complaint questioning whether Olympios was able to give consent for a sexual encounter with fellow contestant DeMario Jackson. Insiders told E! News that the producer was not present when the encounter occurred, has not viewed footage of the encounter, and only heard about it second or third hand. 
In their statement on Sunday after news broke, Warner Bros. said, "We have become aware of allegations of misconduct on the set of Bachelor in Paradise in Mexico. We have suspended production and we are conducting a thorough investigation of these allegations. Once the investigation is complete, we will take appropriate responsive action."
Shortly thereafter, host Chris Harrison released a lengthy statement on Good Morning America requesting fans in part "to please be patient and respect the privacy of the parties involved" as the investigation continues. 
Cast members were spotted leaving Puerto Vallarta over the weekend, though sources revealed at the time that there were still plans to film Carly Waddell and Evan Bass' wedding, which would have aired during season four of the Bachelor franchise spin-off. 
Bachelor in Paradise was originally scheduled to return Aug. 4 on ABC.